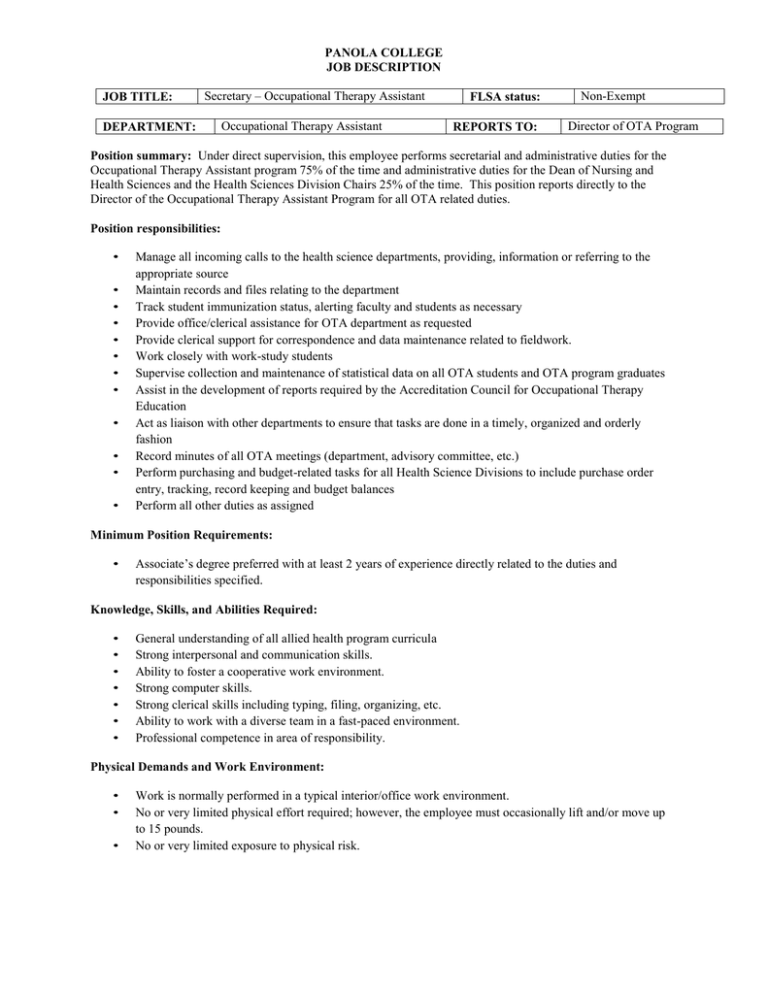 PANOLA COLLEGE
JOB DESCRIPTION
JOB TITLE:
Secretary – Occupational Therapy Assistant
DEPARTMENT:
Occupational Therapy Assistant
FLSA status:
REPORTS TO:
Non-Exempt
Director of OTA Program
Position summary: Under direct supervision, this employee performs secretarial and administrative duties for the
Occupational Therapy Assistant program 75% of the time and administrative duties for the Dean of Nursing and
Health Sciences and the Health Sciences Division Chairs 25% of the time. This position reports directly to the
Director of the Occupational Therapy Assistant Program for all OTA related duties.
Position responsibilities:
•
•
•
•
•
•
•
•
•
•
•
•
Manage all incoming calls to the health science departments, providing, information or referring to the
appropriate source
Maintain records and files relating to the department
Track student immunization status, alerting faculty and students as necessary
Provide office/clerical assistance for OTA department as requested
Provide clerical support for correspondence and data maintenance related to fieldwork.
Work closely with work-study students
Supervise collection and maintenance of statistical data on all OTA students and OTA program graduates
Assist in the development of reports required by the Accreditation Council for Occupational Therapy
Education
Act as liaison with other departments to ensure that tasks are done in a timely, organized and orderly
fashion
Record minutes of all OTA meetings (department, advisory committee, etc.)
Perform purchasing and budget-related tasks for all Health Science Divisions to include purchase order
entry, tracking, record keeping and budget balances
Perform all other duties as assigned
Minimum Position Requirements:
•
Associate's degree preferred with at least 2 years of experience directly related to the duties and
responsibilities specified.
Knowledge, Skills, and Abilities Required:
•
•
•
•
•
•
•
General understanding of all allied health program curricula
Strong interpersonal and communication skills.
Ability to foster a cooperative work environment.
Strong computer skills.
Strong clerical skills including typing, filing, organizing, etc.
Ability to work with a diverse team in a fast-paced environment.
Professional competence in area of responsibility.
Physical Demands and Work Environment:
•
•
•
Work is normally performed in a typical interior/office work environment.
No or very limited physical effort required; however, the employee must occasionally lift and/or move up
to 15 pounds.
No or very limited exposure to physical risk.