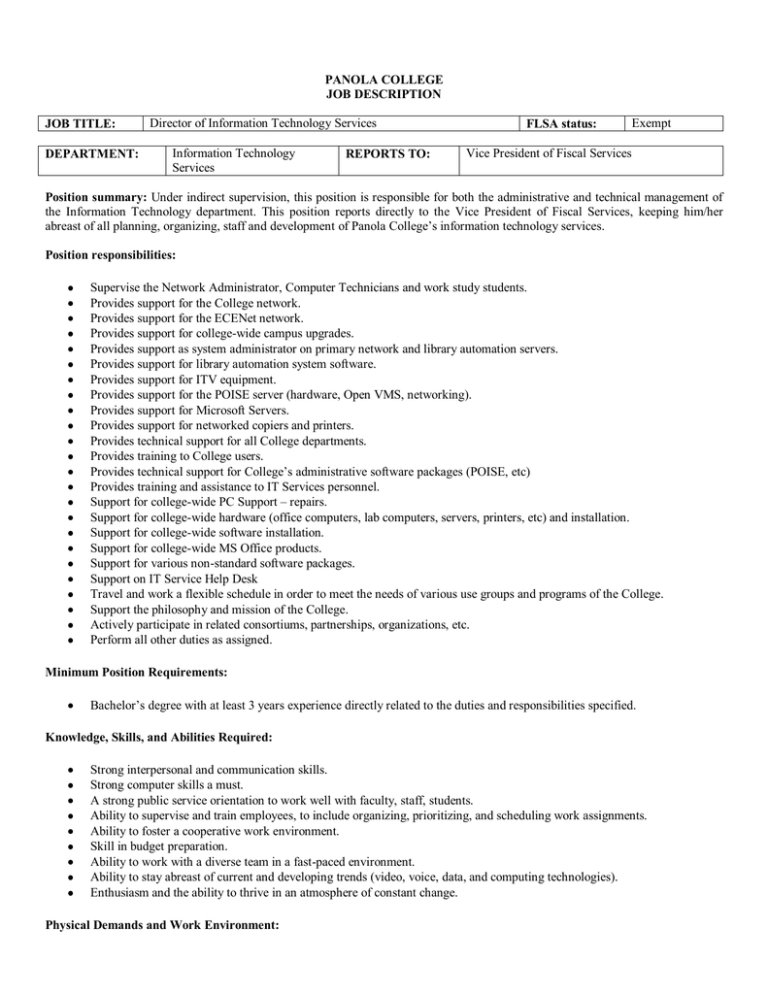 PANOLA COLLEGE
JOB DESCRIPTION
JOB TITLE:
DEPARTMENT:
Director of Information Technology Services
Information Technology
Services
REPORTS TO:
FLSA status:
Exempt
Vice President of Fiscal Services
Position summary: Under indirect supervision, this position is responsible for both the administrative and technical management of
the Information Technology department. This position reports directly to the Vice President of Fiscal Services, keeping him/her
abreast of all planning, organizing, staff and development of Panola College's information technology services.
Position responsibilities:
Supervise the Network Administrator, Computer Technicians and work study students.
Provides support for the College network.
Provides support for the ECENet network.
Provides support for college-wide campus upgrades.
Provides support as system administrator on primary network and library automation servers.
Provides support for library automation system software.
Provides support for ITV equipment.
Provides support for the POISE server (hardware, Open VMS, networking).
Provides support for Microsoft Servers.
Provides support for networked copiers and printers.
Provides technical support for all College departments.
Provides training to College users.
Provides technical support for College's administrative software packages (POISE, etc)
Provides training and assistance to IT Services personnel.
Support for college-wide PC Support – repairs.
Support for college-wide hardware (office computers, lab computers, servers, printers, etc) and installation.
Support for college-wide software installation.
Support for college-wide MS Office products.
Support for various non-standard software packages.
Support on IT Service Help Desk
Travel and work a flexible schedule in order to meet the needs of various use groups and programs of the College.
Support the philosophy and mission of the College.
Actively participate in related consortiums, partnerships, organizations, etc.
Perform all other duties as assigned.
Minimum Position Requirements:
Bachelor's degree with at least 3 years experience directly related to the duties and responsibilities specified.
Knowledge, Skills, and Abilities Required:
Strong interpersonal and communication skills.
Strong computer skills a must.
A strong public service orientation to work well with faculty, staff, students.
Ability to supervise and train employees, to include organizing, prioritizing, and scheduling work assignments.
Ability to foster a cooperative work environment.
Skill in budget preparation.
Ability to work with a diverse team in a fast-paced environment.
Ability to stay abreast of current and developing trends (video, voice, data, and computing technologies).
Enthusiasm and the ability to thrive in an atmosphere of constant change.
Physical Demands and Work Environment:
Work is normally performed in a typical interior/office work environment.
No or very limited physical effort required; however, the employee must occasionally lift and/or move up to 50 pounds.
No or very limited exposure to physical risk.
Some travel required.