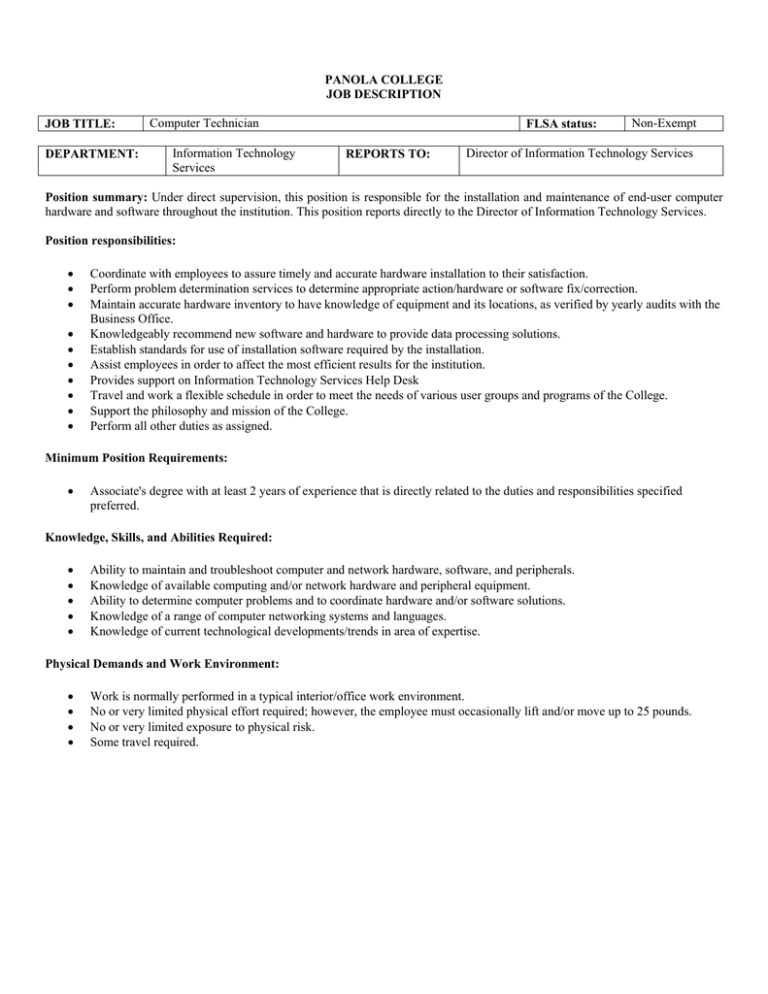 PANOLA COLLEGE
JOB DESCRIPTION
JOB TITLE:
DEPARTMENT:
Computer Technician
Information Technology
Services
FLSA status:
REPORTS TO:
Non-Exempt
Director of Information Technology Services
Position summary: Under direct supervision, this position is responsible for the installation and maintenance of end-user computer
hardware and software throughout the institution. This position reports directly to the Director of Information Technology Services.
Position responsibilities:
•
•
•
•
•
•
•
•
•
•
Coordinate with employees to assure timely and accurate hardware installation to their satisfaction.
Perform problem determination services to determine appropriate action/hardware or software fix/correction.
Maintain accurate hardware inventory to have knowledge of equipment and its locations, as verified by yearly audits with the
Business Office.
Knowledgeably recommend new software and hardware to provide data processing solutions.
Establish standards for use of installation software required by the installation.
Assist employees in order to affect the most efficient results for the institution.
Provides support on Information Technology Services Help Desk
Travel and work a flexible schedule in order to meet the needs of various user groups and programs of the College.
Support the philosophy and mission of the College.
Perform all other duties as assigned.
Minimum Position Requirements:
•
Associate's degree with at least 2 years of experience that is directly related to the duties and responsibilities specified
preferred.
Knowledge, Skills, and Abilities Required:
•
•
•
•
•
Ability to maintain and troubleshoot computer and network hardware, software, and peripherals.
Knowledge of available computing and/or network hardware and peripheral equipment.
Ability to determine computer problems and to coordinate hardware and/or software solutions.
Knowledge of a range of computer networking systems and languages.
Knowledge of current technological developments/trends in area of expertise.
Physical Demands and Work Environment:
•
•
•
•
Work is normally performed in a typical interior/office work environment.
No or very limited physical effort required; however, the employee must occasionally lift and/or move up to 25 pounds.
No or very limited exposure to physical risk.
Some travel required.