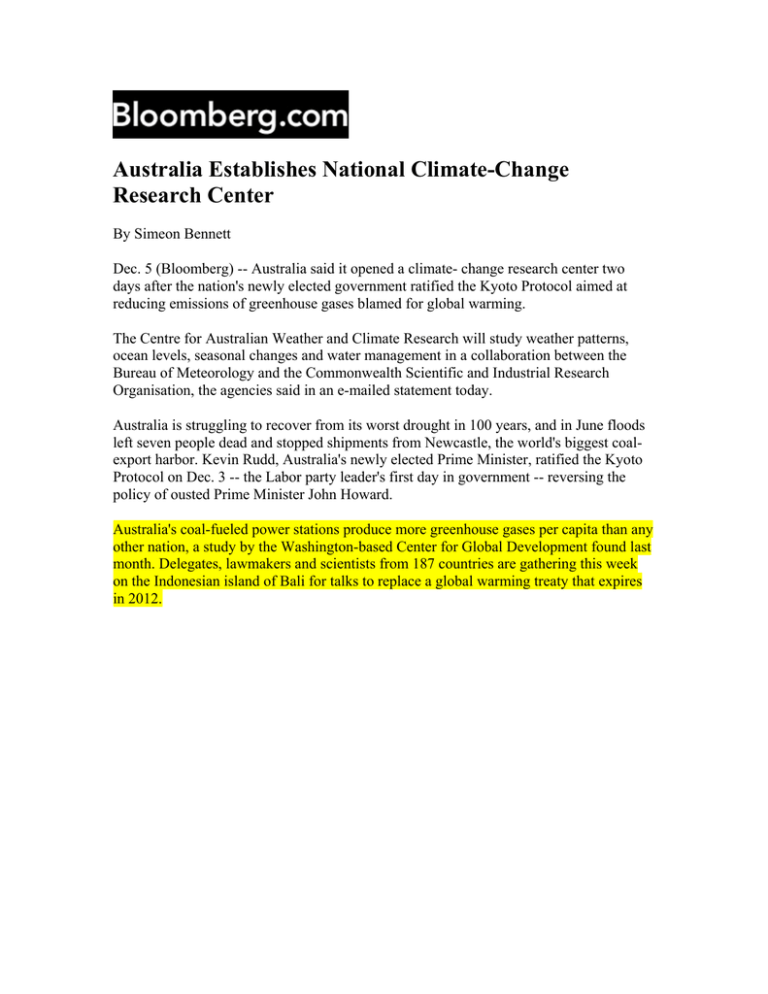 Australia Establishes National Climate-Change
Research Center
By Simeon Bennett
Dec. 5 (Bloomberg) -- Australia said it opened a climate- change research center two
days after the nation's newly elected government ratified the Kyoto Protocol aimed at
reducing emissions of greenhouse gases blamed for global warming.
The Centre for Australian Weather and Climate Research will study weather patterns,
ocean levels, seasonal changes and water management in a collaboration between the
Bureau of Meteorology and the Commonwealth Scientific and Industrial Research
Organisation, the agencies said in an e-mailed statement today.
Australia is struggling to recover from its worst drought in 100 years, and in June floods
left seven people dead and stopped shipments from Newcastle, the world's biggest coalexport harbor. Kevin Rudd, Australia's newly elected Prime Minister, ratified the Kyoto
Protocol on Dec. 3 -- the Labor party leader's first day in government -- reversing the
policy of ousted Prime Minister John Howard.
Australia's coal-fueled power stations produce more greenhouse gases per capita than any
other nation, a study by the Washington-based Center for Global Development found last
month. Delegates, lawmakers and scientists from 187 countries are gathering this week
on the Indonesian island of Bali for talks to replace a global warming treaty that expires
in 2012.