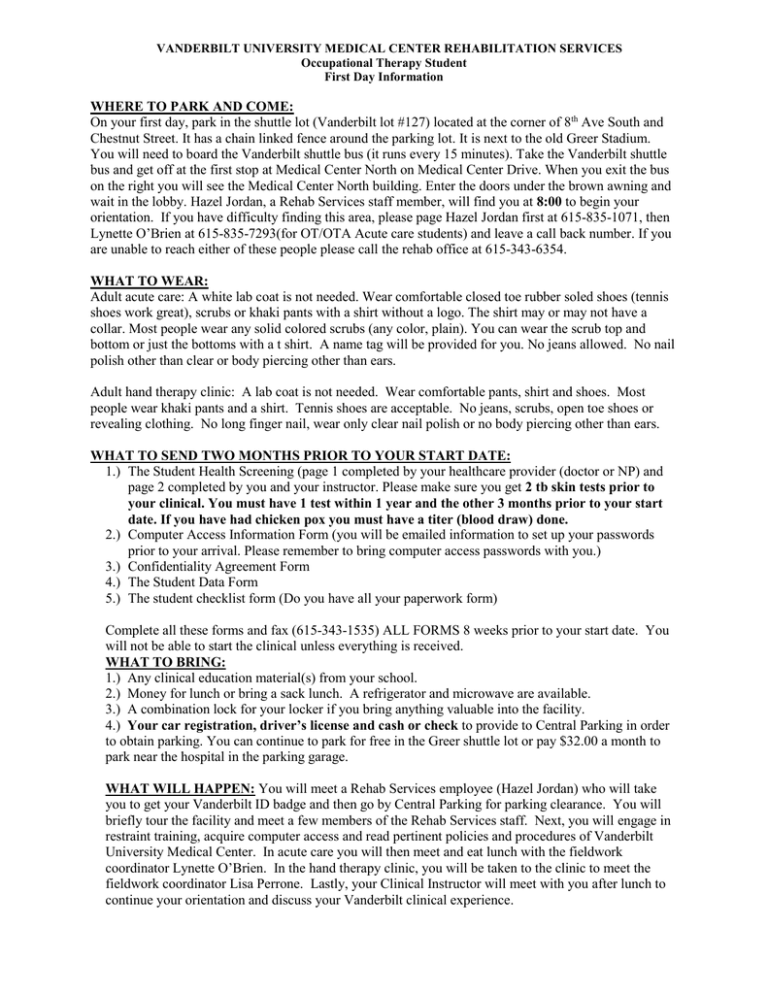 VANDERBILT UNIVERSITY MEDICAL CENTER REHABILITATION SERVICES
Occupational Therapy Student
First Day Information
WHERE TO PARK AND COME:
On your first day, park in the shuttle lot (Vanderbilt lot #127) located at the corner of 8th Ave South and
Chestnut Street. It has a chain linked fence around the parking lot. It is next to the old Greer Stadium.
You will need to board the Vanderbilt shuttle bus (it runs every 15 minutes). Take the Vanderbilt shuttle
bus and get off at the first stop at Medical Center North on Medical Center Drive. When you exit the bus
on the right you will see the Medical Center North building. Enter the doors under the brown awning and
wait in the lobby. Hazel Jordan, a Rehab Services staff member, will find you at 8:00 to begin your
orientation. If you have difficulty finding this area, please page Hazel Jordan first at 615-835-1071, then
Lynette O'Brien at 615-835-7293(for OT/OTA Acute care students) and leave a call back number. If you
are unable to reach either of these people please call the rehab office at 615-343-6354.
WHAT TO WEAR:
Adult acute care: A white lab coat is not needed. Wear comfortable closed toe rubber soled shoes (tennis
shoes work great), scrubs or khaki pants with a shirt without a logo. The shirt may or may not have a
collar. Most people wear any solid colored scrubs (any color, plain). You can wear the scrub top and
bottom or just the bottoms with a t shirt. A name tag will be provided for you. No jeans allowed. No nail
polish other than clear or body piercing other than ears.
Adult hand therapy clinic: A lab coat is not needed. Wear comfortable pants, shirt and shoes. Most
people wear khaki pants and a shirt. Tennis shoes are acceptable. No jeans, scrubs, open toe shoes or
revealing clothing. No long finger nail, wear only clear nail polish or no body piercing other than ears.
WHAT TO SEND TWO MONTHS PRIOR TO YOUR START DATE:
1.) The Student Health Screening (page 1 completed by your healthcare provider (doctor or NP) and
page 2 completed by you and your instructor. Please make sure you get 2 tb skin tests prior to
your clinical. You must have 1 test within 1 year and the other 3 months prior to your start
date. If you have had chicken pox you must have a titer (blood draw) done.
2.) Computer Access Information Form (you will be emailed information to set up your passwords
prior to your arrival. Please remember to bring computer access passwords with you.)
3.) Confidentiality Agreement Form
4.) The Student Data Form
5.) The student checklist form (Do you have all your paperwork form)
Complete all these forms and fax (615-343-1535) ALL FORMS 8 weeks prior to your start date. You
will not be able to start the clinical unless everything is received.
WHAT TO BRING:
1.) Any clinical education material(s) from your school.
2.) Money for lunch or bring a sack lunch. A refrigerator and microwave are available.
3.) A combination lock for your locker if you bring anything valuable into the facility.
4.) Your car registration, driver's license and cash or check to provide to Central Parking in order
to obtain parking. You can continue to park for free in the Greer shuttle lot or pay $32.00 a month to
park near the hospital in the parking garage.
WHAT WILL HAPPEN: You will meet a Rehab Services employee (Hazel Jordan) who will take
you to get your Vanderbilt ID badge and then go by Central Parking for parking clearance. You will
briefly tour the facility and meet a few members of the Rehab Services staff. Next, you will engage in
restraint training, acquire computer access and read pertinent policies and procedures of Vanderbilt
University Medical Center. In acute care you will then meet and eat lunch with the fieldwork
coordinator Lynette O'Brien. In the hand therapy clinic, you will be taken to the clinic to meet the
fieldwork coordinator Lisa Perrone. Lastly, your Clinical Instructor will meet with you after lunch to
continue your orientation and discuss your Vanderbilt clinical experience.