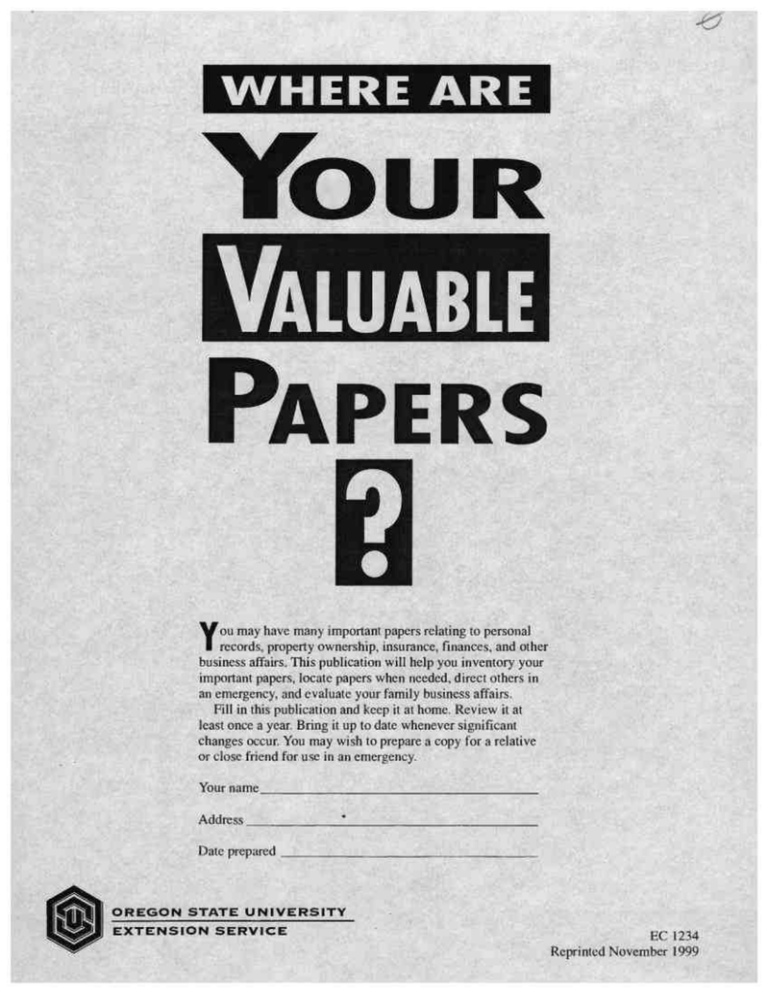 WHERE ARE
YOUR
VALUABLE
PAPERS
You may have many important papers relating to personal
records, property ownership, insurance, finances, and other
business affairs. This publication will help you inventory your
important papers, locate papers when needed, direct others in
an emergency, and evaluate your family business affairs.
Fill in this publication and keep it at home. Review it at
least once a year. Bring it up to date whenever significant
changes occur. You may wish to prepare a copy for a relative
or close friend for use in an emergency.
Your name
Address
Date prepared
OREGON STATE UNIVERSITY
EXTENSION SERVICE
EC 1234
Reprinted November 1999
Family Record
List all family members including children married and/or living away from home. Under Comments, include such
information as health conditions, membership in organizations, etc., that would be useful in cases of emergency.
Date of Birth
Name
Where Birth is Recorded
Comments
Husband
Wife
Children/Addresses/Phone
Close Relatives or Friends
List those persons who should be notified when serious emergencies occur.
Name
Address
Phone Number
Power of Attorney
If you have given someone the written legal power to act for you in case you become unable to handle your own
financial affairs, indicate below.
Name
Address
Phone Number
Family Advisers
Write names and addresses of any advisers you depend on in your personal and business affairs.
Name
Address
Clergy
Doctor
Accountant
Banker
Broker
Insurance agents
Lawyer
Financial Planner
2
Phone Number
Location of Your Valuable Papers
Being able to find your valuable papers quickly is important to you or your survivors. Under Location, clearly
identify the specific desk and drawer, closet, box, etc.
Valuable Papers
Valuable Papers
Location
Wills and Instructions
Personal Property Papers
Husband's will
Checkbooks
Wife's will
Savings passbooks
and certificates
Copies of wills
Insurance (life,
health, accident)
Funeral directions
Stock certificates
cremation, burial
Memorial Society
membership
Special letters
of instruction
Savings bonds
Safe deposit box
and key
Power of attorney
Income tax records
Personal Papers
Canceled checks
and stubs
Inventory of
household goods
Birth certificates
Automobile title
Registrations auto,
Baptismal certificates
etc.
Guarantees on
appliances
Marriage certificates
an instruction
Appliance
books
Credit cards
(List them)
Adoption certificates
Divorce certificates
Death certificates
Naturalization papers
Real Estate Papers
Diplomas
Deed to your house
Passports
Deed to other real estate
Social Security cards
Record of improvements
Employment records
Mortgage papers
Armed Forces records
Mortgage payment
receipts
Family health records
Insurance policies
Oregon Advance Directive
3
Location
Banking Services
List services you are using.
Identification
Number
Name and Address of Financial Firm
In Whose Name(s)
Checking accounts:
Savings accounts:
Certificates of deposit:
Money market certificates:
Trust accounts:
Safe-deposit box:
Other services (incl. financial planner):
Real Estate and Business Interests
List real property and business interests owned by the family. Also include mortgages held. Kind of Ownership
refers to tenancy in common or joint tenancy, etc.
Kind of
Property
Kind of
Location
(address)
Name(s) of Owner(s)
4
Ownership
Date
Acquired
Purchase
Price
Stocks, Bonds, and Securities
List any United States Savings Bonds, Treasury securities, government agency securities, corporate and governmental stock certificates, and other securities you own.
Name of Asset
Serial
Number
Date
Purchased
Purchase
Price
Other Useful Information
(name of owner, no. of shares, maturity date)
Mutual Funds
List any mutual funds and money-market funds you own.
Company Name
and Fund Type
Identification
Number
Date
Acquired
5
Original
Amount
Other Useful Information
(name of owner, no. of shares, maturity date)
Other Personal Property
List autos, boats, mobile home, and other items of value (jewelry, antiques, books, collections, royalties, patents, etc.).
Name of Asset
Date
Acquired
Purchase Price
Other Useful Information
or Value
(name of owner, no. of shares, maturity date)
Property Insurance
In this section, inventory your insurance policies.
Description of
Property Insured
Kind of
Risk Insured
Amount of
Policy
Coverage
Number
Real estate:
Automobiles:
Other personal property:
Personal liability:
Other:
6
Name of Company
Life Insurance and Annuities
Inventory all life insurance policies and annuities carried on members of the family. Indicate kind of policy such as
term, whole life, endowment, family income, etc. If owner of policy is not the person insured, give both names.
Person Insured
Kind of
Face
Policy
Value
Policy
Number
Beneficiary
Name of Company
Health InsuranceAccident, Disability, Hospital
Include Blue Cross, Blue Shield, Major Medical, other employers' insurance, Medicare, and/or individual policies
on family members.
Person(s) Insured
Kind of
Policy
Amount of
Policy
Number
Coverage
7
Name of Group or Company
Providing Insurance
Social Security, Retirement, and Employment
Information concerning these items is often needed in filing applications, checking records, settling estates, etc.
Employment Record
Social Security
Name of Insured
Family Member
Social Security Number
Dates of Employment
Name of Employer
Retirement, Pension, or Profit-Sharing Plan
Person in System
Name of System
Money Owed
This list can help you realize how much debt you have, and would he extremely helpful to those who handle your
affairs during serious illness or after your death.
Person or Company Owed
Address
Amount of
Original Debt
Terms of Payment
rib
This publication may be photocopied or reprinted in its entirety for noncommereipl purposes. Produced and distributed in furtherance of the
Acts of CongreNs of May 8 and June 30, 1914. Extension work is a cooperative program of Oregon State University. the U.S. Department of
Agriculture, and Oregon counties. Oregon State University Extension Service offers educational programs, activities, and materialswithout
regard to race. color, religion, sex, sexual orientation, national origin, age. marital status, disability, and disabled veteran or Wetnam-era
veteran statusas required by Title VI of the Civil Rights Act of 1964, Title IX of the Education Amendments of 1972, and Section 504 ofthe
Rehabilitation Act of 1973. Oregon State University Extension Service is an Equal Opportunity Employer.
Revised July 1995. Reprinted November 1999.