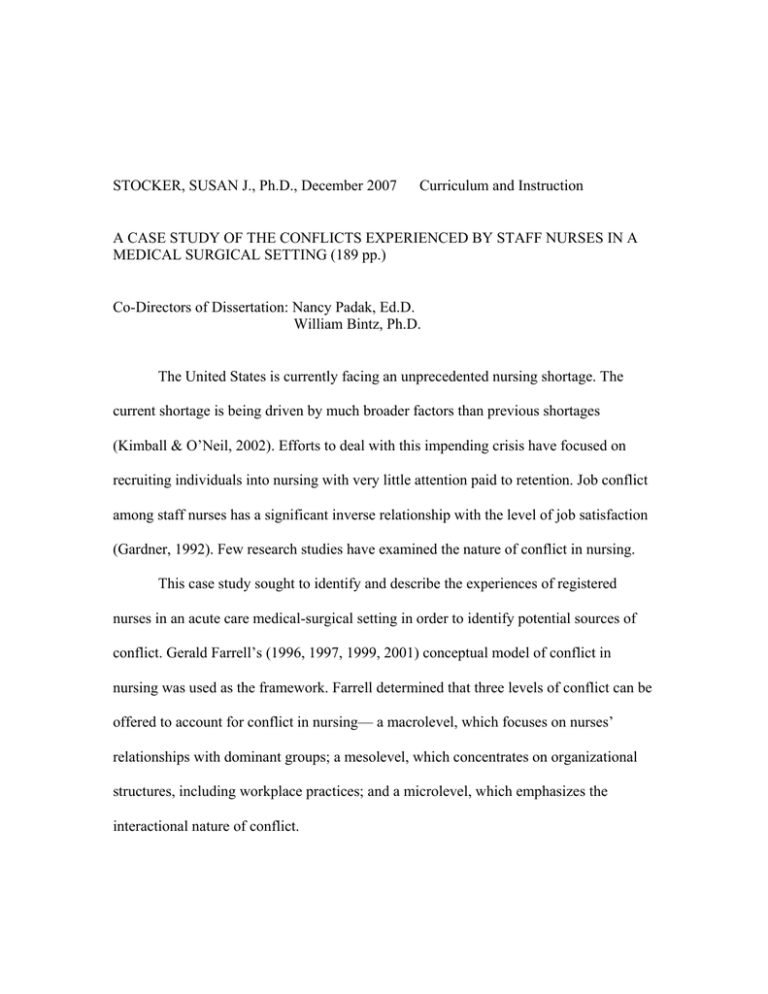 STOCKER, SUSAN J., Ph.D., December 2007
Curriculum and Instruction
A CASE STUDY OF THE CONFLICTS EXPERIENCED BY STAFF NURSES IN A
MEDICAL SURGICAL SETTING (189 pp.)
Co-Directors of Dissertation: Nancy Padak, Ed.D.
William Bintz, Ph.D.
The United States is currently facing an unprecedented nursing shortage. The
current shortage is being driven by much broader factors than previous shortages
(Kimball & O'Neil, 2002). Efforts to deal with this impending crisis have focused on
recruiting individuals into nursing with very little attention paid to retention. Job conflict
among staff nurses has a significant inverse relationship with the level of job satisfaction
(Gardner, 1992). Few research studies have examined the nature of conflict in nursing.
This case study sought to identify and describe the experiences of registered
nurses in an acute care medical-surgical setting in order to identify potential sources of
conflict. Gerald Farrell's (1996, 1997, 1999, 2001) conceptual model of conflict in
nursing was used as the framework. Farrell determined that three levels of conflict can be
offered to account for conflict in nursing— a macrolevel, which focuses on nurses'
relationships with dominant groups; a mesolevel, which concentrates on organizational
structures, including workplace practices; and a microlevel, which emphasizes the
interactional nature of conflict.
The findings showed the most upsetting conflicts for registered nurses on the
medical-surgical units occurs at the mesolevel. These conflicts were related to staffing
mix and models of care. Based on the data, Farrell's model of conflict was refined.
Rather than viewing Farrell's three categories of conflict as discrete, they can be viewed
on a continuum with conflicts in one category triggering conflicts in another.