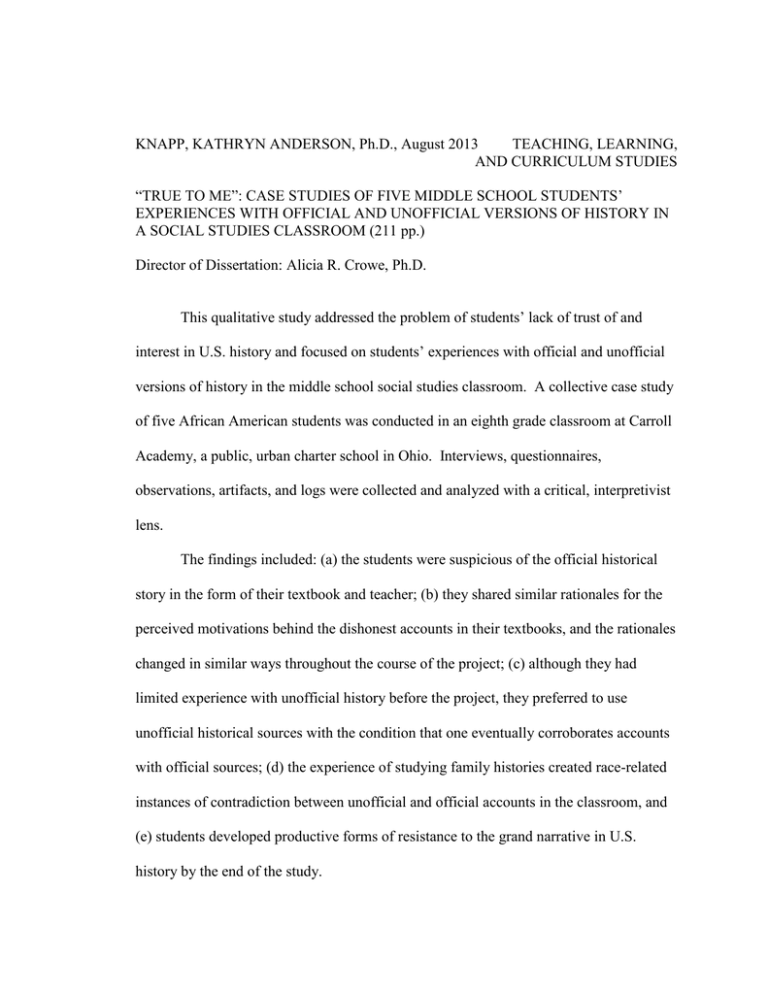 KNAPP, KATHRYN ANDERSON, Ph.D., August 2013
TEACHING, LEARNING,
AND CURRICULUM STUDIES
"TRUE TO ME": CASE STUDIES OF FIVE MIDDLE SCHOOL STUDENTS'
EXPERIENCES WITH OFFICIAL AND UNOFFICIAL VERSIONS OF HISTORY IN
A SOCIAL STUDIES CLASSROOM (211 pp.)
Director of Dissertation: Alicia R. Crowe, Ph.D.
This qualitative study addressed the problem of students' lack of trust of and
interest in U.S. history and focused on students' experiences with official and unofficial
versions of history in the middle school social studies classroom. A collective case study
of five African American students was conducted in an eighth grade classroom at Carroll
Academy, a public, urban charter school in Ohio. Interviews, questionnaires,
observations, artifacts, and logs were collected and analyzed with a critical, interpretivist
lens.
The findings included: (a) the students were suspicious of the official historical
story in the form of their textbook and teacher; (b) they shared similar rationales for the
perceived motivations behind the dishonest accounts in their textbooks, and the rationales
changed in similar ways throughout the course of the project; (c) although they had
limited experience with unofficial history before the project, they preferred to use
unofficial historical sources with the condition that one eventually corroborates accounts
with official sources; (d) the experience of studying family histories created race-related
instances of contradiction between unofficial and official accounts in the classroom, and
(e) students developed productive forms of resistance to the grand narrative in U.S.
history by the end of the study.
The findings of the study offer implications for teachers of social studies. By
using family history projects, teachers can engage students while helping them learn
critical and historical thinking skills. They can provide a more inclusive social studies
curriculum and can better understand their students' backgrounds and historical
knowledge.