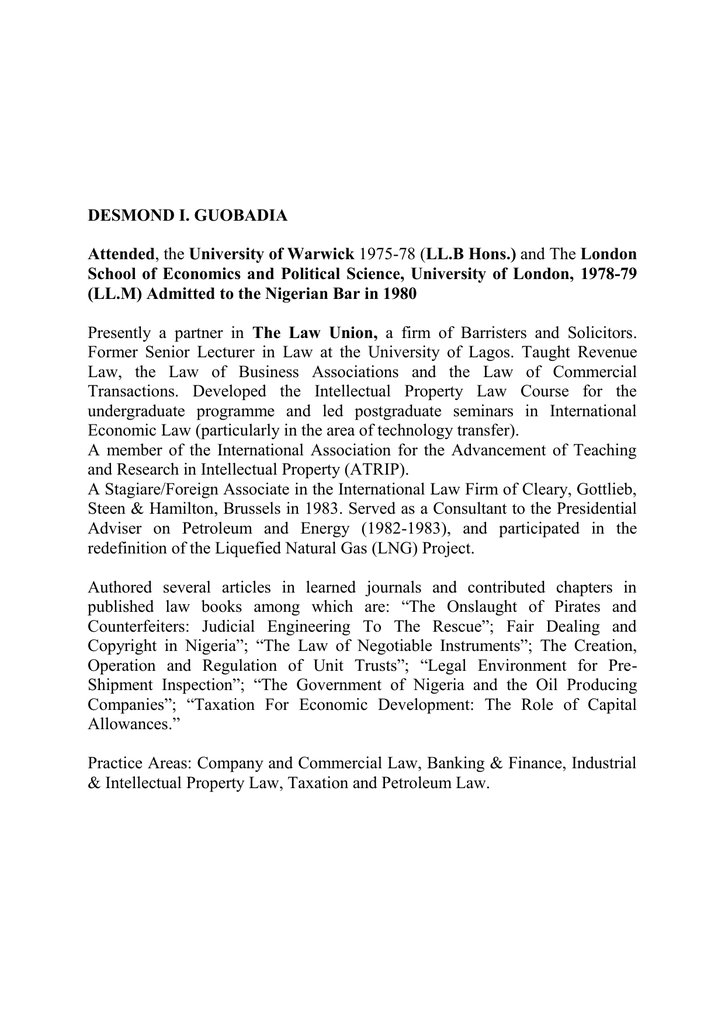 DESMOND I. GUOBADIA
Attended, the University of Warwick 1975-78 (LL.B Hons.) and The London
School of Economics and Political Science, University of London, 1978-79
(LL.M) Admitted to the Nigerian Bar in 1980
Presently a partner in The Law Union, a firm of Barristers and Solicitors.
Former Senior Lecturer in Law at the University of Lagos. Taught Revenue
Law, the Law of Business Associations and the Law of Commercial
Transactions. Developed the Intellectual Property Law Course for the
undergraduate programme and led postgraduate seminars in International
Economic Law (particularly in the area of technology transfer).
A member of the International Association for the Advancement of Teaching
and Research in Intellectual Property (ATRIP).
A Stagiare/Foreign Associate in the International Law Firm of Cleary, Gottlieb,
Steen & Hamilton, Brussels in 1983. Served as a Consultant to the Presidential
Adviser on Petroleum and Energy (1982-1983), and participated in the
redefinition of the Liquefied Natural Gas (LNG) Project.
Authored several articles in learned journals and contributed chapters in
published law books among which are: "The Onslaught of Pirates and
Counterfeiters: Judicial Engineering To The Rescue"; Fair Dealing and
Copyright in Nigeria"; "The Law of Negotiable Instruments"; The Creation,
Operation and Regulation of Unit Trusts"; "Legal Environment for PreShipment Inspection"; "The Government of Nigeria and the Oil Producing
Companies"; "Taxation For Economic Development: The Role of Capital
Allowances."
Practice Areas: Company and Commercial Law, Banking & Finance, Industrial
& Intellectual Property Law, Taxation and Petroleum Law.