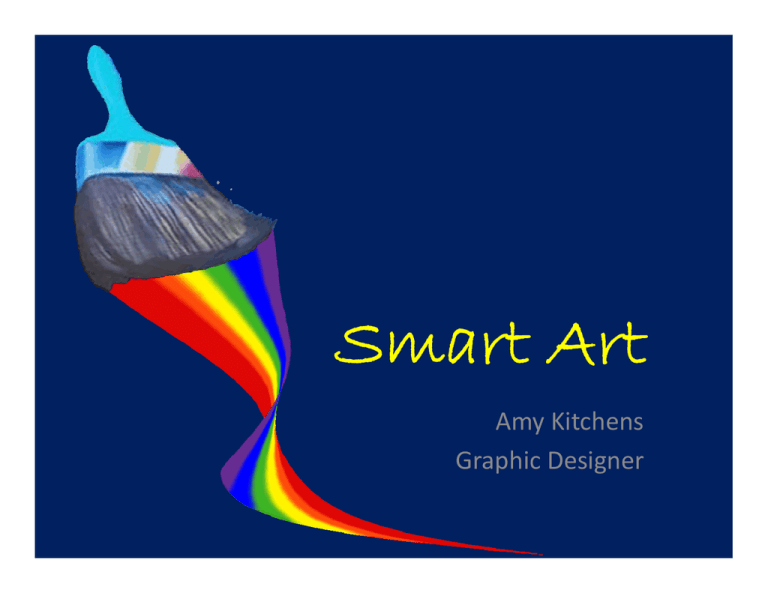 Smart Art
Amy Kitchens
Graphic Designer
A Career in Graphic Design
"The first step in developing a new design is to determine the needs of the client. "
"Graphic designers generate the visual presentation and design of goods, including websites, detergent boxes, album covers, and dog food cans."
"Designers develop images to represent the ideas
their clients want to communicate. "
A Career in Graphic Design
Graphic Design Example:
http://www.youtube.com/v/XJNgIV8jf6o?feature=player_pr
Design Analysis
– Problem: • Storing paintbrushes so that the bristles don't fray.
• Keeping art supplies organized
Design Analysis
– Solution:
• Case design keeps supplies organized • Side case holds paintbrushes separately
– Materials
• Polyurethane Carbonate • Aluminum Alloy 6061
Product Development
Product Development
SmartArt Case
Product Development
Since this product is meant to be mobile, other parts needed:
• Wheels
• Latches to secure drawers and cases
• Easel to fit on top
Works Cited
"Graphic Designer." Test Prep: GMAT, GRE, LSAT,
MCAT, SAT, ACT, and More. Web. 31 Mar. 2011.