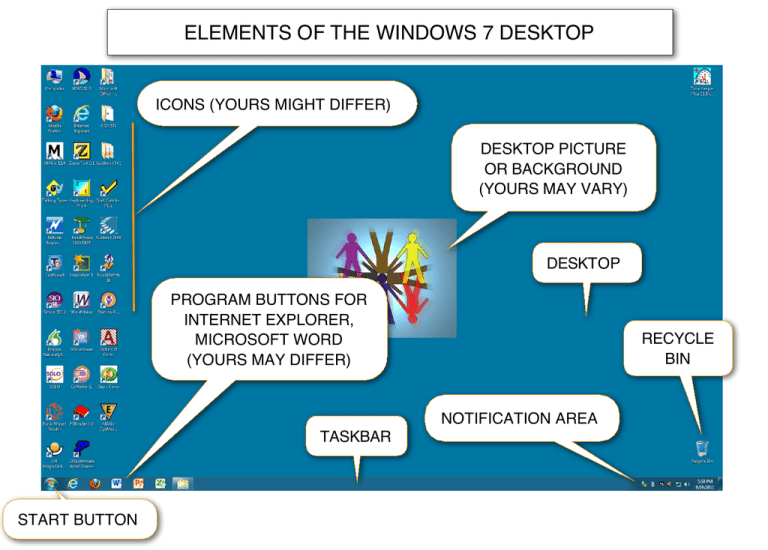 ELEMENTS OF THE WINDOWS 7 DESKTOP
ICONS (YOURS MIGHT DIFFER)
DESKTOP PICTURE
OR BACKGROUND
(YOURS MAY VARY)
DESKTOP
PROGRAM BUTTONS FOR
INTERNET EXPLORER,
MICROSOFT WORD
(YOURS MAY DIFFER)
RECYCLE
BIN
NOTIFICATION AREA
TASKBAR
START BUTTON
CSIS 572 ELEMENTS OF THE WINDOWS 7 DESKTOP
Icons-small pictures that represents an object available to your computer.
Desktop picture or background-Displays the colors and graphics of your desktop; you can
change the desktop background to look the way you want it such as using a picture. Also called
wallpaper.
Desktop-your workplace on the screen.
Start Button-provides access to Windows 7 programs, documents, and information on the
Internet. Generally located in the lower left corner of the desktop.
Program buttons-launches Internet Explorer, Windows Media Player, Windows Explorer and
the program buttons that you have chosen to pin to the taskbar.
Taskbar-contains the Start button and buttons that give you quick access to common tools and
the programs currently running. Generally located along the bottom of the desktop.
Notification area-shows the notification icons, the current date and time and lets you set the
clock. Also known as the system tray and generally located in the lower right corner of the
desktop.
Recycle Bin icon-contains files and folders that you delete. The deleted files are not gone until
you empty the Recycle bin.