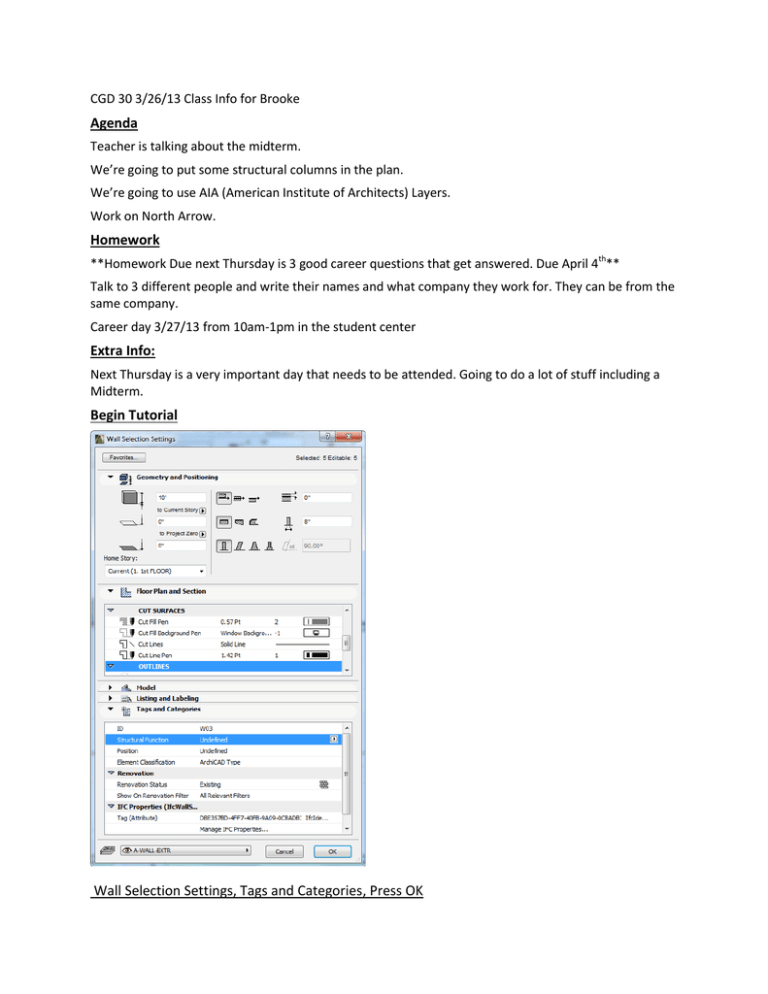 CGD 30 3/26/13 Class Info for Brooke
Agenda
Teacher is talking about the midterm.
We're going to put some structural columns in the plan.
We're going to use AIA (American Institute of Architects) Layers.
Work on North Arrow.
Homework
**Homework Due next Thursday is 3 good career questions that get answered. Due April 4th**
Talk to 3 different people and write their names and what company they work for. They can be from the
same company.
Career day 3/27/13 from 10am-1pm in the student center
Extra Info:
Next Thursday is a very important day that needs to be attended. Going to do a lot of stuff including a
Midterm.
Begin Tutorial
Wall Selection Settings, Tags and Categories, Press OK
Select all the important walls such as walls holding up the second floor
And change them to this:
to give the right thickness to hold up other walls
above it.
For example:
Now it can support another wall on top
of it.
Click on a wall and hold the "shift" button to move the wall straight up and down.
Click on the roof and click CTRL L to move it out of the way.
Then place a wall like this into the building. Notice that extra wall not connected to anything?
Click New and do above then click OK and OK.
Then Click on Column
Then edit it to these settings
Now Click OK
Click on the walls and you should see what's above. Notice the squares. Those are Columns.
We were supposed to be working on Setting Project North but I declined it.
Follow this for Site Plan: http://www.youtube.com/watch?v=9Nke23KinEc&feature=youtu.be
On Thursday were going to put the Foundations around the footing.