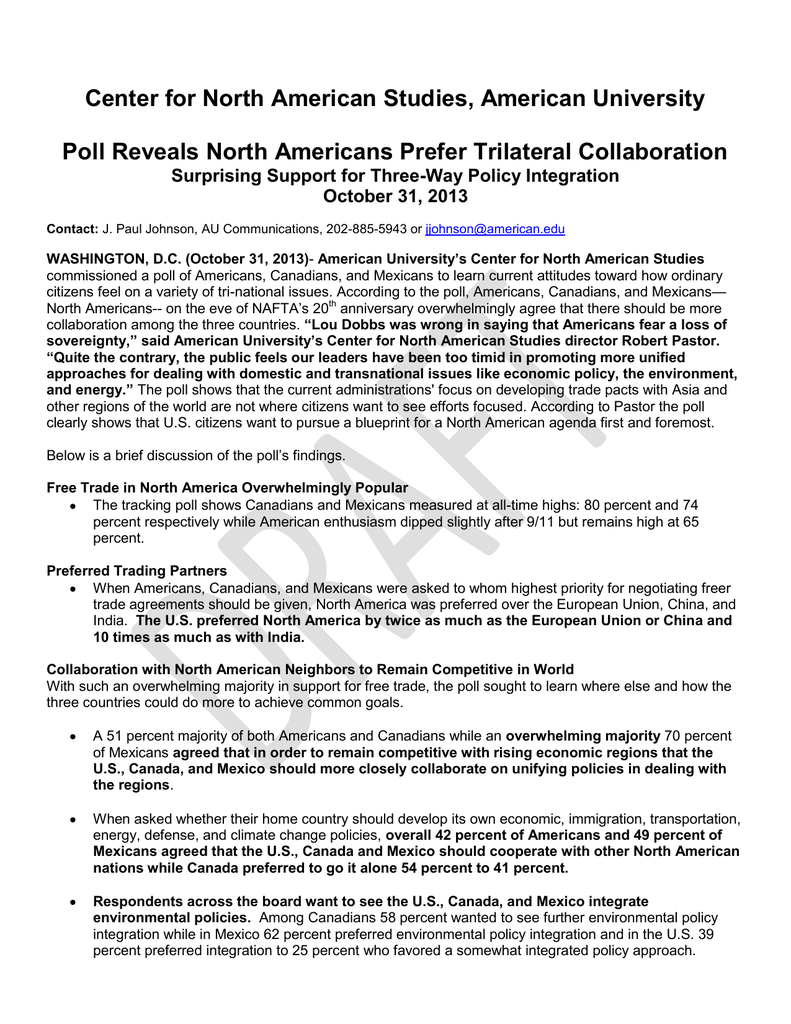 Center for North American Studies, American University
Poll Reveals North Americans Prefer Trilateral Collaboration
Surprising Support for Three-Way Policy Integration
October 31, 2013
Contact: J. Paul Johnson, AU Communications, 202-885-5943 or [email protected]
WASHINGTON, D.C. (October 31, 2013)- American University's Center for North American Studies
commissioned a poll of Americans, Canadians, and Mexicans to learn current attitudes toward how ordinary
citizens feel on a variety of tri-national issues. According to the poll, Americans, Canadians, and Mexicans—
North Americans-- on the eve of NAFTA's 20th anniversary overwhelmingly agree that there should be more
collaboration among the three countries. "Lou Dobbs was wrong in saying that Americans fear a loss of
sovereignty," said American University's Center for North American Studies director Robert Pastor.
"Quite the contrary, the public feels our leaders have been too timid in promoting more unified
approaches for dealing with domestic and transnational issues like economic policy, the environment,
and energy." The poll shows that the current administrations' focus on developing trade pacts with Asia and
other regions of the world are not where citizens want to see efforts focused. According to Pastor the poll
clearly shows that U.S. citizens want to pursue a blueprint for a North American agenda first and foremost.
Below is a brief discussion of the poll's findings.
Free Trade in North America Overwhelmingly Popular
The tracking poll shows Canadians and Mexicans measured at all-time highs: 80 percent and 74
percent respectively while American enthusiasm dipped slightly after 9/11 but remains high at 65
percent.
Preferred Trading Partners
When Americans, Canadians, and Mexicans were asked to whom highest priority for negotiating freer
trade agreements should be given, North America was preferred over the European Union, China, and
India. The U.S. preferred North America by twice as much as the European Union or China and
10 times as much as with India.
Collaboration with North American Neighbors to Remain Competitive in World
With such an overwhelming majority in support for free trade, the poll sought to learn where else and how the
three countries could do more to achieve common goals.
A 51 percent majority of both Americans and Canadians while an overwhelming majority 70 percent
of Mexicans agreed that in order to remain competitive with rising economic regions that the
U.S., Canada, and Mexico should more closely collaborate on unifying policies in dealing with
the regions.
When asked whether their home country should develop its own economic, immigration, transportation,
energy, defense, and climate change policies, overall 42 percent of Americans and 49 percent of
Mexicans agreed that the U.S., Canada and Mexico should cooperate with other North American
nations while Canada preferred to go it alone 54 percent to 41 percent.
Respondents across the board want to see the U.S., Canada, and Mexico integrate
environmental policies. Among Canadians 58 percent wanted to see further environmental policy
integration while in Mexico 62 percent preferred environmental policy integration and in the U.S. 39
percent preferred integration to 25 percent who favored a somewhat integrated policy approach.
73 percent of Mexicans, 48 percent of Canadians, and 39 percent of Americans favored cooperative
border security while 25 percent or less in each country wanted to maintain independent border security
policies.
Sovereignty Straw Man Laid to Rest
Participants in all three countries agreed that a lack of cooperation with North American
neighbors would result in a worsening standard of living and security for each nation. 48
percent of Americans, 52 percent of Canadians, and 53 percent of Mexicans agreed far outpacing
those who responded that sovereignty would be undermined or compromised by increasing
cooperation. In other words sovereignty was not a major issue among the respondents.
Meanwhile, participants in all three countries thought their respective governments could be
doing more: 35 percent in the U.S., 35 percent in Canada, and 48 percent in Mexico. These
results dwarfed those who thought the countries were doing too much: 10 percent, 14 percent, and 8
percent respectively.
When asked if their government should play a more active or less active role in promoting more
collaborative policies with neighbors an overwhelming majority responded their governments
should be more active: 58 percent in the U.S., 64 percent in Canada, and 83 percent in Mexico.
Borders & Security Don't Dominate Debate, Respondents Prefer a North American Security Perimeter
After 9/11 border security became a fixation; however, as this poll's results show, while security is still
important in the U.S. it has declined over the last decade as a top issue in Canada. However, all three
countries support a common North American security perimeter: 41 percent in the U.S., 43
percent in Canada and 62 percent in Mexico. Support in the U.S. and Mexico far outpaces
opposition at 20 percent and 19 percent respectively.
Mexico is now much more concerned about freedom of movement with 45 percent of
respondents citing it as the most important consideration when given a choice between security
and safety; national sovereignty and identity; and economic advantage.
A mere 6 percent of U.S and 5 percent of Mexicans said national sovereignty and identity should
be the most important consideration in discussions about the U.S.-Mexico/U.S.-Canada border.
This reflects the lowest percentage over a nine year period.
The poll was conducted in October in Canada, the United States, and Mexico where more than 4,400 adult
participants (1,600 in the U.S., 1505 Canada, and 1320 in Mexico) were asked a battery of questions. The
margin of era for all three countries was an average +/- 2.56.