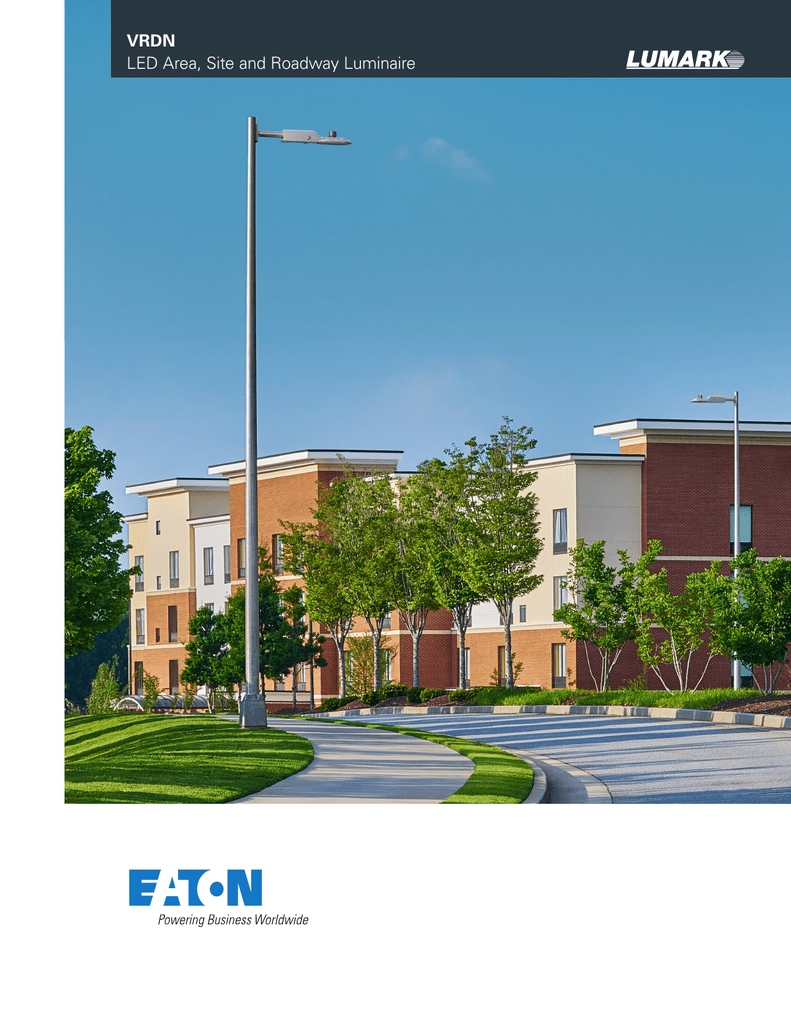 VRDN
LED Area, Site and Roadway Luminaire
Innovation...Evolution.
Superior, Affordable Performance in
LED Area, Site and Roadway Lighting
Engineered for Performance and
Reliability
With industry-leading, patented optics in a scalable
package, the VRDN LED area, site and roadway luminaire
delivers state-of-the-art optical control, low maintenance
costs and rugged construction in a modern style. The VRDN
luminaire provides warm, white light with superior color
rendering and uniform illumination to the targeted surface
while providing greater than 67 percent in energy and
maintenance savings over traditional HID solutions.
Whether the application is a roadway or industrial/municipal
parking lot, the VRDN luminaire is the choice for superior
Superior illumination, low maintenance, long life and low cost
of ownership are critical factors when lighting public spaces
and roadways. The VRDN luminaire is ideal for retrofit and new
construction projects, and it can be tailored to meet your specific
needs without compromising on features. A single basic housing
accommodates a wide range of lumen packages, ranging from
3,775 to 9,315 delivered lumens. The 4000K CCT / 70 CRI
is standard with 5700K / 70 CRI and 3000K / 70 CRI options
available. The LEDs are enclosed in IP66 rated optical enclosure
and the fixture is UL wet location listed and 3G vibration rated.
With an IP66 housing option available the VRDN luminaire
provides exceptional durability and long term reliability.
energy efficiency with unbeatable economics.
1
EATON
VRDN LED Area, Site and Roadway Luminaire
Designed for Durability and
Ease of Installation
The VRDN luminaire is designed to install easily, meet your
performance requirements, and reduce your energy and
maintenance costs. A tool-less, removable driver door and
quick electrical disconnects allow nearly effortless installation
and maintenance. The available 10kV UL 1449 surge protector
provides state of the art protection against voltage spikes, while
a super TGIC polyester powder-coat finish provides years of
worry-free ownership.
EATON
VRDN LED Area, Site and Roadway Luminaire
2
Design Features
The VRDN luminaire is designed to provide superior optical performance combined with a variety of control options in a package
that's easy to install and maintain. Industry-leading AccuLED Optics technology ensures maximum pole spacing and uniformity
when replacing 50-150W MH and HPS fixtures.
TM
Construction
Controls
• Rugged, die-cast aluminum housing
• Tool-less entry with hinged, removable power door, for ease
of maintenance
• 3G vibration rated
• IP66 rated LED optical enclosure
• UL/cUL wet location rated housing (IP66 housing optional)
• Controls-ready when equipped with ANSI 7-PIN twistlock
photocontrol receptacle. 3-PIN twistlock photocontrol
receptacle available
• Available with dimming motion control (0-10V dimming)
• Optional integrated sensor for occupancy and dimming
• Optional wireless control and monitoring system
Electrical
Mounting
• -40°C to 40°C ambient operating temperature range; 50°C
high ambient option available
• 10kV/10kA, UL 1449 surge protection available
• 120-277V 50/60Hz, 347V 60Hz or 480V 60Hz operation
• Quick electrical disconnects for tool-less removal of power
door
• Standard two-bolt/one bracket slipfitter with cast-in pipe stop
• Optional four-bolt/two-clamp mounting available
• Optional 15" straight arm with round pole adapter
Optical
• Type II, III and V distributions
• Wide range of lumen packages; replaces 50-150W HPS and
MH luminaires in most area, site and roadway applications
• Greater than 90 percent lumen maintenance at 50,000 hours
• AccuLED Optics technology provide precise, uniform lighting
Finish
• Five-stage super TGIC paint resists extreme weather
conditions while providing optimal color and gloss retention.
Available in grey, bronze, black, dark platinum, graphite
metallic or white
Warranty
• Five-year warranty
Optional Features
Surge Protection
15" Straight Arm
UL 1449 Listed 10kV/10kA surge
protection against common
(line-to-ground) and differential
(line-to-line) mode surge.
Optional 15" straight pole mount arm
available with round pole adapter and
mounting hardware included.
3
EATON
VRDN LED Area, Site and Roadway Luminaire
7-PIN NEMA Twistlock
Photocontrol Receptacle
ANSI C136.41 compliant. Enables
wireless dimming when used with
compatible photocontrol.
Rugged Die-cast
Aluminum Housing
IP66 Rated Optics
Tool-less Entry
Ease of Installation and Maintenance
Superior performance comes with years of low-cost, low-hassle ownership. With lumen maintenance and life expectancy far
beyond traditional HID light sources, regular and time-consuming service visits are a thing of the past. The driver is mounted on
the power door and is easily accessible by stainless steel latches requiring no tools. The door is small enough to hold in one hand,
making field replacement quick and easy.
Tool-less Access
Hinged, Removable Power Door
Stainless steel latches provide easy,
tool-less access to the electrical
compartment.
Driver is mounted to door. Integral hinge allows door to hang securely while making
wire connections and can be easily removed without the use of tools.
EATON
VRDN LED Area, Site and Roadway Luminaire
4
Energy Savings
Energy Savings and Environmental Stewardship
The simplest and most effective way to reduce a lighting fixture's impact on the environment is to minimize its energy
consumption. By incorporating solid state lighting technology, the VRDN luminaire provides energy and maintenance savings
up to 88 percent when compared to standard HID solutions. In addition to energy savings, the VRDN luminaire is RoHS compliant.
Long Life
With minimal ten-year lumen depreciation, the VRDN luminaire operates many times longer than traditional HID fixtures.
The VRDN luminaire was deliberately designed with an electrical compartment that is isolated from the LED modules in order
to optimize thermal dissipation of both the LED modules and electrical components insuring long operating life of all the fixture
components.
4000K
Warm White Color
Lighting designers, architects and specifying engineers have
long preferred light sources that provide a balanced spectral
power distribution and warm white light. Many LED solutions
standardize on a cool blue 5000-6000K correlated color
temperature (CCT) to maximize lumen output. The VRDN
luminaire provides warm white light at a standard 4000K CCT
without sacrificing lumen output.
2700K
3000K
nominal
4500K
6500K
High Pressure Sodium Metal Halide (Quartz, Ceramic)
(2000K)
AccuLED Optics
(4000K)
Cold LED
(6000-6500K)
Reduced Energy Consumption
Operating and maintenance costs of a lighting system are dramatically impacted by the specified lamp source, system power
consumption and the duration time of operation. Total system input watts and fixture operating life should be the driving
considerations when addressing energy consumption and total cost of ownership. Energy savings increase when energy
consumption is reduced and maintenance intervals are extended.
Annualized Energy and Maintenance Savings / Cost Comparison
Product
Hours Days / Year
VRDN LED Luminaire
100W Metal Halide
VRDN LED Luminaire
150W Metal Halide
VRDN LED Luminaire
250W Metal Halide
9 / 3,285
9 / 3,285
9 / 3,285
Annual
Maintenance
Cost 3
Total Energy
Cost/Fixture and
Maintenance
$11.50
$0.00
$11.50
$41.39
$55.00
$96.39
System
Wattage
Cost / Year
at $.10 kWh 2
60,000
35W
20,000
129W
60,000
63W
$20.70
$0.00
$20.70
20,000
190W
$62.42
$57.33
$119.75
60,000
91W
$29.89
$0.00
$29.89
12,000
285W
$93.62
$96.67
$190.29
Life (Hours) 1
Annual
Savings
Per Fixture
Savings
(Percent)
$84.89
88%
$99.05
83%
$160.40
84%
NOTE: 1 Lamp life for non-LED sources is defined as 50% failures. 2 Cost = (Watts x 9 hours per day x 365 days per year)/1000 = Daily Kilowatt hour (kWh). kWh x 0.10 cents/kWh = Cost/Year at .10 kWh. 3 Relamping cost is
calculated based on an average relamping of each fixture over a period of nine years.
Energy Savings / Equivalency / Cross Reference Guide
HID Wattage
HID Life
(Hours)
LED Fixture Replacement
LED Wattage
LED Life
(Hours per
TM-21)
HID vs. LED Energy
Savings (Percent)
100W MH
129W
20,000
VRDN LED A018
35W
60,000
73%
150W MH
190W
20,000
VRDN LED A01
63W
60,000
67%
250W MH
295W
12,000
VRDN LED A02
91W
60,000
69%
HID Source
5
EATON
VRDN LED Area, Site and Roadway Luminaire
Ordering Information
Sample Number: VRDN-A02-E-UNV-T3-PER-AP
Product Family 1
Light Engine 2
Driver 3
Voltage
Distribution
VRDN
A01=1 LED, Full Output
A018=1 LED, Approximately 80% Output
A016=1 LED, Approximately 60% Output
A02=2 LEDs, Full Output
A028=2 LEDs, Approximately 80% Output
E=Non-Dimming
D=Dimming (0-10V)
UNV=Universal (120-277V)
347=347V
480=480V 4
T2=Type II
T3=Type III
T5=Type V
Options (Add as Suffix)
Color
Accessories (Order Separately)
7030=70 CRI / 3000K CCT 5
7060=70 CRI / 5700K CCT 5
PER=NEMA 3-PIN Twistlock Photocontrol Receptacle 6
PER7=NEMA 7-PIN Twistlock Photocontrol Receptacle 6, 7
10K=10kV UL 1449 Surge Protective Device
IP66=IP66 Rated Housing
HA=50°C High Ambient Temperature
MS/DIM-L08=Motion Sensor for Dimming Operation, Maximum 8' Mounting Height 7, 8, 9
MS/DIM-L20=Motion Sensor for Dimming Operation, Maximum 9' - 20' Mounting Height 7, 8, 9
MS/DIM-L40=Motion Sensor for Dimming Operation, Maximum 21' - 40' Mounting Height 7, 8, 9
DIMRF-LN=Factory Installed LumaWatt RF Dimming Control System (Mounting Height 16' and Up) 10, 11
DIMRF-LW=Factory Installed LumaWatt RF Dimming Control System (Mounting Height below 16') 10, 11
K=Level Indicator
4B=Four-bolt, Two-clamp Mounting
A15=Arm Included (15" Straight Arm) 12
AP=Grey (Standard)
BZ=Bronze
BK=Black
DP=Dark Platinum
GM=Graphite Metallic
WH=White
OA1223=10kV/10kA UL 1449 Surge Module Replacement
OA/RA1013=Photocontrol Shorting Cap
OA/RA1014=NEMA Photocontrol - 120V
OA/RA1016=NEMA Photocontrol - Multi-Tap
OA/RA1027=NEMA Photocontrol - 480V
OA/RA1201=NEMA Photocontrol - 347V
FSIR-100=Wireless Configuration Tool for Motion Sensor 13
A15-XX=15" Straight Arm 14
HS-VERD=Verdeon House Side Shield
NOTES: 1 DesignLights Consortium® Qualified. Refer to www.designlights.org Qualified Products List under Family Models for details. 2 Standard 4000K CCT and 70 CRI. 3 Consult factory for driver surge protection values. 4 Only
for use with 480V Wye systems. Per NEC, not for use with ungrounded systems, impedance grounded systems or corner grounded systems (commonly known as Three Phase Three Wire Delta, Three Phase High Leg Delta and Three
Phase Corner Grounded Delta systems). 5 Extended lead times apply. Use dedicated IES files for 3000K and 5700K when performing layouts. These files are published on the VRDN luminaire product page on the website. 6 Not
available with MS/DIM or DIMRF options. 7 Must specify dimming driver. 8 Not available with 4B option. Sensor mounted externally. Consult factory for more information. 9 The FSIR-100 accessory is required to adjust parameters.
10 LumaWatt wireless sensors are factory installed and require network components RF-EM-1, RF-GW-1 and RF-ROUT-1 in appropriate quantities. See website for LumaWatt application information. 11 LumaWatt wireless system is
not available with photocontrol receptacle (not needed). 12 Round pole adapter and mounting hardware included. "M" drill pattern. 13 This tool enables adjustment of parameters including high and low modes, sensitivity, time delay,
cutoff and more. Consult your lighting representative at Eaton for more information. 14 Replace XX with finish color.
Dimensions
4-7/8"
[124mm]
9-5/8" [244mm]
30-1/2" [774mm]
Optional Arm
Arm Drilling
15" Straight Arm
TYPE "M"
2-5/16"
[59mm]
7"
[178mm]
3/4" [19mm]
Dia. Hole
2-7/16" [62mm]
2-3/8"
[60mm]
4-7/8" [124mm]
14-13/16" [376mm]
(2) 5/8" [16mm]
Dia. Holes
Additional Information
Compliances
Technical Data (Electronic Driver)
EPA (Effective Projected Area - Square Feet)
Shipping Data (Approximate Net Weight)
UL and cUL Wet Location Listed
IP66-Rated Optics
3G Vibration Rated
ISO 9001
DesignLights Consortium® Qualified 1
+40°C (104°F) Ambient Temperature Rating
-40°C (-40°F) Ambient Temperature Rating
>0.9 Power Factor
<20% Total Harmonic Distortion
120-277V 50/60Hz
347V 60Hz, 480V 60Hz 2
0.5
20 lbs. (9.1 kgs.)
NOTES: 1 DesignLights Consortium® Qualified. Refer to www.designlights.org Qualified Products List under Family Models for details. 2 480V is compatible for use with 480V Wye systems only.
EATON
VRDN LED Area, Site and Roadway Luminaire
6
Our Lighting
Product Lines
Halo
Halo Commercial
Portfolio
Iris
RSA
Metalux
Corelite
Neo-Ray
Fail-Safe
MWS
Ametrix
Shaper
io
Lumark
Our Controls
Product Lines
Greengate
iLumin
Zero 88
Fifth Light Technology
iLight (International Only)
McGraw-Edison
Invue
Lumière
Streetworks
AtLite
Sure-Lites
Eaton
1121 Highway 74 South
Peachtree City, GA 30269
P: 770-486-4800
www.eaton.com/lighting
Canada Sales
5925 McLaughlin Road
Mississauga, Ontario L5R 1B8
P: 905-501-3000
F: 905-501-3172
Eaton is a registered trademark.
© 2015 Eaton
All Rights Reserved
Printed in USA
Publication No. BR500005EN
June 2015
All other trademarks are property
of their respective owners.
Product availability, specifications,
and compliances are subject to
change without notice.