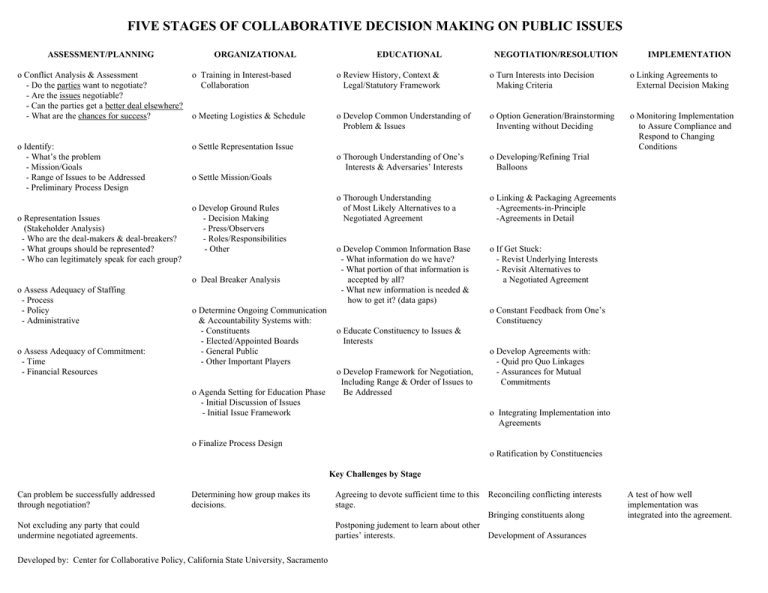 FIVE STAGES OF COLLABORATIVE DECISION MAKING ON PUBLIC ISSUES
ASSESSMENT/PLANNING
ORGANIZATIONAL
EDUCATIONAL
NEGOTIATION/RESOLUTION
IMPLEMENTATION
o Conflict Analysis & Assessment
- Do the parties want to negotiate?
- Are the issues negotiable?
- Can the parties get a better deal elsewhere?
- What are the chances for success?
o Training in Interest-based
Collaboration
o Review History, Context &
Legal/Statutory Framework
o Turn Interests into Decision
Making Criteria
o Linking Agreements to
External Decision Making
o Meeting Logistics & Schedule
o Develop Common Understanding of
Problem & Issues
o Option Generation/Brainstorming
Inventing without Deciding
o Identify:
- What's the problem
- Mission/Goals
- Range of Issues to be Addressed
- Preliminary Process Design
o Settle Representation Issue
o Monitoring Implementation
to Assure Compliance and
Respond to Changing
Conditions
o Thorough Understanding of One's
Interests & Adversaries' Interests
o Developing/Refining Trial
Balloons
o Thorough Understanding
of Most Likely Alternatives to a
Negotiated Agreement
o Linking & Packaging Agreements
-Agreements-in-Principle
-Agreements in Detail
o Develop Common Information Base
- What information do we have?
- What portion of that information is
accepted by all?
- What new information is needed &
how to get it? (data gaps)
o If Get Stuck:
- Revist Underlying Interests
- Revisit Alternatives to
a Negotiated Agreement
o Representation Issues
(Stakeholder Analysis)
- Who are the deal-makers & deal-breakers?
- What groups should be represented?
- Who can legitimately speak for each group?
o Settle Mission/Goals
o Develop Ground Rules
- Decision Making
- Press/Observers
- Roles/Responsibilities
- Other
o Deal Breaker Analysis
o Assess Adequacy of Staffing
- Process
- Policy
- Administrative
o Assess Adequacy of Commitment:
- Time
- Financial Resources
o Determine Ongoing Communication
& Accountability Systems with:
- Constituents
- Elected/Appointed Boards
- General Public
- Other Important Players
o Agenda Setting for Education Phase
- Initial Discussion of Issues
- Initial Issue Framework
o Constant Feedback from One's
Constituency
o Educate Constituency to Issues &
Interests
o Develop Framework for Negotiation,
Including Range & Order of Issues to
Be Addressed
o Develop Agreements with:
- Quid pro Quo Linkages
- Assurances for Mutual
Commitments
o Integrating Implementation into
Agreements
o Finalize Process Design
o Ratification by Constituencies
Key Challenges by Stage
Can problem be successfully addressed
through negotiation?
Determining how group makes its
decisions.
Not excluding any party that could
undermine negotiated agreements.
Developed by: Center for Collaborative Policy, California State University, Sacramento
Agreeing to devote sufficient time to this Reconciling conflicting interests
stage.
Bringing constituents along
Postponing judement to learn about other
Development of Assurances
parties' interests.
A test of how well
implementation was
integrated into the agreement.