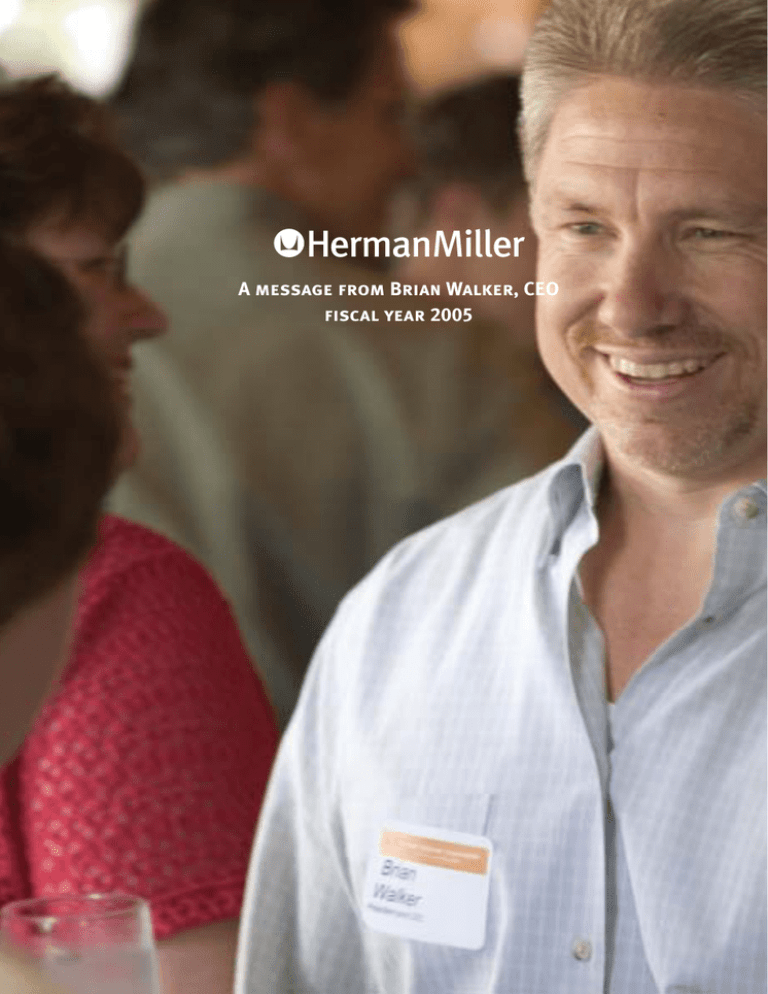 L
A message from Brian Walker, CEO
fiscal year 2005
Y
Dear members of the Herman Miller community,
Saying thank you is one of the best parts of my job. We've had a good
year, and we owe thanks to many people—our sales force, our
customers, our dealers and retailers, our suppliers, our employees
in general. We have made great progress in going from strategy and
planning to implementation and engagement. I think you'll see the
results of hard and smart work on the parts of many, many Herman
Miller employees. The financial results from last year make me
believe we are on the right track and that we have a solid footing
on which to build both new and existing markets.
Our new take on the annual report
There is a lot more to report on this year and a lot to look forward to.
First, you'll notice I am addressing this letter to "the Herman Miller
community," which includes many groups in addition to shareholders.
Second, the detailed financial information required by the Securities
and Exchange Commission appears in the accompanying Proxy
Statement and Annual Financial Statements. The third part of this
package is a booklet laying out our corporate values, what matters
to us at Herman Miller. This re-affirmation of what we believe has
been an important part of our work over the last year, and I'm happy
to present it to you. It's the foundation for our actions in the future.
Values persist as almost everything else changes
Great stories tell Herman Miller's past—the Millwright, Gilbert Rhode
and design, Robert Propst and Action Office, Carl Frost and the Scanlon
Plan. One of the accomplishments from last year is the re-statement
01
of our corporate values. Through a process that began with my team
(Andy Lock, Beth Nickels, Charley Vranian, Gary Miller, Kris Manos,
Don Goeman, John Portlock, and Ken Goodson) and then included
over 150 leaders throughout the company, we looked at what we
believed in and what kind of a company we wanted to be.
These values are Curiosity and Exploration; Performance; Engagement;
Design; Relationships; Inclusiveness; A Better World; Transparency;
Foundations. "The Basis of Our Communiuty—Things That Matter"
is one of a series of booklets we've published recently describing
important facets of Herman Miller. We would be happy to send you
the other four booklets in this series if you're interested in other parts
of our business and our community—"Our Spirit of Design,"
"Environmental Advocacy," "Why We Care About Ergonomics," and
"Changing From the Inside Out" (the Herman Miller Production System).
100 years ago
In 1905, one hundred years ago, The Star Furniture Company in
Zeeland, Michigan began to manufacture cumbersome but well-made
residential furniture. Like many other furniture companies in West
Michigan, Star took advantage of the natural and human resources
in this region. Unlike any other furniture company in West Michigan,
it had the good fortune to hire Dirk Jan De Pree as a clerk in 1909.
Fourteen years later in 1923, DJ, Herman Miller (DJ's father-in-law),
and several others bought the company. DJ re-named the company
Herman Miller and became its manager.
The rest is history, a great story that we are all part of. Our company
is 100 years old, and Herman Miller is 82. This past year, I became
Herman Miller's seventh CEO, and I want you all to know I'm fully
aware of the legacy I've inherited from the six leaders who preceded
me. Our past is a great strength, and living up to our potential is an
awesome responsibility.
02
A few financial items
Financial performance results from many people doing well in their
jobs. This year's financial measures show good progress over last
year and are the best results since the beginning of the economic
downturn in 2001. We are especially pleased with our sales growth
and profitability. Cash flow and operating margins rose; at the same
time we reduced the level of assets required by our business.
This performance allowed us to return a significant amount of
cash to shareholders.
These financial measures tell you how we did last year. There is
another story, a story about the future. In the middle of the downturn, then CEO Mike Volkema and his team decided to maintain the
level of our design and research expenditures. Given the severity of
the downturn, that was a very difficult decision. We are glad we made
it. Due to the length of the design and research cycle, investments
over the previous three years are now beginning to bear fruit. Later in
this message you will see some examples of new products launched
this past year. We have an even more ambitious new product launch
agenda for next year. This, I think, bodes well for our future.
This past year's results are, from my point of view, real evidence of
Herman Miller taking advantage of the last several years' hard work
and our preparation for moving ahead. We have come out of a period
of difficult economic conditions with a group of competent employees,
a promising product development queue, a streamlined and efficient
production system, and a group of salespeople and dealers ready
to capitalize on it all.
03
Fiscal 2005 Highlights
Net Sales increased 13.2%
Net Earnings increased 60.8%
Share Price increased 23.8%
Cash Flow from Operations $109.3 million
$40.2 million invested in Design and Research
Ending Cash Balance $154.4 million
Stock Performance Comparison
(Indexed to June 3, 2002)
40%
20%
0%
-20%
-40%
June 02
Source: Baseline
04
Jan 03
Selected Financial Data
(In US$ Millions Except Per Share Data)
Net Sales
Operating Earnings
Net Earnings
Earnings Per Share - Diluted
End of Period Balances:
Cash and Cash Equivalents
Total Assets
Interest-Bearing Debt
Total Liabilities
Total Equity
FY03
$1,337
48
23
0.31
FY04
$1,338
61
42
0.58
FY05
$1,516
122
68
0.96
186
757
223
566
$191
189
715
207
520
$195
154
706
194
535
$171
Herman Miller (MLHR)
S&P 500 Index
Dow Jone Industrial Average Index
Jan 04
Jan 05
May 05
05
Domestic net sales
International net sales
(In Millions)
(In Millions)
$310
$1,300
272.9
1,242.7
$240
$1,200
214.5
202.5
1,134.0
1,123.8
$170
$1,100
$1,000
FY03
FY04
FY05
$100
FY03
FY04
FY05
Operating margin
Earnings per share–diluted
(Percent of Net Sales)
$1.20
9%
8.0
.96
$0.80
6%
4.6
.58
3.6
$0.40
$0
06
3%
.31
FY03
FY04
FY05
0%
FY03
FY04
FY05
Design and reseach spending
Cash flow from operations
(In Millions)
(In Millions)
$180
$45
144.7
40.0
$40
40.2
$120
39.1
109.3
82.7
$60
$35
$30
FY03
FY04
FY05
$0
FY03
FY04
FY05
After-tax return on capital
Cash returned to shareholders
(In Millions)
$180
21%
17.7
152.0
$120
14%
10.4
72.7
72.6
$60
$0
7%
FY03
FY04
FY05
Defined as cash divendends paid
plus share repurchases.
0%
5.1
FY03
FY04
FY05
Capital is defined as the average
interest-bearing debt plus average
shareholders' equity in the period.
07
08
One way we share what we know is through publications, both online
and in print. Jugglezine, our online magazine, our expanding series
of Research Summaries, and SEE magazine present developed and
developing knowledge to customers and the A&D community.
Discovering needs and delivering solutions
We base our strategy on a core strength in problem-solving design
and innovation. This great strength lies at the heart of Herman Miller.
Ultimately our customers want solutions that improve their performance
or solve a problem. So we must go beyond simply selling hardware.
Our customer engagement teams develop deep relationships and
deliver value-adding knowledge in addition to innovative and quality
products. By focusing on the whole solution, we help our customers
discover their needs and select an answer that best fits their organizations. Understanding what whole solutions are possible isn't easy.
It requires us to constantly explore the cultures and worlds our
customers confront every day.
We know a great deal, and we're always learning
Herman Miller pursues research in many ways—through dedicated
groups here in West Michigan that follow trends, study ergonomics,
explore new materials. Our designers also research new products
in their studios, which are scattered around the world. Our services
group, reorganized this past year, turns much of our knowledge
about work and workplaces into services for customers. We also
publish a great deal, both in print and on-line (see hermanmiller.com
for a complete offering). By making what we know available to our
customers, we help them understand what's possible. Our problemsolving designs depend on thorough and ongoing research, something
you see reflected in steady design and research expenditures.
Our products are ideas put in a form that helps customers.
09
Great customer relationships begin and end with performance
Our Operations group has delivered to Herman Miller (through the
widely-recognized Herman Miller Production System or HMPS) a
new way of thinking about performance. Many people and groups
have honed this system since 1996 when it began. While we have
made great progress, this journey has no ending. We are now
extending what we have learned through the HMPS to our suppliers
and dealers. This expanded scope is full of promise for improvements
in cost and customer satisfaction. The Herman Miller Production
System focuses us on the relentless elimination of waste and
bullet-proof reliability. This focus enables us to deliver cost-effective
solutions on time, every time, with impeccable quality. I'm truly
pleased with the competent and dependable delivery system
our Operations group is building with HMPS. It's a crucial part
of implementing our strategy over the coming years.
Using our formula to serve new customers
Today, much of our energy and resources goes to solving problems in
work environments; most of our sales are to customers in that market.
We believe that our formula of product innovation, solution delivery,
and operational performance will let us continue to increase the
number of customers who choose Herman Miller to "create their great
place to work." Yet I have always believed a truly great business has
the ability to expand and redefine the customers that it can serve.
10
I believe Herman Miller is a great business with a simple, but unique,
formula that can extend to a much broader set of customers.
We have already begun to extend this formula to other problem
areas and to customers who need great places to heal, live, and
learn. The potential of our formula to help all kinds of customers
is large; experience in the adjacent markets of healing, living,
and learning is teaching us a good deal.
These adjacent markets are not wholly new to Herman Miller. At its
founding Herman Miller was primarily focused on solving problems
in living environments. We are blessed with a large number of iconic
products for living environments that are treasured by multiple
generations around the world. Our knowledge and expertise in
healing environments stretch back to the late 1960s and 1970s,
when, under the leadership of Robert Propst, we invented Co/Struc,
a system of material handling carts and storage units for healing
environments still solving problems today.
We intend to go beyond where we are today and push more deeply
into solving problems in healing, living, and learning environments.
The teams we have at work in these areas are full of competence
and commitment. They are expanding our expertise, increasing the
effectiveness and breadth of our products, and discovering new
ways to help customers. They are busy applying the Herman Miller
attitude of problem-solving to their customers' worlds. I have great
expectations for them.
11
12
Work environments are a traditional strength for us. This year we
introduced the Cella chair, a wonderful mid-priced, ergonomically
sophisticated result of research and design. Such products truly help
create great places to work.
Herman Miller has been researching healing environments since the
1960s. Given the importance of health care in our world, I'm glad to
say that we have a strong team serving this market and exploring
new products for it.
13
14
Through a unique network of retailers, we have built an increasingly
successful way of reaching consumers and the home market. Herman
Miller for the Home continues to grow and re-introduce classic
Herman Miller designs.
We are also researching and exploring the future of learning
environments in the United States. The team is giving us a real
basis of knowledge about this market and its future.
15
Our International group continues to do a superb job
We should also recognize International for yet another great year.
They exemplify for us two of our values—Performance and
Engagement. Sales have risen for International for three straight
years, and their outlook is good. I'd like to thank them for their
substantial contribution. We introduced at NEOCON 2004
this past June a product—the Abak desking system—developed
and successfully marketed in Europe.
We have had an international presence for many years.
Today, we serve customers in almost 80 countries around the world.
While much of our international business is in large industrialized
countries, we also serve customers in many smaller places—even
surprising places like Afghanistan. We are expanding our presence
in the emerging markets of India and China, since these countries
are seeing a significant increase in knowledge workers as their
economies continue to grow rapidly. In addition, many of our
traditional customers, large multinational organizations,
are investing in these markets, and we must be prepared
to serve them around the world.
16
This installation crew has just finished unpacking Herman Miller
products for a project in Kabul. In spite of war and terrorism,
work goes on, and we are as determined to help our customers
there as we are anywhere else in the world.
17
Danny Hillis is one of the partners at Applied Minds, the company
that invented Babble in conjunction with Herman Miller. I'd like to see
more relationships like this one in our future.
Motus helps adapt and change interior space over time.
I'm excited about the potential of this new product, now in a first
commercial installation.
18
Two new adventures with great promise
Part of our strategy is to move into entirely new markets that
can benefit from our base of knowledge in built environments.
Begun a few years ago to pursue exactly such opportunities,
the Herman Miller Creative Office recently launched one new product
developed as part of this strategy and is preparing to launch another.
In May, you may have seen the New York Times article discussing
Babble, a sound technology that makes it possible to have private
conversations without losing the benefits of open access to other
people. We developed this in conjunction with Applied Minds,
a small and innovative group of thinkers in California. Babble is
the first product of Sonare, the Herman Miller venture focused on
technologies that help manage sound.
We are also excited about the potential of Motus, a new approach
to the design, build-out, and utilization of commercial space.
We have installed Motus in a 17,000-square-foot retail space to
provide this customer with a programmable environment that adapts
over time quickly and easily. Motus will become part of an interior
structure and utility delivery platform we hope will be applicable
in multiple markets. Motus will help building owners, architects,
designers, and organizations create and manage interior spaces.
19
A final thank you
Finally, I want to thank Mike Volkema on behalf of the Herman Miller
community. He stepped down as CEO in June, 2004 and remains
as Chairman of the Board. He has brought this company through
unbelievably difficult times with grace and compassion. Thanks to
Mike, we are in an excellent financial position, are armed with talent
and focus, and have already begun to move ahead with new products
and markets. His name is yet another on a long list of wonderful
leaders at Herman Miller.
20
Y
© 2005 Herman Miller, Inc., Zeeland, Michigan Printed in U.S.A. on 100 percent post-consumer
waste recycled paper with soy-based inks. P.MS2841
® L, Y, Action Office, and Co/Struc are among the registered trademarks of Herman Miller, Inc.
™ Abak, Babble, Cella, and Motus are among the trademarks of Herman Miller, Inc.