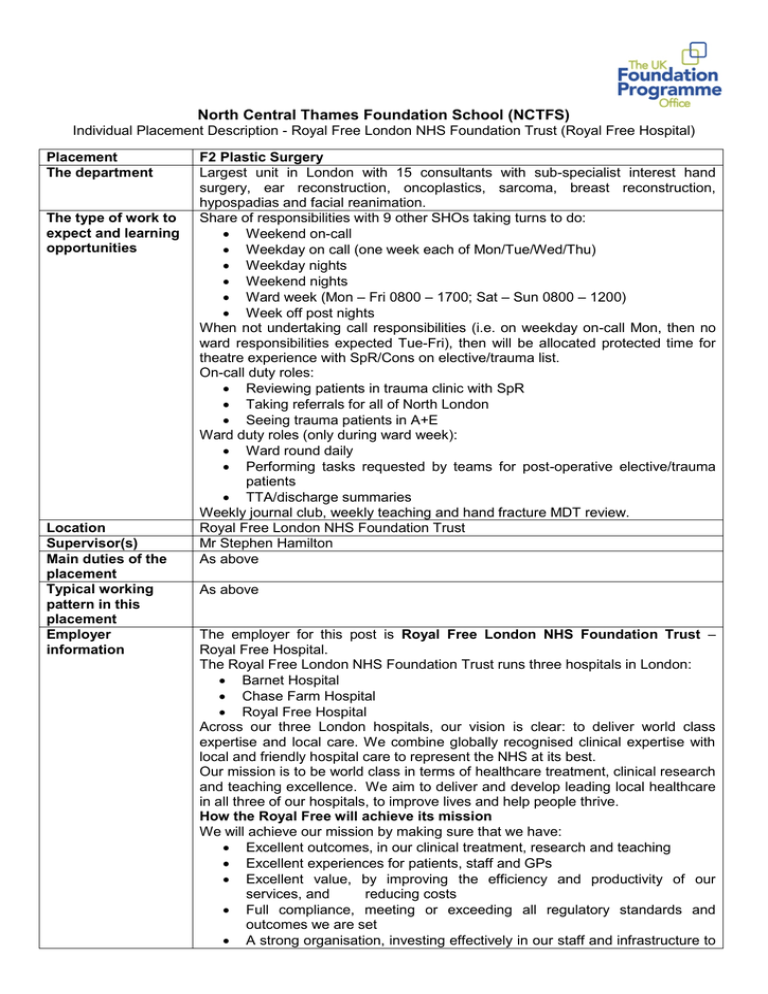 North Central Thames Foundation School (NCTFS)
Individual Placement Description - Royal Free London NHS Foundation Trust (Royal Free Hospital)
Placement
The department
The type of work to
expect and learning
opportunities
Location
Supervisor(s)
Main duties of the
placement
Typical working
pattern in this
placement
Employer
information
F2 Plastic Surgery
Largest unit in London with 15 consultants with sub-specialist interest hand
surgery, ear reconstruction, oncoplastics, sarcoma, breast reconstruction,
hypospadias and facial reanimation.
Share of responsibilities with 9 other SHOs taking turns to do:
 Weekend on-call
 Weekday on call (one week each of Mon/Tue/Wed/Thu)
 Weekday nights
 Weekend nights
 Ward week (Mon – Fri 0800 – 1700; Sat – Sun 0800 – 1200)
 Week off post nights
When not undertaking call responsibilities (i.e. on weekday on-call Mon, then no
ward responsibilities expected Tue-Fri), then will be allocated protected time for
theatre experience with SpR/Cons on elective/trauma list.
On-call duty roles:
 Reviewing patients in trauma clinic with SpR
 Taking referrals for all of North London
 Seeing trauma patients in A+E
Ward duty roles (only during ward week):
 Ward round daily
 Performing tasks requested by teams for post-operative elective/trauma
patients
 TTA/discharge summaries
Weekly journal club, weekly teaching and hand fracture MDT review.
Royal Free London NHS Foundation Trust
Mr Stephen Hamilton
As above
As above
The employer for this post is Royal Free London NHS Foundation Trust –
Royal Free Hospital.
The Royal Free London NHS Foundation Trust runs three hospitals in London:
 Barnet Hospital
 Chase Farm Hospital
 Royal Free Hospital
Across our three London hospitals, our vision is clear: to deliver world class
expertise and local care. We combine globally recognised clinical expertise with
local and friendly hospital care to represent the NHS at its best.
Our mission is to be world class in terms of healthcare treatment, clinical research
and teaching excellence. We aim to deliver and develop leading local healthcare
in all three of our hospitals, to improve lives and help people thrive.
How the Royal Free will achieve its mission
We will achieve our mission by making sure that we have:
 Excellent outcomes, in our clinical treatment, research and teaching
 Excellent experiences for patients, staff and GPs
 Excellent value, by improving the efficiency and productivity of our
services, and
reducing costs
 Full compliance, meeting or exceeding all regulatory standards and
outcomes we are set
 A strong organisation, investing effectively in our staff and infrastructure to
make sure we are fit for future challenges
How the Royal Free measures its performance
 In order to meet our aims, we want to ensure that our three London
hospitals are in the top 10% of all healthcare providers for:
 quality of clinics and treatments
 medical research
 teaching and training new medical staff
 patient satisfaction and experience
 value for money
It is important to note that this description is a typical example of your placement and may be subject
to change.