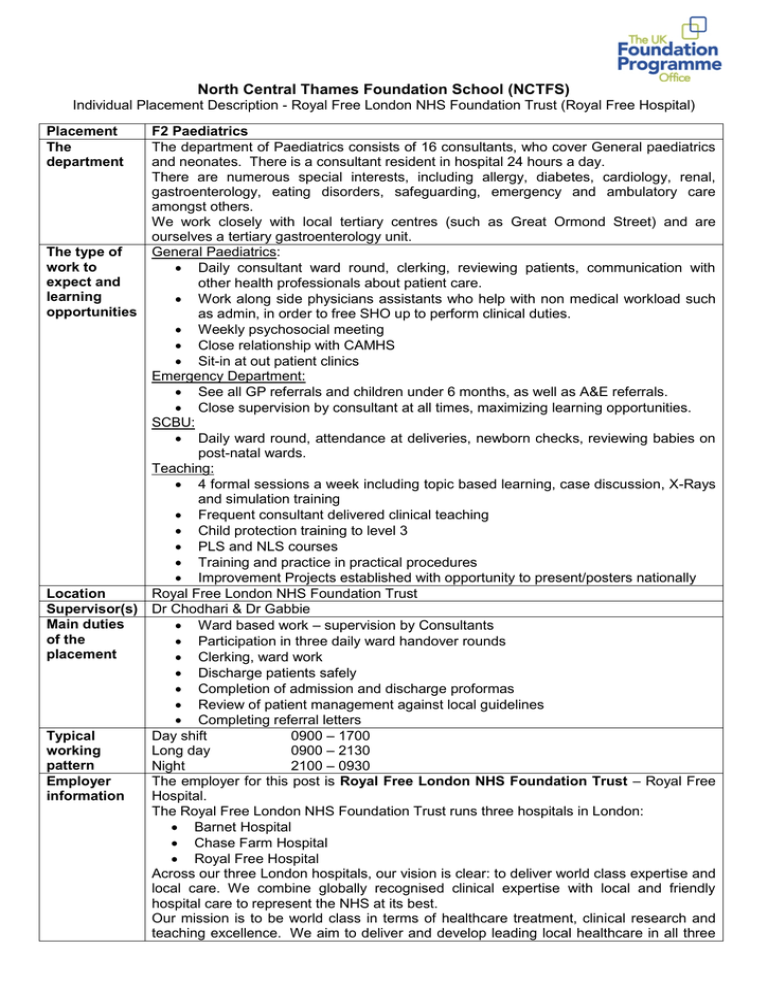 North Central Thames Foundation School (NCTFS)
Individual Placement Description - Royal Free London NHS Foundation Trust (Royal Free Hospital)
Placement
The
department
F2 Paediatrics
The department of Paediatrics consists of 16 consultants, who cover General paediatrics
and neonates. There is a consultant resident in hospital 24 hours a day.
There are numerous special interests, including allergy, diabetes, cardiology, renal,
gastroenterology, eating disorders, safeguarding, emergency and ambulatory care
amongst others.
We work closely with local tertiary centres (such as Great Ormond Street) and are
ourselves a tertiary gastroenterology unit.
The type of
General Paediatrics:
work to
 Daily consultant ward round, clerking, reviewing patients, communication with
expect and
other health professionals about patient care.
learning
 Work along side physicians assistants who help with non medical workload such
opportunities
as admin, in order to free SHO up to perform clinical duties.
 Weekly psychosocial meeting
 Close relationship with CAMHS
 Sit-in at out patient clinics
Emergency Department:
 See all GP referrals and children under 6 months, as well as A&E referrals.
 Close supervision by consultant at all times, maximizing learning opportunities.
SCBU:
 Daily ward round, attendance at deliveries, newborn checks, reviewing babies on
post-natal wards.
Teaching:
 4 formal sessions a week including topic based learning, case discussion, X-Rays
and simulation training
 Frequent consultant delivered clinical teaching
 Child protection training to level 3
 PLS and NLS courses
 Training and practice in practical procedures
 Improvement Projects established with opportunity to present/posters nationally
Location
Royal Free London NHS Foundation Trust
Supervisor(s) Dr Chodhari & Dr Gabbie
Main duties
 Ward based work – supervision by Consultants
of the
 Participation in three daily ward handover rounds
placement
 Clerking, ward work
 Discharge patients safely
 Completion of admission and discharge proformas
 Review of patient management against local guidelines
 Completing referral letters
Typical
Day shift
0900 – 1700
working
Long day
0900 – 2130
pattern
Night
2100 – 0930
Employer
The employer for this post is Royal Free London NHS Foundation Trust – Royal Free
information
Hospital.
The Royal Free London NHS Foundation Trust runs three hospitals in London:
 Barnet Hospital
 Chase Farm Hospital
 Royal Free Hospital
Across our three London hospitals, our vision is clear: to deliver world class expertise and
local care. We combine globally recognised clinical expertise with local and friendly
hospital care to represent the NHS at its best.
Our mission is to be world class in terms of healthcare treatment, clinical research and
teaching excellence. We aim to deliver and develop leading local healthcare in all three
of our hospitals, to improve lives and help people thrive.
How the Royal Free will achieve its mission
We will achieve our mission by making sure that we have:
 Excellent outcomes, in our clinical treatment, research and teaching
 Excellent experiences for patients, staff and GPs
 Excellent value, by improving the efficiency and productivity of our services, and
reducing costs
 Full compliance, meeting or exceeding all regulatory standards and outcomes we
are set
 A strong organisation, investing effectively in our staff and infrastructure to make
sure we are fit for future challenges
How the Royal Free measures its performance
 In order to meet our aims, we want to ensure that our three London hospitals are
in the top 10% of all healthcare providers for:
 quality of clinics and treatments
 medical research
 teaching and training new medical staff
 patient satisfaction and experience
 value for money
It is important to note that this description is a typical example of your placement and may be subject
to change.