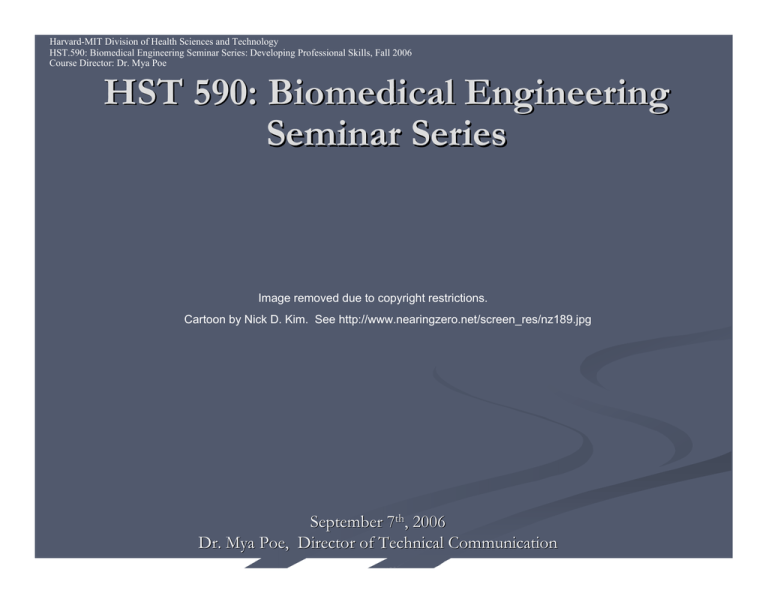 Harvard-MIT Division of Health Sciences and Technology
HST.590: Biomedical Engineering Seminar Series: Developing Professional Skills, Fall 2006
Course Director: Dr. Mya Poe
HST 590: Biomedical Engineering
Seminar Series
Image removed due to copyright restrictions.
Cartoon by Nick D. Kim. See http://www.nearingzero.net/screen_res/nz189.jpg
September 7th, 2006
Dr. Mya Poe, Director of Technical Communication
Design a Communication Model
"
"
"
Writer
Reader
Message
"
"
"
"
"
"
Context
Power
Effect
Form
Exigence
Force
"
"
"
"
"
"
Culture
Identity
Assumptions
Discourse
Tradition
Receptivity
5 Myths About Communication
"
"
"
"
"
Conduit Model . . . . . . it's just a simple pipeline
Banking Knowledge . . . learn a bunch of tricks
Linear progression . . . it always gets better
Solo . . . . . . . . . . . . . . . the suffering, struggling artist
Content vs. Style . . . . . sophistry lives!
Communication isn't just about learning "tricks"
"
"
"
Thinking about
context,
needs of readers,
tradition,
your own identity
How (mis)conceptions
help/hurt the
communication process
Thinking about how to
"repair" and regenerate
communication
Writing Development is not linear
"
Perfection
Time
"
Writing proficiency often
declines when we enter
new context.
We don't intuitively know
how to interpret a new
context.
Contexts can vary
dramatically in
communication
expectations.
"
Communication Development
Content & Style are not mutually exclusive
• It IS useful to ignore style when drafting
• Think about coherence, meaning, expectations in
communication not grammar and correctness
Technical
Content
Style
Questions for Guest speakers
"
Read the workshop descriptions. Given our
conversation, write questions for speakers.
Curriculum Vitae (CV)
A CV is an academic resume that highlights your
scholarly accomplishments.
"
"
"
"
"Live" document that constantly needs updating
Part of a "genre set"—doesn't travel alone
Reading Style: Skimmed, networked, electronically scanned
"What makes you special?"
Forms:
Employment—job search
Institutional –FPR (MIT)
Funding/Publishers – "greatest hits"
"
A note about international resumes and CVs
There is no 1 CV style . . .
BUT . . . Neatness & readability are key
Name & Address & Email
Summary Statement
Education Research Publications
Post-doc
Conferences
Fellowships
Patents
Other Experience:
Licensure
Business Ventures
Teaching Experience
Awards
Service
Funding
Academic Positions
Non-academic
Pubs
References
ProfessionalList
Societies
of Graduate Courses
CV Workshop
"
"
"
"
"
"
Is it well-designed, organized, and attractively laid out, with
appropriate use of bold and italic text?
Are categories -- such as education, teaching, and research -clearly labeled?
Is it easy to find sections of interest to search committee
members, such as publications, postdoctoral experience, and
professional associations?
Has your adviser and at least one other person reviewed and
critiqued it?
Have you avoided using acronyms?
Has it been proofread several times to eliminate typographical
errors?