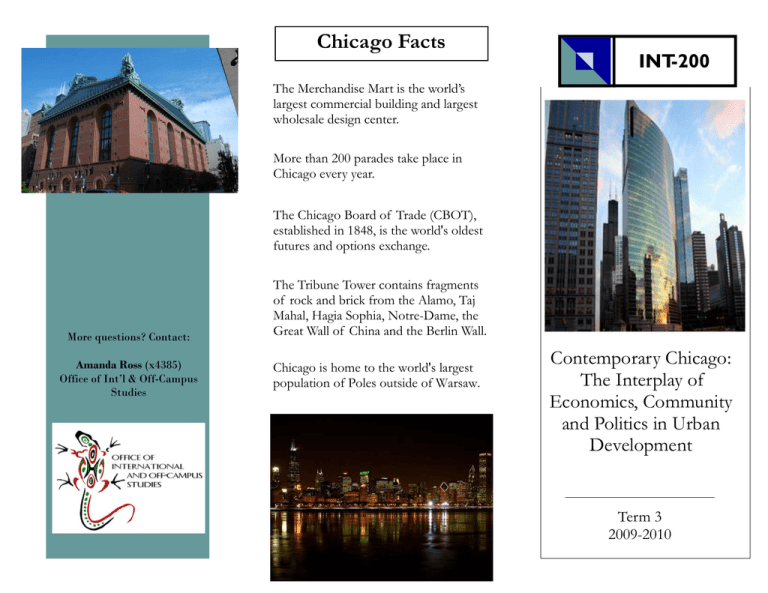 Chicago Facts
INT-200
The Merchandise Mart is the world's
largest commercial building and largest
wholesale design center.
More than 200 parades take place in
Chicago every year.
The Chicago Board of Trade (CBOT),
established in 1848, is the world's oldest
futures and options exchange.
More questions? Contact:
Amanda Ross (x4385)
Office of Int'l & Off-Campus
Studies
The Tribune Tower contains fragments
of rock and brick from the Alamo, Taj
Mahal, Hagia Sophia, Notre-Dame, the
Great Wall of China and the Berlin Wall.
Chicago is home to the world's largest
population of Poles outside of Warsaw.
Contemporary Chicago:
The Interplay of
Economics, Community
and Politics in Urban
Development
Term 3
2009-2010
Experience...
Course Description
A global business
center...
This course, taught by Les Garner and Mike
Conklin, will focus on the relationship between economics, community and politics in
the development of contemporary
Chicago, examining the interplay of these
three areas from the 1950s to today.
This course will examine:
• The evolution of Chicago into a global
business community.
The work of
community
organizers
from Alinsky to
Obama...
•
The evolution of neighborhoods and the
evolution of community action and
community organizing into asset-based
community development, reflected in the
work of Saul Alinsky and Barack Obama.
•
The evolution of ward politics, as
reflected in the careers of Mayors Daley
and Washington.
Les Garner is in his fifteenth year as
President of Cornell College. He holds a
bachelor's degree in history from the
University of North Carolina at Chapel
Hill and Master's and PhD in Public Policy
from Harvard University.
Course Logistics:
Approximately two weeks of the course will be
taught in Chicago. Learning in Chicago will
include a strong experiential component. In
Chicago, students will be housed in shared
accommodations and will be responsible for
most meals. Registration entails additional cost,
estimated at $450
… and issues of gentrification and
community in Pilsen.
Prerequisites: Sophomore, junior or senior
status, with at least two courses in economics,
sociology or politics or permission
of instructor.
Mike Conklin, a 1969 Cornell graduate, has
worked for over 30 years as a reporter and
columnist for the Chicago Tribune. He has a
Master's degree in Chicago Studies from
Loyola University and currently teaches a
variety of courses for DePaul University.