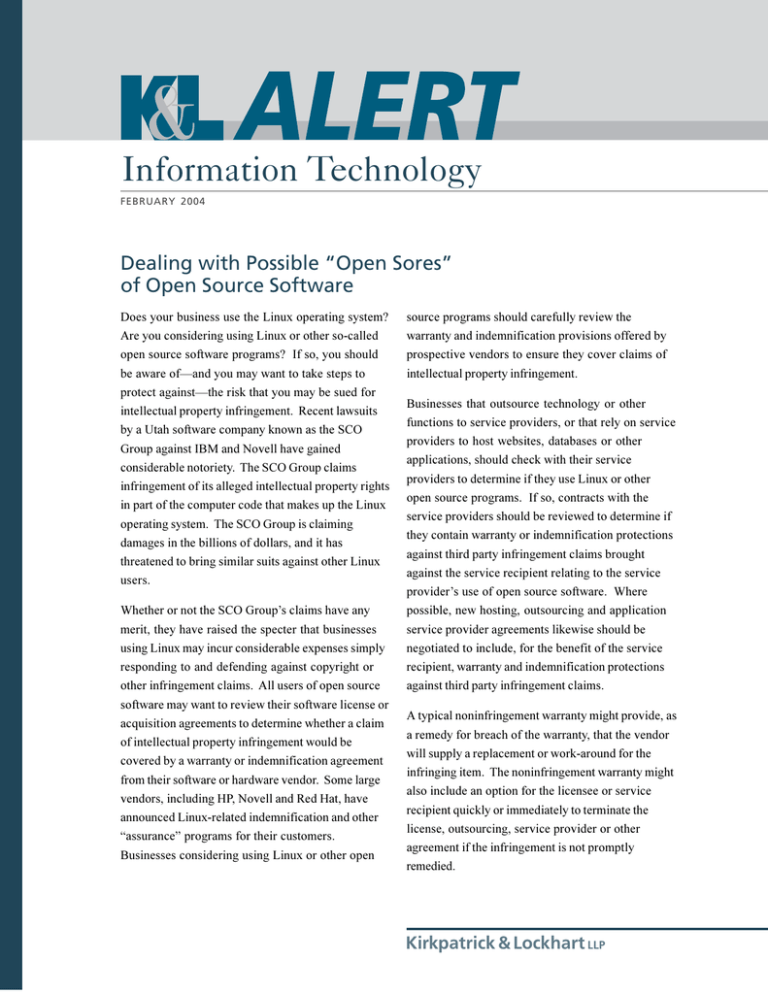 Information Technology
FEBRUARY 2004
Dealing with Possible "Open Sores"
of Open Source Software
Does your business use the Linux operating system?
Are you considering using Linux or other so-called
open source software programs? If so, you should
be aware of—and you may want to take steps to
protect against—the risk that you may be sued for
intellectual property infringement. Recent lawsuits
by a Utah software company known as the SCO
Group against IBM and Novell have gained
considerable notoriety. The SCO Group claims
infringement of its alleged intellectual property rights
in part of the computer code that makes up the Linux
operating system. The SCO Group is claiming
damages in the billions of dollars, and it has
threatened to bring similar suits against other Linux
users.
Whether or not the SCO Group's claims have any
merit, they have raised the specter that businesses
using Linux may incur considerable expenses simply
responding to and defending against copyright or
other infringement claims. All users of open source
software may want to review their software license or
acquisition agreements to determine whether a claim
of intellectual property infringement would be
covered by a warranty or indemnification agreement
from their software or hardware vendor. Some large
vendors, including HP, Novell and Red Hat, have
announced Linux-related indemnification and other
"assurance" programs for their customers.
Businesses considering using Linux or other open
source programs should carefully review the
warranty and indemnification provisions offered by
prospective vendors to ensure they cover claims of
intellectual property infringement.
Businesses that outsource technology or other
functions to service providers, or that rely on service
providers to host websites, databases or other
applications, should check with their service
providers to determine if they use Linux or other
open source programs. If so, contracts with the
service providers should be reviewed to determine if
they contain warranty or indemnification protections
against third party infringement claims brought
against the service recipient relating to the service
provider's use of open source software. Where
possible, new hosting, outsourcing and application
service provider agreements likewise should be
negotiated to include, for the benefit of the service
recipient, warranty and indemnification protections
against third party infringement claims.
A typical noninfringement warranty might provide, as
a remedy for breach of the warranty, that the vendor
will supply a replacement or work-around for the
infringing item. The noninfringement warranty might
also include an option for the licensee or service
recipient quickly or immediately to terminate the
license, outsourcing, service provider or other
agreement if the infringement is not promptly
remedied.
Kirkpatrick & Lockhart LLP
A typical indemnification provision would obligate
the vendor or licensor of the infringing item, or the
service provider using the infringing item, to
indemnify the buyer, licensee or service recipient
against all costs and expenses, including court costs
and attorneys' fees, of defending against and
resolving or settling infringement claims.
insurance policies, which may cover both liability
amounts and defense costs incurred in connection
with the claims. Although sometimes overlooked in
these circumstances, a company's comprehensive
general liability policies may provide coverage for
lawsuits alleging infringement of copyright or other
intellectual property rights.
In addition to direct contractual protections against
infringement claims, businesses may be able to
obtain coverage for these claims under existing
BRUCE H. NIELSON
202.778.9256
bnielson@kl.com
For more information on steps your business can take to protect against intellectual property
infringement claims involving open source software, please contact one of our attorneys
listed below:
Bruce H. Nielson
Leslie A. Sowle
Henry L. Judy
Marc S. Martin
A. Thomas Morris
Susan P. Altman
Franklin B. Molin
202.778.9256
202.778.9472
202.778.9032
202.778.9859
202.778.9376
412.355.8261
412.355.6251
bnielson@kl.com
lsowle@kl.com
hjudy@kl.com
martin@kl.com
tmorris@kl.com
altman@kl.com
fmolin@kl.com
Kirkpatrick & Lockhart LLP
Challenge us.
www.kl.com
BOSTON
n
DALLAS
n
HARRISBURG
n
LOS ANGELES
n
MIAMI
n
NEWARK
n
NEW YORK
n
PITTSBURGH
n
SAN FRANCISCO
n
WASHINGTON
............................................................................................................................................................
This publication/newsletter is for informational purposes and does not contain or convey legal advice. The information herein
should not be used or relied upon in regard to any particular facts or circumstances without first consulting a lawyer.
© 2004 KIRKPATRICK & LOCKHART LLP. ALL RIGHTS RESERVED.