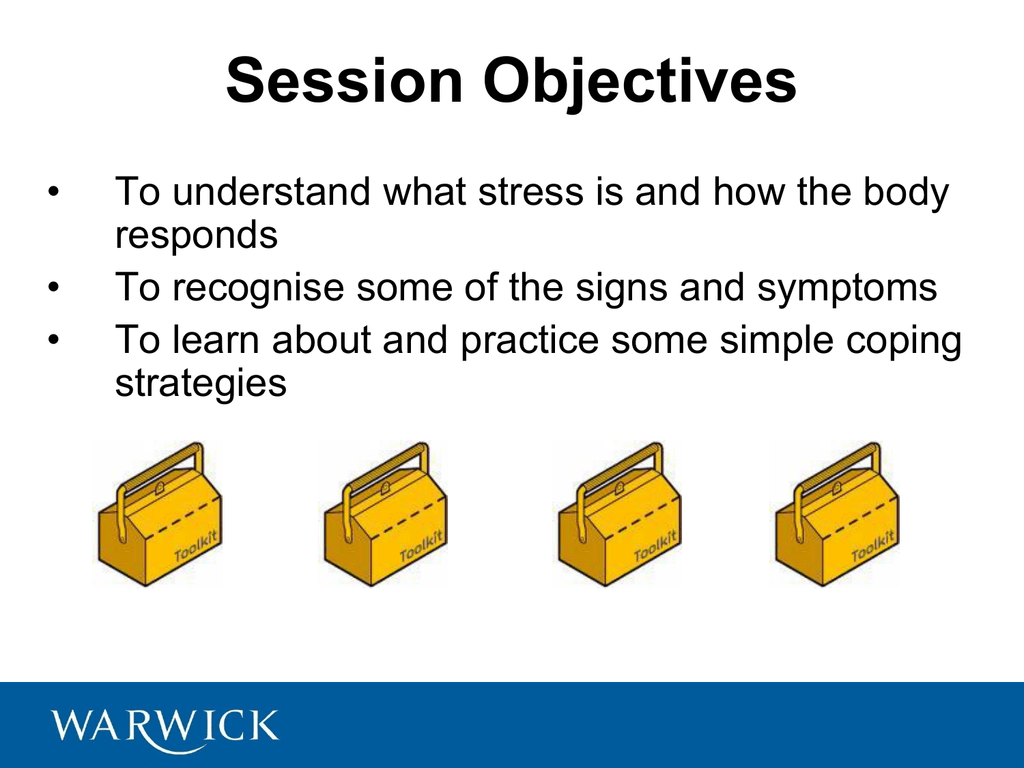 Session Objectives
•
•
•
To understand what stress is and how the body
responds
To recognise some of the signs and symptoms
To learn about and practice some simple coping
strategies
What is Stress?
'The adverse reaction
people have to
excessive pressures
or other demands
placed upon them.
It arises when they
worry they can not
cope'. (HSE 2000)
Normal Stress Cycle
Stressor
Prepare body for action
Body back to normal
Feeling calmer
Speeds up sympathetic system
Digestive system slows
Promote digestion
Fight /flight
response
Circulation to critical
organs increased
Shallow + quick
respiration
Pump adrenalin
Sweating, hairs on end, pallor
Crying
Normal
recovery
cycle
Repair + restore
Body begins to relax
Parasympathetic system kicks in
21st Century Stress
Stress response–
continual activation
Relaxation phase –
seldom entered
Ex - Identification of Stress
a)
b)
c)
d)
Cognitive
Emotional
Behavioural
Physical
Stress Bingo
How many look familiar?
• Frequent colds, sore throat
• Reoccurring mouth ulcers,
cold sores
• Unexplained aches +
pains
• Eating, walking, talking
quicker
• Always in a hurry
• Wide awake 2/3/4 am
• Skin conditions
•
•
•
•
•
•
•
•
•
Stomach disorders
Cold sweats
Worrying more
Teeth grinding
Clenched fists
Reduced social contact
Checking rituals
Poor memory
Low self-esteem /
paranoia
Human Performance Curve
(Based on Dodsons' theories of stimulation & performance 1908)
Danger point
Performance
Ill health
Peak
Performance
Healthy tension
Minimal arousal
could cause breakdown
Demands
Breakdown /
burn out
Physical coping skills
• Healthy diet – stress busting foods,
reduced caffeine + alcohol
• Regular exercise
• Hobbies / fun/ energy boosters + bliss
• Diaphragmatic breathing
• Massage + relaxation
Mental coping skills
•
•
•
•
•
•
Be self-aware
Open up + talk about it
Accept what you cannot change
Set personal limits + boundaries
Challenge your thinking
Find the humour in a situation
Stop Banging your Head!
Stress Reduction Kit
Hit head
Bang
Head
here!
HERE
Warning:
May cause headaches
Directions:
1) Place kit on firm surface
2) Follow directions
3) Repeat step 2 if required
Action Planning
• What have I learnt about myself ?
• How can I help myself deal more effectively
with stress ?
• What do elves learn in school?
• The Elf-abet!
• What's the most popular wine at
Christmas?
• "I don't like sprouts" !
• Why was Santa's little helper depressed?
• Because he had low elf esteem.