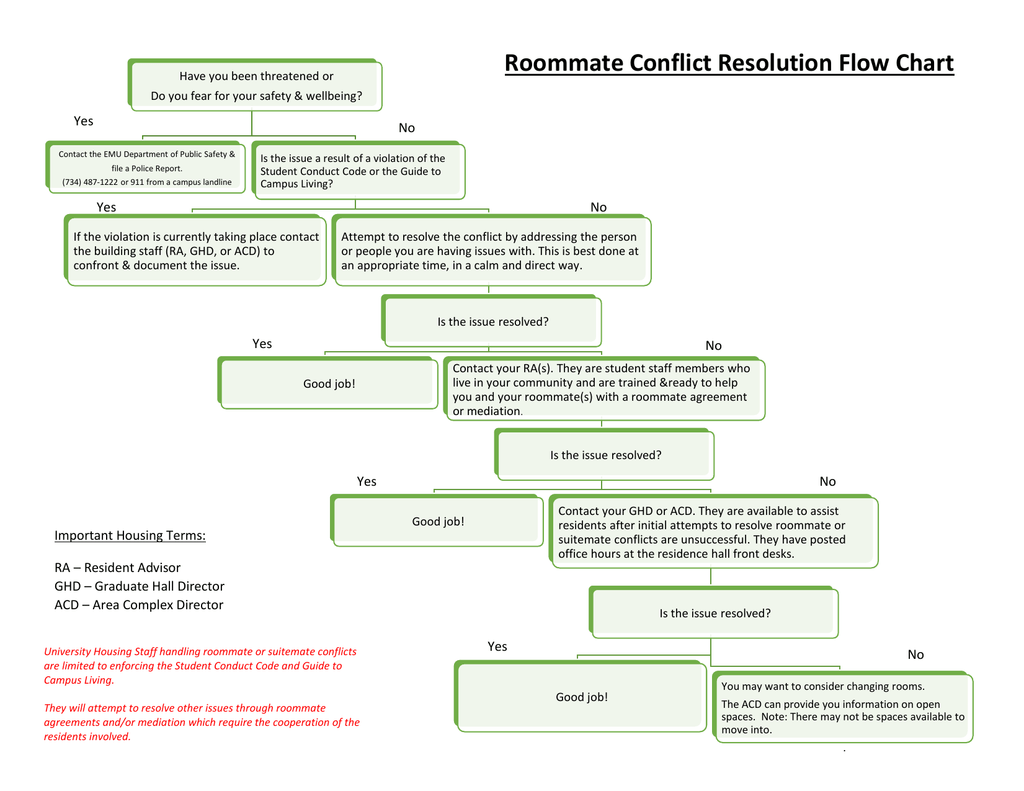 Roommate Conflict Resolution Flow Chart
Have you been threatened or
Do you fear for your safety & wellbeing?
Yes
No
Contact the EMU Department of Public Safety &
file a Police Report.
(734) 487-1222 or 911 from a campus landline
Is the issue a result of a violation of the
Student Conduct Code or the Guide to
Campus Living?
Yes
No
If the violation is currently taking place contact
the building staff (RA, GHD, or ACD) to
confront & document the issue.
Attempt to resolve the conflict by addressing the person
or people you are having issues with. This is best done at
an appropriate time, in a calm and direct way.
Is the issue resolved?
Yes
No
Contact your RA(s). They are student staff members who
live in your community and are trained &ready to help
you and your roommate(s) with a roommate agreement
or mediation.
Good job!
Is the issue resolved?
Yes
No
Contact your GHD or ACD. They are available to assist
residents after initial attempts to resolve roommate or
suitemate conflicts are unsuccessful. They have posted
office hours at the residence hall front desks.
Good job!
Important Housing Terms:
RA – Resident Advisor
GHD – Graduate Hall Director
ACD – Area Complex Director
University Housing Staff handling roommate or suitemate conflicts
are limited to enforcing the Student Conduct Code and Guide to
Campus Living.
They will attempt to resolve other issues through roommate
agreements and/or mediation which require the cooperation of the
residents involved.
Is the issue resolved?
Yes
No
Good job!
You may want to consider changing rooms.
The ACD can provide you information on open
spaces. Note: There may not be spaces available to
move into.
.