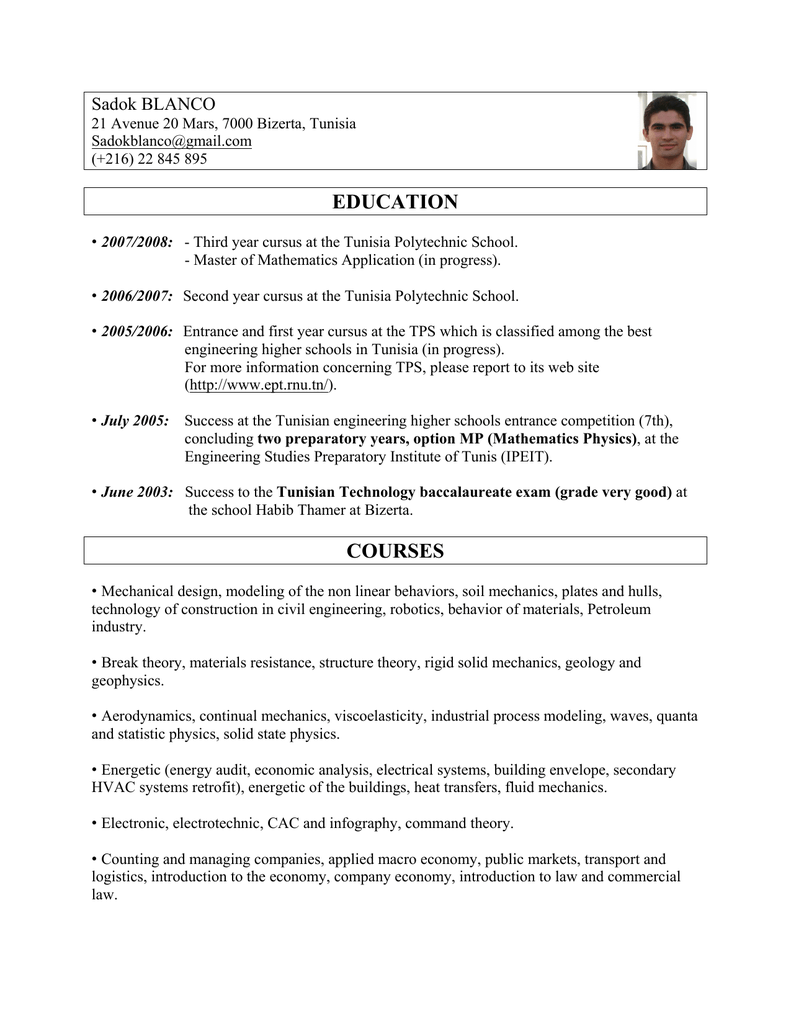 Sadok BLANCO
21 Avenue 20 Mars, 7000 Bizerta, Tunisia
[email protected]
(+216) 22 845 895
EDUCATION
• 2007/2008: - Third year cursus at the Tunisia Polytechnic School.
- Master of Mathematics Application (in progress).
• 2006/2007: Second year cursus at the Tunisia Polytechnic School.
• 2005/2006: Entrance and first year cursus at the TPS which is classified among the best
engineering higher schools in Tunisia (in progress).
For more information concerning TPS, please report to its web site
(http://www.ept.rnu.tn/).
• July 2005: Success at the Tunisian engineering higher schools entrance competition (7th),
concluding two preparatory years, option MP (Mathematics Physics), at the
Engineering Studies Preparatory Institute of Tunis (IPEIT).
• June 2003: Success to the Tunisian Technology baccalaureate exam (grade very good) at
the school Habib Thamer at Bizerta.
COURSES
• Mechanical design, modeling of the non linear behaviors, soil mechanics, plates and hulls,
technology of construction in civil engineering, robotics, behavior of materials, Petroleum
industry.
• Break theory, materials resistance, structure theory, rigid solid mechanics, geology and
geophysics.
• Aerodynamics, continual mechanics, viscoelasticity, industrial process modeling, waves, quanta
and statistic physics, solid state physics.
• Energetic (energy audit, economic analysis, electrical systems, building envelope, secondary
HVAC systems retrofit), energetic of the buildings, heat transfers, fluid mechanics.
• Electronic, electrotechnic, CAC and infography, command theory.
• Counting and managing companies, applied macro economy, public markets, transport and
logistics, introduction to the economy, company economy, introduction to law and commercial
law.
• Communication techniques, human resources management, control of projects.
PROFESSIONAL EXPERIENCES
March 2006:
Internship in "STIR", the only Tunisian company of refining
industries.
April 2005:
Study Trip in Tunisia: visit of the most important industrial zones
of the country (TunisAcier, CPG, British Gaz ,Carthago
Ceramic…)
July 2007:
Engineering internship in "SOTULUB", the Tunisian company of
lubricates.
Project done: "Power factor compensation through capacitors
batteries".
August 2007:
Engineering internship in "KOPILEFT".
Project done: "Elaboration of mathematical model to a database".
PROJECTS
• October/November 2007:
Mini-project in Robotics.
• October/November 2007:
Mini-project in Structures:"Meshless finite element
methods and its applications in elasticity and dynamics" .
• April 2005:
Training in "Drilling Techniques" organized by TPA (Total
Prof).
• February/March 2005:
Mini-project in the modeling of industrial processes:
Simulation of the liquid-gas binary diagram of methanol –
water and conception of a user interface under MatLab.
COMPUTER SKILLS
• Software :
- Scientific: Matlab/Simulink, Maple, Mathematica, Autocad, VisualDOE,
SAP2000, DIANA…
- Others: 3ds Max, Flash, Adobe Photoshop, Adobe Premiere…
• Development and programming languages: C/C++, Turbo Pascal, Assembler, Java,
Fortran, SQL, Microsoft office(Word, Excel, Front page, PowerPoint, Access).
• Web development: HTML and PHP languages, FrontPage.
• Operating Systems: Linux (Red Hat, Mandrake), Windows (95, 98, XP), MS DOS.
LANGUAGES
• Arab native speaker.
• French: spoken and written.
• English: spoken and written (success of the ITP exam).
• Italian: spoken and written.
MISCELLANEOUS
• Member of energy club of TPS "Cenergypt", organization of some students.
• President of astronomy club of TPS "AstroEPT", organization of some students.
• Member of the football team of TPS.
• BNS (national diploma of first-aid practice) in 2000.
• Responsible of the emergency box (for boys) at the TPS.