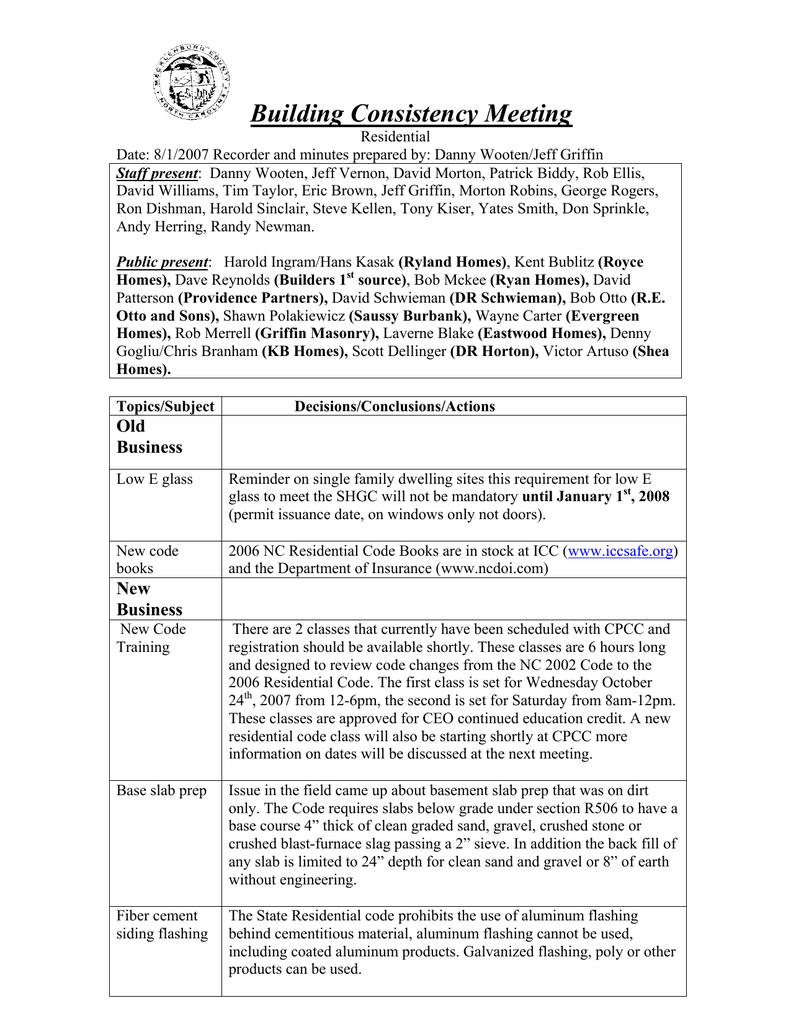 Building Consistency Meeting
Residential
Date: 8/1/2007 Recorder and minutes prepared by: Danny Wooten/Jeff Griffin
Staff present: Danny Wooten, Jeff Vernon, David Morton, Patrick Biddy, Rob Ellis,
David Williams, Tim Taylor, Eric Brown, Jeff Griffin, Morton Robins, George Rogers,
Ron Dishman, Harold Sinclair, Steve Kellen, Tony Kiser, Yates Smith, Don Sprinkle,
Andy Herring, Randy Newman.
Public present: Harold Ingram/Hans Kasak (Ryland Homes), Kent Bublitz (Royce
Homes), Dave Reynolds (Builders 1st source), Bob Mckee (Ryan Homes), David
Patterson (Providence Partners), David Schwieman (DR Schwieman), Bob Otto (R.E.
Otto and Sons), Shawn Polakiewicz (Saussy Burbank), Wayne Carter (Evergreen
Homes), Rob Merrell (Griffin Masonry), Laverne Blake (Eastwood Homes), Denny
Gogliu/Chris Branham (KB Homes), Scott Dellinger (DR Horton), Victor Artuso (Shea
Homes).
Topics/Subject
Decisions/Conclusions/Actions
Old
Business
Low E glass
Reminder on single family dwelling sites this requirement for low E
glass to meet the SHGC will not be mandatory until January 1st, 2008
(permit issuance date, on windows only not doors).
New code
books
2006 NC Residential Code Books are in stock at ICC (www.iccsafe.org)
and the Department of Insurance (www.ncdoi.com)
New
Business
New Code
Training
There are 2 classes that currently have been scheduled with CPCC and
registration should be available shortly. These classes are 6 hours long
and designed to review code changes from the NC 2002 Code to the
2006 Residential Code. The first class is set for Wednesday October
24th, 2007 from 12-6pm, the second is set for Saturday from 8am-12pm.
These classes are approved for CEO continued education credit. A new
residential code class will also be starting shortly at CPCC more
information on dates will be discussed at the next meeting.
Base slab prep
Issue in the field came up about basement slab prep that was on dirt
only. The Code requires slabs below grade under section R506 to have a
base course 4" thick of clean graded sand, gravel, crushed stone or
crushed blast-furnace slag passing a 2" sieve. In addition the back fill of
any slab is limited to 24" depth for clean sand and gravel or 8" of earth
without engineering.
Fiber cement
siding flashing
The State Residential code prohibits the use of aluminum flashing
behind cementitious material, aluminum flashing cannot be used,
including coated aluminum products. Galvanized flashing, poly or other
products can be used.
Insulation
behind
fireboxes
Concern raised by staff about insulation in back of fireplaces
(prefabricated metal fireboxes) not being properly secured and in some
cases in contact with firebox. Insulation must be installed securely to
prevent falling or touching the back of the firebox, clearance from
firebox must be maintained for insulation as well as combustible
framing. Paper face batts can be used if batts are stapled to framing
correctly and clearance from firebox is per firebox listing.
Slab
inspections for
garages
Question was asked about any changes in the 2006 code that would no
longer require garage slab inspections, after review of the 06' code and
the new NC Administrative Code there is no change to the requirement
to inspect garage slabs. Porches and garage slabs will continue to be
inspected; exempt from inspections are sidewalks, driveways and patios.
Brick veneer
used in rated
wall assembly
At some offset details in townhouse units that need 1 hour walls on
property lines the brick veneer is being used as part of the assembly.
This assembly requires 5/8" type X rock on the interior, standard
framing and standard veneer cladding attachment; this will give fire
protection from both sides of the wall and is approved as a 1 hour wall.
When must
Subgrade form
be provided
The Department requires subgrade form to be furnished at next
inspection. Form is required on all fill lots and questionable lots that
have had engineering review. The Department will allow a concrete job
to go forward if the form is not ready but will be an automatic turn
down for the builder until the footer inspection can be approved.
Examples of these are poured foundation walls and slab inspections.
This is to prevent problems from these weather sensitive inspections
when paperwork is delayed. No frame inspection will be conducted
until all previous open inspections have been resolved.
Any structure using either synthic or hard coat stucco exterior cladding
will require a stucco certification letter filled out by installer along with
review and signature of builder at final inspection. This standardized
form can be found on the web at www.meckpermit.com.
Stucco
certification
letter
Firestopping at
plate lines
Concern arose about sealing penetrations in bottom or sole plates and
top plates. These penetrations need to be sealed at time of frame
inspection as per the NC Administrative Code that requires firestopping
to be in place. Per changes in the Code if you have a crawl space you
cannot use insulation to seal penetrations through bottom plates or
subfloor, you must use caulk or sealants, expandable foam is allowed
within limit of that product's ICC evaluation report. These will be
inspected at frame inspection since it will be difficult to see in exterior
walls when insulation is installed.
Pier
measurements
Concern has been come up in regards to where a pier is measure from in
order to determine code maximum height. A hollow pier is measured at
4 times the least dimension and a solid pier is 10 times the least
dimension. This measured from top of footer to top of pier. When a pier
transitions from 16x16 to a 8x16 the entire stack will be measure based
upon the 8" least dimension.