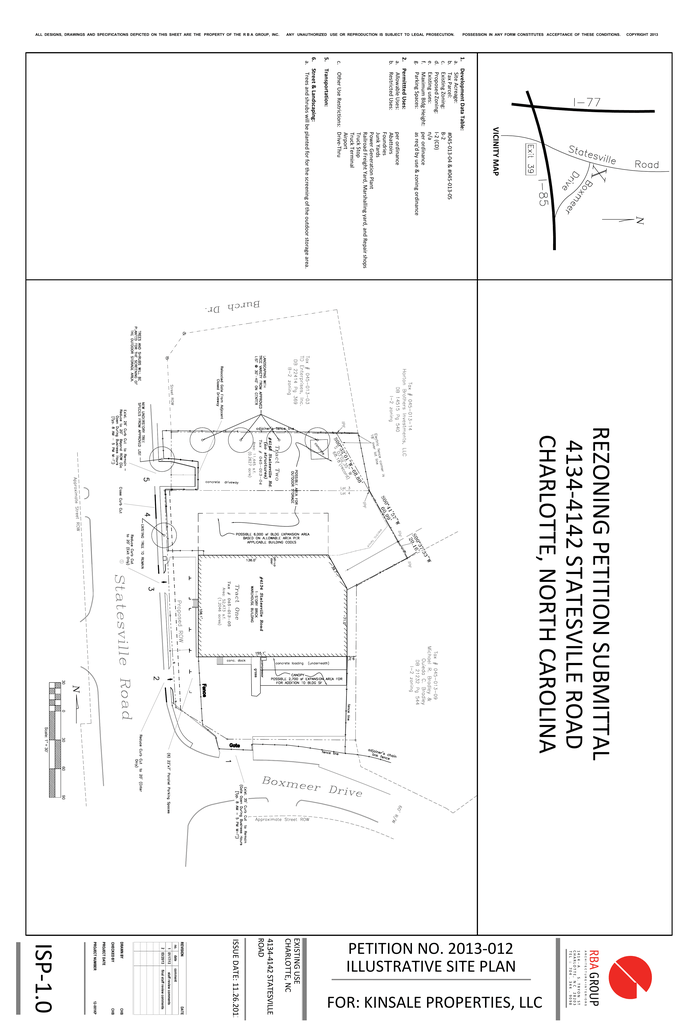 VICINITY MAP
1. Development Data Table:
a. Site Acreage:
b. Tax Parcel:
#045-013-04 & #045-013-05
c. Existing Zoning:
B-2
d. Proposed Zoning:
I-2 (CD)
e. Existing uses:
n/a
f. Maximum Bldg Height: per ordinance
g. Parking Spaces:
as req'd by use & zoning ordinance
Transportation:
2. Permittted Uses:
a. Allowable Uses:
per ordinance
b. Restricted Uses:
Abattoirs
Foundries
Junk Yards
Power Generation Plant
Railroad Freight Yard, Marshalling yard, and Repair shops
Truck Stop
Truck Terminal
Airport
Other Use Restrictions: Drive-Thru
c.
5.
6. Street & Landscaping:
a. Trees and shrubs will be planted for for the screening of the outdoor storage area.
0
30
REZONING PETITION SUBMITTAL
4134-4142 STATESVILLE ROAD
CHARLOTTE, NORTH CAROLINA
30
Scale: 1" = 30'
60
90
1414 - A
S. TRYON ST
CHARLOTTE, N C 28203
T E L :: 7 0 4 . 3 4 4 . 9 0 9 8
FOR: KINSALE PROPERTIES, LLC
REVISION
date
DATE
staff review comments
no.
1 01/17/13
final staff review comments
CHB
CHB
12-001KP
ISP-1.0
PROJECT NUMBER
PROJECT DATE
CHECKED BY
DRAWN BY
2 03/20/13
comment
ISSUE DATE: 11.26.2012
4134-4142 STATESVILLE
ROAD
EXISTING USE
CHARLOTTE, NC
PETITION NO. 2013-012
ILLUSTRATIVE SITE PLAN
COPYRIGHT 2013
POSSESSION IN ANY FORM CONSTITUTES ACCEPTANCE OF THESE CONDITIONS.
ANY UNAUTHORIZED USE OR REPRODUCTION IS SUBJECT TO LEGAL PROSECUTION.
ALL DESIGNS, DRAWINGS AND SPECIFICATIONS DEPICTED ON THIS SHEET ARE THE PROPERTY OF THE R B A GROUP, INC.