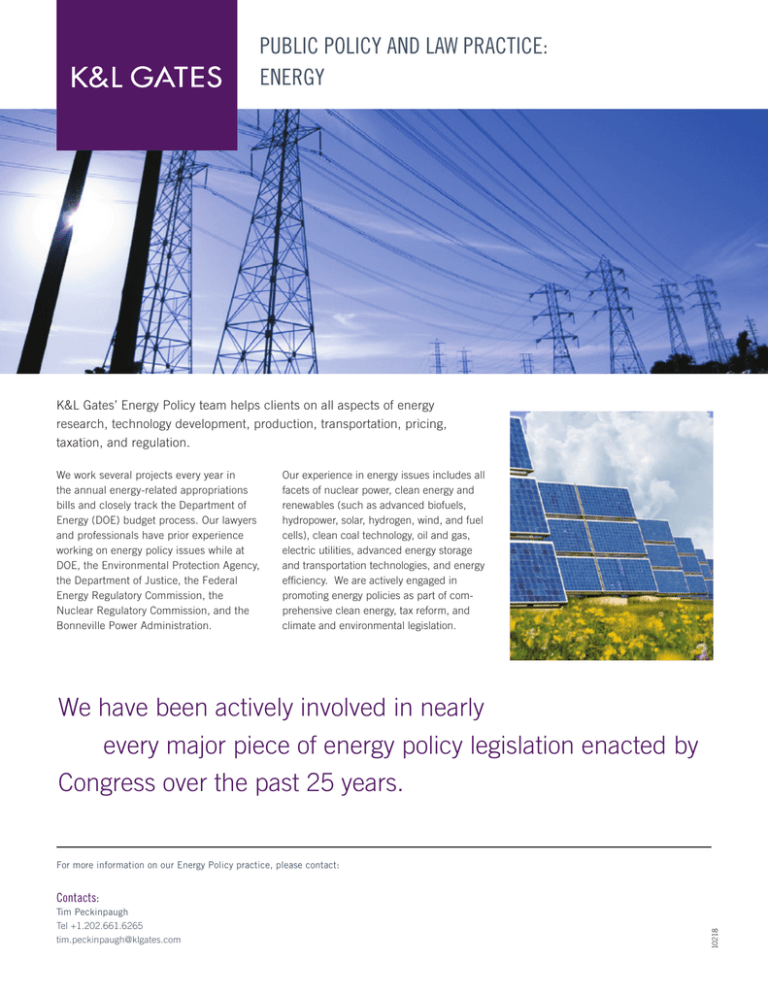 PUBLIC POLICY AND LAW PRACTICE:
ENERGY
K&L Gates' Energy Policy team helps clients on all aspects of energy
research, technology development, production, transportation, pricing,
taxation, and regulation.
We work several projects every year in
the annual energy-related appropriations
bills and closely track the Department of
Energy (DOE) budget process. Our lawyers
and professionals have prior experience
working on energy policy issues while at
DOE, the Environmental Protection Agency,
the Department of Justice, the Federal
Energy Regulatory Commission, the
Nuclear Regulatory Commission, and the
Bonneville Power Administration.
Our experience in energy issues includes all
facets of nuclear power, clean energy and
renewables (such as advanced biofuels,
hydropower, solar, hydrogen, wind, and fuel
cells), clean coal technology, oil and gas,
electric utilities, advanced energy storage
and transportation technologies, and energy
efficiency. We are actively engaged in
promoting energy policies as part of comprehensive clean energy, tax reform, and
climate and environmental legislation.
We have been actively involved in nearly
every major piece of energy policy legislation enacted by
Congress over the past 25 years.
For more information on our Energy Policy practice, please contact:
Tim Peckinpaugh
Tel +1.202.661.6265
tim.peckinpaugh@klgates.com
10218
Contacts:
Anchorage Austin Beijing Berlin Boston Brussels Charleston Charlotte Chicago Dallas Doha Dubai Fort Worth Frankfurt Harrisburg
Hong Kong London Los Angeles Miami Milan Moscow Newark New York Orange County Palo Alto Paris Pittsburgh Portland Raleigh
Research Triangle Park San Diego San Francisco São Paulo Seattle Shanghai Singapore Spokane Taipei Tokyo Warsaw Washington, D.C.
K&L Gates includes lawyers practicing out of more than 40 fully integrated offices located in North America, Europe,
Asia, South America, and the Middle East, and represents numerous GLOBAL 500, FORTUNE 100, and FTSE 100
corporations, in addition to growth and middle market companies, entrepreneurs, capital market participants and
public sector entities. For more information about K&L Gates or its locations and registrations, visit www.klgates.com.
This publication is for informational purposes and does not contain or convey legal advice. The information herein should not be used or relied upon in regard
to any particular facts or circumstances without first consulting a lawyer.
©2012 K&L Gates LLP. All Rights Reserved.