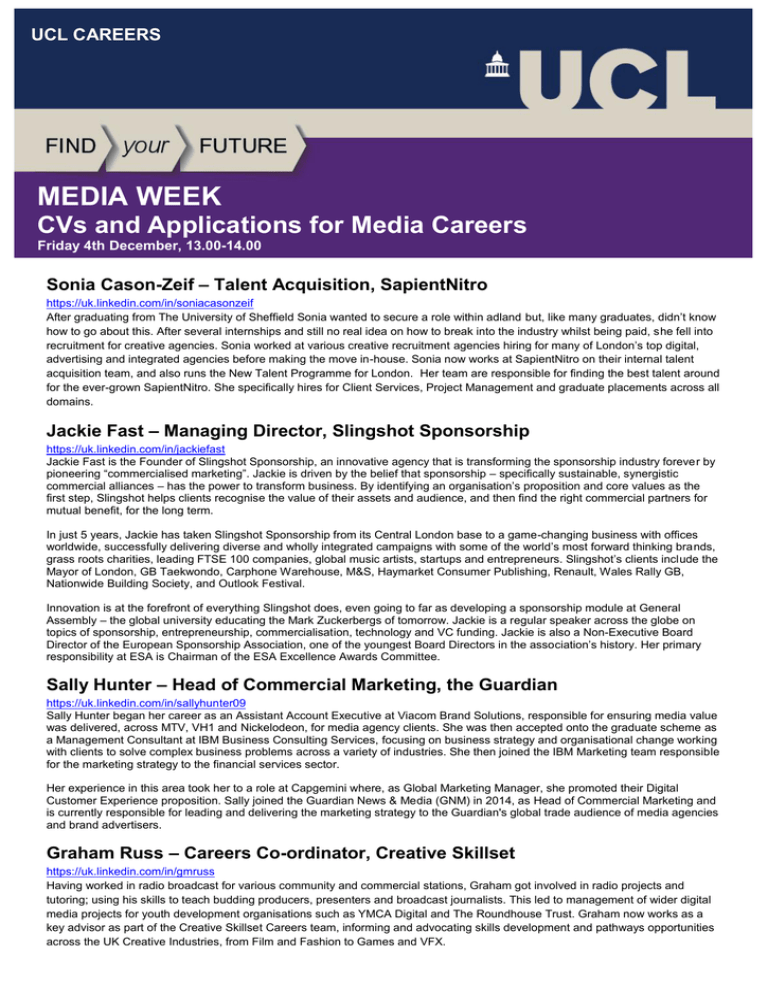 UCL CAREERS
MEDIA WEEK
CVs and Applications for Media Careers
Friday 4th December, 13.00-14.00
Sonia Cason-Zeif – Talent Acquisition, SapientNitro
https://uk.linkedin.com/in/soniacasonzeif
After graduating from The University of Sheffield Sonia wanted to secure a role within adland but, like many graduates, didn't know
how to go about this. After several internships and still no real idea on how to break into the industry whilst being paid, she fell into
recruitment for creative agencies. Sonia worked at various creative recruitment agencies hiring for many of London's top digital,
advertising and integrated agencies before making the move in-house. Sonia now works at SapientNitro on their internal talent
acquisition team, and also runs the New Talent Programme for London. Her team are responsible for finding the best talent around
for the ever-grown SapientNitro. She specifically hires for Client Services, Project Management and graduate placements across all
domains.
Jackie Fast – Managing Director, Slingshot Sponsorship
https://uk.linkedin.com/in/jackiefast
Jackie Fast is the Founder of Slingshot Sponsorship, an innovative agency that is transforming the sponsorship industry forever by
pioneering "commercialised marketing". Jackie is driven by the belief that sponsorship – specifically sustainable, synergistic
commercial alliances – has the power to transform business. By identifying an organisation's proposition and core values as the
first step, Slingshot helps clients recognise the value of their assets and audience, and then find the right commercial partners for
mutual benefit, for the long term.
In just 5 years, Jackie has taken Slingshot Sponsorship from its Central London base to a game-changing business with offices
worldwide, successfully delivering diverse and wholly integrated campaigns with some of the world's most forward thinking brands,
grass roots charities, leading FTSE 100 companies, global music artists, startups and entrepreneurs. Slingshot's clients include the
Mayor of London, GB Taekwondo, Carphone Warehouse, M&S, Haymarket Consumer Publishing, Renault, Wales Rally GB,
Nationwide Building Society, and Outlook Festival.
Innovation is at the forefront of everything Slingshot does, even going to far as developing a sponsorship module at General
Assembly – the global university educating the Mark Zuckerbergs of tomorrow. Jackie is a regular speaker across the globe on
topics of sponsorship, entrepreneurship, commercialisation, technology and VC funding. Jackie is also a Non-Executive Board
Director of the European Sponsorship Association, one of the youngest Board Directors in the association's history. Her primary
responsibility at ESA is Chairman of the ESA Excellence Awards Committee.
Sally Hunter – Head of Commercial Marketing, the Guardian
https://uk.linkedin.com/in/sallyhunter09
Sally Hunter began her career as an Assistant Account Executive at Viacom Brand Solutions, responsible for ensuring media value
was delivered, across MTV, VH1 and Nickelodeon, for media agency clients. She was then accepted onto the graduate scheme as
a Management Consultant at IBM Business Consulting Services, focusing on business strategy and organisational change working
with clients to solve complex business problems across a variety of industries. She then joined the IBM Marketing team responsible
for the marketing strategy to the financial services sector.
Her experience in this area took her to a role at Capgemini where, as Global Marketing Manager, she promoted their Digital
Customer Experience proposition. Sally joined the Guardian News & Media (GNM) in 2014, as Head of Commercial Marketing and
is currently responsible for leading and delivering the marketing strategy to the Guardian's global trade audience of media agencies
and brand advertisers.
Graham Russ – Careers Co-ordinator, Creative Skillset
https://uk.linkedin.com/in/gmruss
Having worked in radio broadcast for various community and commercial stations, Graham got involved in radio projects and
tutoring; using his skills to teach budding producers, presenters and broadcast journalists. This led to management of wider digital
media projects for youth development organisations such as YMCA Digital and The Roundhouse Trust. Graham now works as a
key advisor as part of the Creative Skillset Careers team, informing and advocating skills development and pathways opportunities
across the UK Creative Industries, from Film and Fashion to Games and VFX.