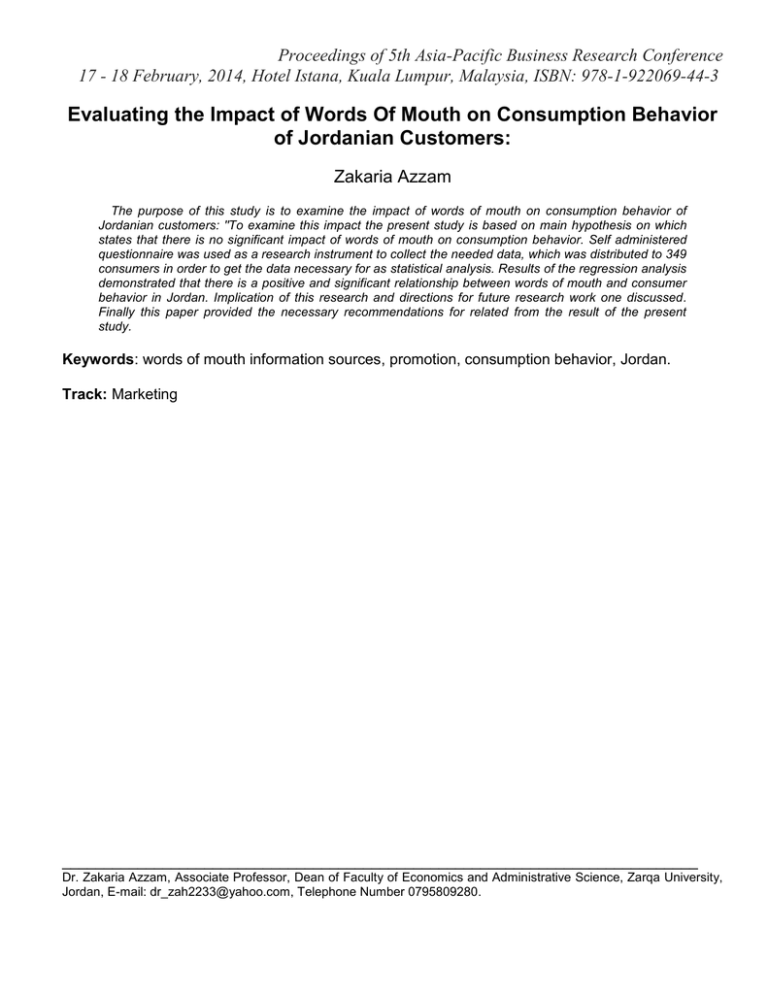 Proceedings of 5th Asia-Pacific Business Research Conference
17 - 18 February, 2014, Hotel Istana, Kuala Lumpur, Malaysia, ISBN: 978-1-922069-44-3
Evaluating the Impact of Words Of Mouth on Consumption Behavior
of Jordanian Customers:
Zakaria Azzam
The purpose of this study is to examine the impact of words of mouth on consumption behavior of
Jordanian customers: "To examine this impact the present study is based on main hypothesis on which
states that there is no significant impact of words of mouth on consumption behavior. Self administered
questionnaire was used as a research instrument to collect the needed data, which was distributed to 349
consumers in order to get the data necessary for as statistical analysis. Results of the regression analysis
demonstrated that there is a positive and significant relationship between words of mouth and consumer
behavior in Jordan. Implication of this research and directions for future research work one discussed.
Finally this paper provided the necessary recommendations for related from the result of the present
study.
Keywords: words of mouth information sources, promotion, consumption behavior, Jordan.
Track: Marketing
____________________________________________________________________________
Dr. Zakaria Azzam, Associate Professor, Dean of Faculty of Economics and Administrative Science, Zarqa University,
Jordan, E-mail: dr_zah2233@yahoo.com, Telephone Number 0795809280.