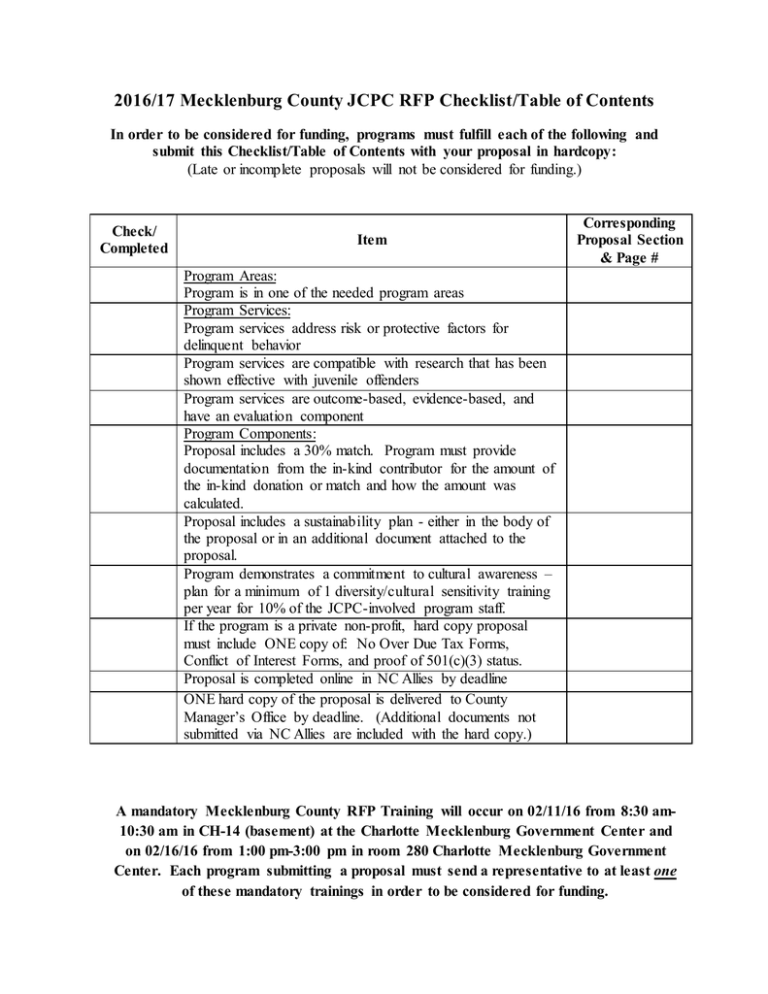 2016/17 Mecklenburg County JCPC RFP Checklist/Table of Contents
In order to be considered for funding, programs must fulfill each of the following and
submit this Checklist/Table of Contents with your proposal in hardcopy:
(Late or incomplete proposals will not be considered for funding.)
Check/
Completed
Item
Corresponding
Proposal Section
& Page #
Program Areas:
Program is in one of the needed program areas
Program Services:
Program services address risk or protective factors for
delinquent behavior
Program services are compatible with research that has been
shown effective with juvenile offenders
Program services are outcome-based, evidence-based, and
have an evaluation component
Program Components:
Proposal includes a 30% match. Program must provide
documentation from the in-kind contributor for the amount of
the in-kind donation or match and how the amount was
calculated.
Proposal includes a sustainability plan - either in the body of
the proposal or in an additional document attached to the
proposal.
Program demonstrates a commitment to cultural awareness –
plan for a minimum of 1 diversity/cultural sensitivity training
per year for 10% of the JCPC-involved program staff.
If the program is a private non-profit, hard copy proposal
must include ONE copy of: No Over Due Tax Forms,
Conflict of Interest Forms, and proof of 501(c)(3) status.
Proposal is completed online in NC Allies by deadline
ONE hard copy of the proposal is delivered to County
Manager's Office by deadline. (Additional documents not
submitted via NC Allies are included with the hard copy.)
A mandatory Mecklenburg County RFP Training will occur on 02/11/16 from 8:30 am10:30 am in CH-14 (basement) at the Charlotte Mecklenburg Government Center and
on 02/16/16 from 1:00 pm-3:00 pm in room 280 Charlotte Mecklenburg Government
Center. Each program submitting a proposal must send a representative to at least one
of these mandatory trainings in order to be considered for funding.