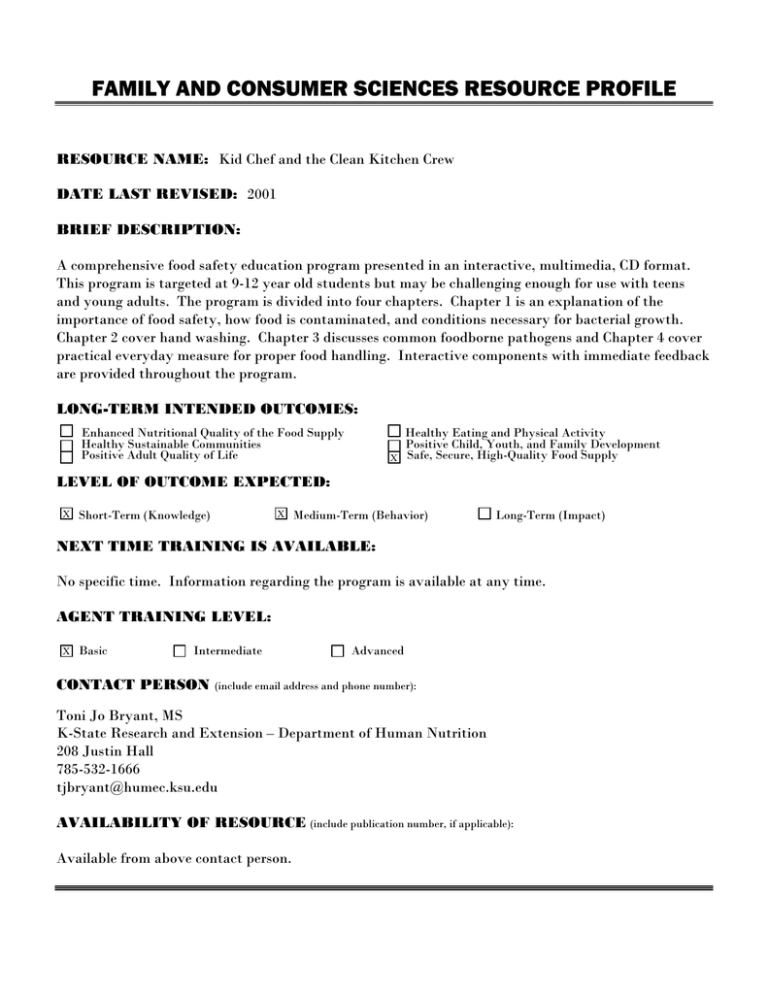 FAMILY AND CONSUMER SCIENCES RESOURCE PROFILE
RESOURCE NAME: Kid Chef and the Clean Kitchen Crew
DATE LAST REVISED: 2001
BRIEF DESCRIPTION:
A comprehensive food safety education program presented in an interactive, multimedia, CD format.
This program is targeted at 9-12 year old students but may be challenging enough for use with teens
and young adults. The program is divided into four chapters. Chapter 1 is an explanation of the
importance of food safety, how food is contaminated, and conditions necessary for bacterial growth.
Chapter 2 cover hand washing. Chapter 3 discusses common foodborne pathogens and Chapter 4 cover
practical everyday measure for proper food handling. Interactive components with immediate feedback
are provided throughout the program.
LONG-TERM INTENDED OUTCOMES:
Enhanced Nutritional Quality of the Food Supply
Healthy Sustainable Communities
Positive Adult Quality of Life
X
Healthy Eating and Physical Activity
Positive Child, Youth, and Family Development
Safe, Secure, High-Quality Food Supply
LEVEL OF OUTCOME EXPECTED:
X
Short-Term (Knowledge)
X
Medium-Term (Behavior)
Long-Term (Impact)
NEXT TIME TRAINING IS AVAILABLE:
No specific time. Information regarding the program is available at any time.
AGENT TRAINING LEVEL:
X
Basic
Intermediate
CONTACT PERSON
Advanced
(include email address and phone number):
Toni Jo Bryant, MS
K-State Research and Extension – Department of Human Nutrition
208 Justin Hall
785-532-1666
tjbryant@humec.ksu.edu
AVAILABILITY OF RESOURCE (include publication number, if applicable):
Available from above contact person.