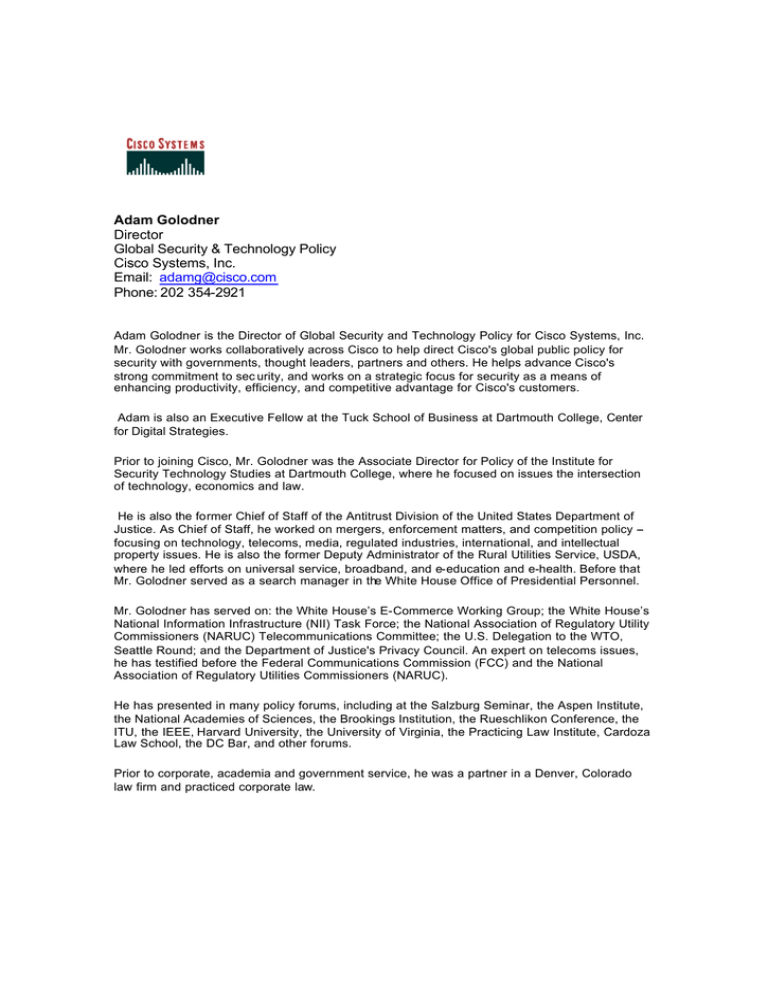 Adam Golodner
Director
Global Security & Technology Policy
Cisco Systems, Inc.
Email: adamg@cisco.com
Phone: 202 354-2921
Adam Golodner is the Director of Global Security and Technology Policy for Cisco Systems, Inc.
Mr. Golodner works collaboratively across Cisco to help direct Cisco's global public policy for
security with governments, thought leaders, partners and others. He helps advance Cisco's
strong commitment to sec urity, and works on a strategic focus for security as a means of
enhancing productivity, efficiency, and competitive advantage for Cisco's customers.
Adam is also an Executive Fellow at the Tuck School of Business at Dartmouth College, Center
for Digital Strategies.
Prior to joining Cisco, Mr. Golodner was the Associate Director for Policy of the Institute for
Security Technology Studies at Dartmouth College, where he focused on issues the intersection
of technology, economics and law.
He is also the former Chief of Staff of the Antitrust Division of the United States Department of
Justice. As Chief of Staff, he worked on mergers, enforcement matters, and competition policy -focusing on technology, telecoms, media, regulated industries, international, and intellectual
property issues. He is also the former Deputy Administrator of the Rural Utilities Service, USDA,
where he led efforts on universal service, broadband, and e-education and e-health. Before that
Mr. Golodner served as a search manager in the White House Office of Presidential Personnel.
Mr. Golodner has served on: the White House's E-Commerce Working Group; the White House's
National Information Infrastructure (NII) Task Force; the National Association of Regulatory Utility
Commissioners (NARUC) Telecommunications Committee; the U.S. Delegation to the WTO,
Seattle Round; and the Department of Justice's Privacy Council. An expert on telecoms issues,
he has testified before the Federal Communications Commission (FCC) and the National
Association of Regulatory Utilities Commissioners (NARUC).
He has presented in many policy forums, including at the Salzburg Seminar, the Aspen Institute,
the National Academies of Sciences, the Brookings Institution, the Rueschlikon Conference, the
ITU, the IEEE, Harvard University, the University of Virginia, the Practicing Law Institute, Cardoza
Law School, the DC Bar, and other forums.
Prior to corporate, academia and government service, he was a partner in a Denver, Colorado
law firm and practiced corporate law.