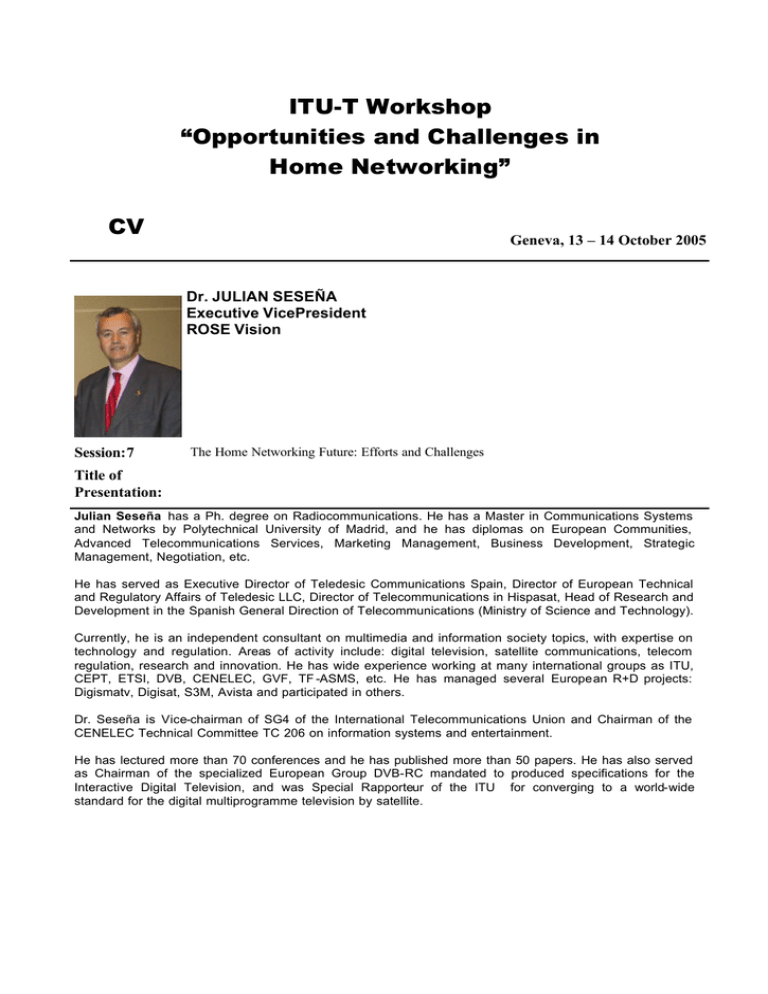 ITU-T Workshop
"Opportunities and Challenges in
Home Networking"
CV
Geneva, 13 – 14 October 2005
Dr. JULIAN SESEÑA
Executive VicePresident
ROSE Vision
Session:7
The Home Networking Future: Efforts and Challenges
Title of
Presentation:
Julian Seseña has a Ph. degree on Radiocommunications. He has a Master in Communications Systems
and Networks by Polytechnical University of Madrid, and he has diplomas on European Communities,
Advanced Telecommunications Services, Marketing Management, Business Development, Strategic
Management, Negotiation, etc.
He has served as Executive Director of Teledesic Communications Spain, Director of European Technical
and Regulatory Affairs of Teledesic LLC, Director of Telecommunications in Hispasat, Head of Research and
Development in the Spanish General Direction of Telecommunications (Ministry of Science and Technology).
Currently, he is an independent consultant on multimedia and information society topics, with expertise on
technology and regulation. Areas of activity include: digital television, satellite communications, telecom
regulation, research and innovation. He has wide experience working at many international groups as ITU,
CEPT, ETSI, DVB, CENELEC, GVF, TF -ASMS, etc. He has managed several European R+D projects:
Digismatv, Digisat, S3M, Avista and participated in others.
Dr. Seseña is Vice-chairman of SG4 of the International Telecommunications Union and Chairman of the
CENELEC Technical Committee TC 206 on information systems and entertainment.
He has lectured more than 70 conferences and he has published more than 50 papers. He has also served
as Chairman of the specialized European Group DVB-RC mandated to produced specifications for the
Interactive Digital Television, and was Special Rapporteur of the ITU for converging to a world-wide
standard for the digital multiprogramme television by satellite.