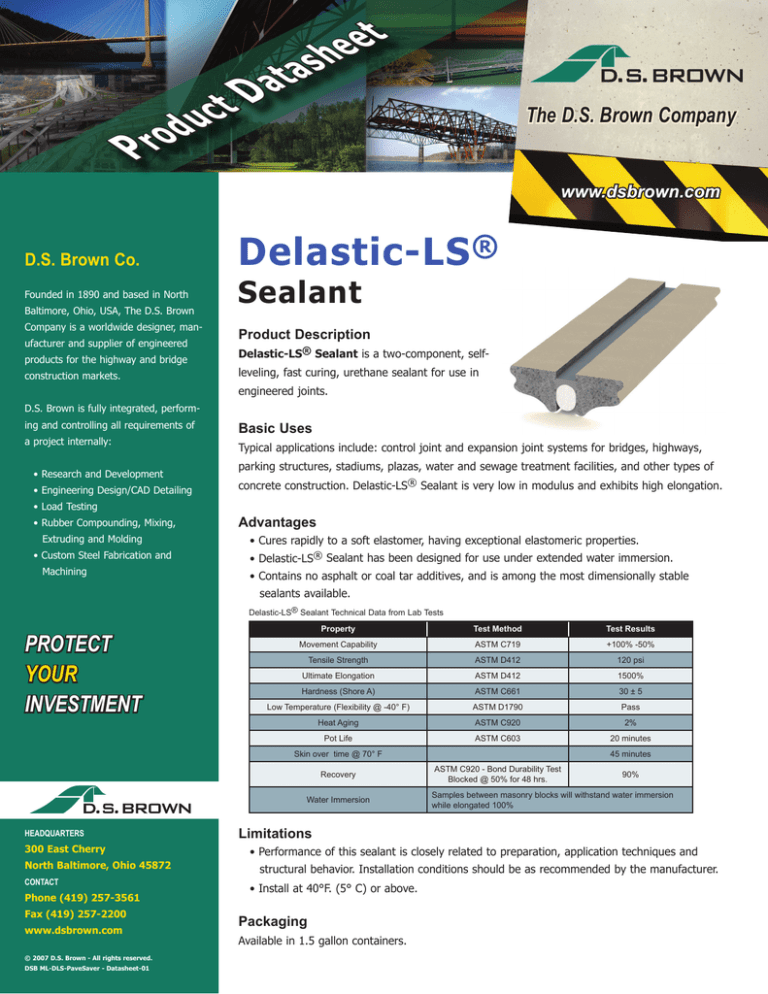 Pr
t
c
u
od
a
t
a
D
t
e
e
sh
The D.S. Brown Company
www.dsbrown.com
D.S. Brown Co.
Founded in 1890 and based in North
Baltimore, Ohio, USA, The D.S. Brown
Company is a worldwide designer, manufacturer and supplier of engineered
products for the highway and bridge
construction markets.
Delastic-LS ®
Sealant
Product Description
Delastic-LS® Sealant is a two-component, selfleveling, fast curing, urethane sealant for use in
engineered joints.
D.S. Brown is fully integrated, performing and controlling all requirements of
a project internally:
• Research and Development
• Engineering Design/CAD Detailing
Basic Uses
Typical applications include: control joint and expansion joint systems for bridges, highways,
parking structures, stadiums, plazas, water and sewage treatment facilities, and other types of
concrete construction. Delastic-LS® Sealant is very low in modulus and exhibits high elongation.
• Load Testing
• Rubber Compounding, Mixing,
Advantages
Extruding and Molding
• Cures rapidly to a soft elastomer, having exceptional elastomeric properties.
• Custom Steel Fabrication and
• Delastic-LS® Sealant has been designed for use under extended water immersion.
Machining
• Contains no asphalt or coal tar additives, and is among the most dimensionally stable
sealants available.
Delastic-LS® Sealant Technical Data from Lab Tests
PROTECT
YOUR
INVESTMENT
Property
Test Method
Test Results
Movement Capability
ASTM C719
+100% -50%
Tensile Strength
ASTM D412
120 psi
Ultimate Elongation
ASTM D412
1500%
Hardness (Shore A)
ASTM C661
30 ± 5
Low Temperature (Flexibility @ -40° F)
ASTM D1790
Pass
Heat Aging
ASTM C920
2%
Pot Life
ASTM C603
20 minutes
Skin over time @ 70° F
Recovery
Water Immersion
HEADQUARTERS
300 East Cherry
North Baltimore, Ohio 45872
CONTACT
Phone (419) 257-3561
Fax (419) 257-2200
www.dsbrown.com
© 2007 D.S. Brown - All rights reserved.
DSB ML-DLS-PaveSaver - Datasheet-01
45 minutes
ASTM C920 - Bond Durability Test
Blocked @ 50% for 48 hrs.
90%
Samples between masonry blocks will withstand water immersion
while elongated 100%
Limitations
• Performance of this sealant is closely related to preparation, application techniques and
structural behavior. Installation conditions should be as recommended by the manufacturer.
• Install at 40°F. (5° C) or above.
Packaging
Available in 1.5 gallon containers.
Delastic-LS®
Sealant Datasheet
www.dsbrown.com
Applicable Standards
Delastic-LS® Sealant will meet and exceed the requirements of ASTM C920, Type M, Class 50, Use T, NT, M.
Color
Gray.
Delastic-LS® Sealant Installation
Preparatory Work: Thorough surface preparation, to insure a dry, clean, sound joint edge, is essential for a good horizontal joint sealant
application. All joint edges should have a tooled radius wherever possible. They should be cleaned by sand blasting, by power wire brushing,
or by grinding the edge to insure a clean, sound substrate. Install Delastic-LS® Sealant 1/4" below the joint surface.
Bond Breaker: Sealant should not be applied directly over cork, or fiberboard fillers, which are usually damp and not tight in the joints.
These fillers should be cut out deep enough to allow insertion of proper size filler, to obtain tight back-up and bond breaker. Use foam
fillers as recommended by the manufacturer.
Pa v e S a v er
Product Description
Delastic-LS® Sealant can be used with headers made of PaveSaver concrete to create a highly durable, cost-effective and watertight expansion joint system for bridges. PaveSaver is a 2-part polymeric patching material used primarily for repairing spalls and cracks in concrete pavement. PaveSaver is a self-leveling and rapid setting product, traffic ready in less than 2 hours after being installed. PaveSaver is epoxy based
and bonds well to both steel and concrete.
PaveSaver meets and/or exceeds the following Physical Properties Requirements:
Test
Method
Requirements
Color
Gel Time, min.
"Tex-614-J, Testing Epoxy Materials"
1 minimum – 60 maximum
Wet Bond Strength to Concrete, psi
"Tex-618-J, Testing Elastomeric Concrete"
250 minimum
Compressive Strength 24 hr. psi
ASTM "C 579, Standard Test Methods for Compressive
Strength of Chemical-Resistant Mortars, Grouts, Monolithic
Surfacings and Polymer Concretes," Method B
2,000 minimum
Compressive Stress @ 0.1 in., 7 days, psi
"Tex-618-J, Testing Elastomeric Concrete"
2,000 minimum
Materials/Equipment
Resilience, %
"Tex-618-J, Testing Elastomeric Concrete"
65 minimum
Use a grout mixer blade, ¾"
Thermal Compatibility One cycle is 8 hrs. @
60°C followed by 16 hrs. @ -21°C
Determine results after 9 cycles
ASTM "C884/C884M, Standard Test Method for Thermal
Compatibility Between Concrete and an Epoxy-Resin
Overlay," with modifications
No delaminating or cracking
Gray.
heavy-duty drill and a 5 gallon
pail (for mixing).
Mixing (per mix)
Part A - 4.8 lbs. (2000 ml) Part B - 4.8 lbs. (2300 ml). Note: Parts A and B volumes are different. Pigments: Sand and Aggregate - 53.5 lbs.
(2 bags). Mix parts A and B first for 30-60 seconds. Add the aggregate last. Mix until uniform color.
Packaging
Aggregates are pre-weighed and bagged. PaveSaver is packaged in drums.
Please reference PaveSaver Data and MSDS Sheets for further information.