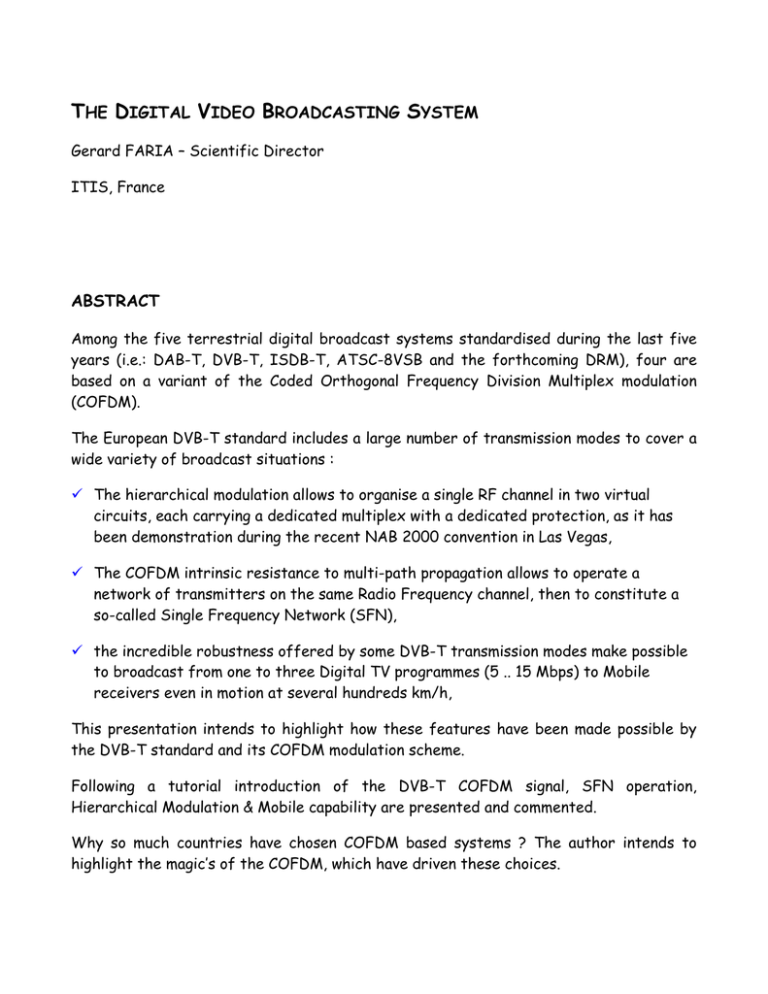 THE DIGITAL VIDEO BROADCASTING SYSTEM
Gerard FARIA – Scientific Director
ITIS, France
ABSTRACT
Among the five terrestrial digital broadcast systems standardised during the last five
years (i.e.: DAB-T, DVB-T, ISDB-T, ATSC-8VSB and the forthcoming DRM), four are
based on a variant of the Coded Orthogonal Frequency Division Multiplex modulation
(COFDM).
The European DVB-T standard includes a large number of transmission modes to cover a
wide variety of broadcast situations :
! The hierarchical modulation allows to organise a single RF channel in two virtual
circuits, each carrying a dedicated multiplex with a dedicated protection, as it has
been demonstration during the recent NAB 2000 convention in Las Vegas,
! The COFDM intrinsic resistance to multi-path propagation allows to operate a
network of transmitters on the same Radio Frequency channel, then to constitute a
so-called Single Frequency Network (SFN),
! the incredible robustness offered by some DVB-T transmission modes make possible
to broadcast from one to three Digital TV programmes (5 .. 15 Mbps) to Mobile
receivers even in motion at several hundreds km/h,
This presentation intends to highlight how these features have been made possible by
the DVB-T standard and its COFDM modulation scheme.
Following a tutorial introduction of the DVB-T COFDM signal, SFN operation,
Hierarchical Modulation & Mobile capability are presented and commented.
Why so much countries have chosen COFDM based systems ? The author intends to
highlight the magic's of the COFDM, which have driven these choices.