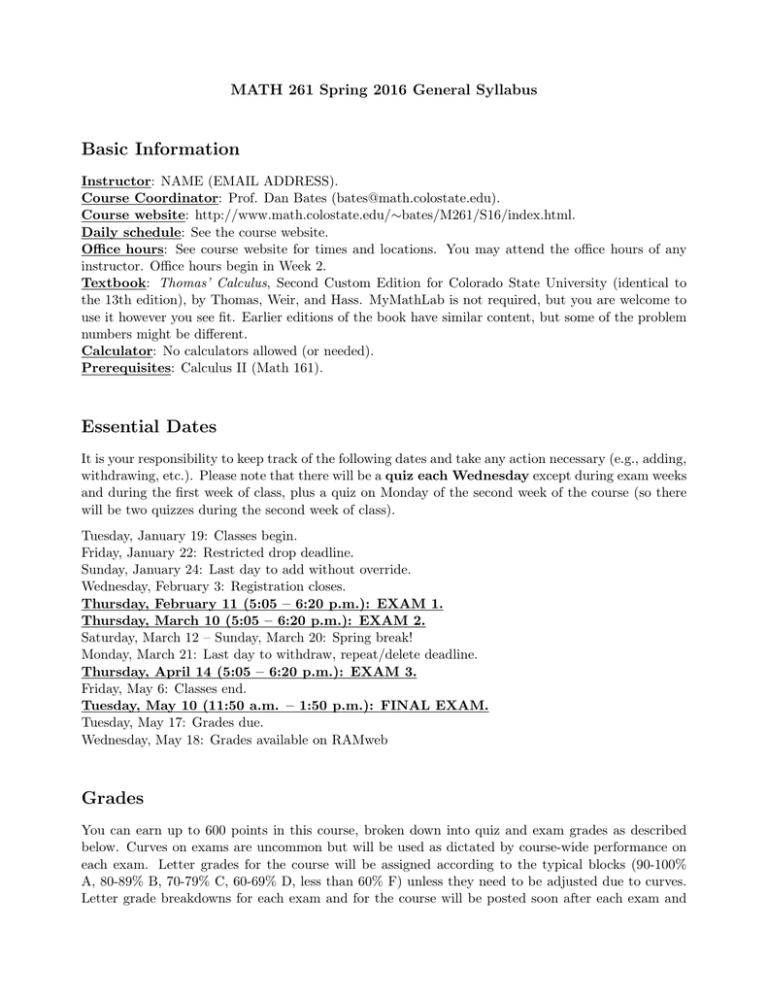 MATH 261 Spring 2016 General Syllabus
Basic Information
Instructor: NAME (EMAIL ADDRESS).
Course Coordinator: Prof. Dan Bates (bates@math.colostate.edu).
Course website: http://www.math.colostate.edu/∼bates/M261/S16/index.html.
Daily schedule: See the course website.
Office hours: See course website for times and locations. You may attend the office hours of any
instructor. Office hours begin in Week 2.
Textbook: Thomas' Calculus, Second Custom Edition for Colorado State University (identical to
the 13th edition), by Thomas, Weir, and Hass. MyMathLab is not required, but you are welcome to
use it however you see fit. Earlier editions of the book have similar content, but some of the problem
numbers might be different.
Calculator: No calculators allowed (or needed).
Prerequisites: Calculus II (Math 161).
Essential Dates
It is your responsibility to keep track of the following dates and take any action necessary (e.g., adding,
withdrawing, etc.). Please note that there will be a quiz each Wednesday except during exam weeks
and during the first week of class, plus a quiz on Monday of the second week of the course (so there
will be two quizzes during the second week of class).
Tuesday, January 19: Classes begin.
Friday, January 22: Restricted drop deadline.
Sunday, January 24: Last day to add without override.
Wednesday, February 3: Registration closes.
Thursday, February 11 (5:05 – 6:20 p.m.): EXAM 1.
Thursday, March 10 (5:05 – 6:20 p.m.): EXAM 2.
Saturday, March 12 – Sunday, March 20: Spring break!
Monday, March 21: Last day to withdraw, repeat/delete deadline.
Thursday, April 14 (5:05 – 6:20 p.m.): EXAM 3.
Friday, May 6: Classes end.
Tuesday, May 10 (11:50 a.m. – 1:50 p.m.): FINAL EXAM.
Tuesday, May 17: Grades due.
Wednesday, May 18: Grades available on RAMweb
Grades
You can earn up to 600 points in this course, broken down into quiz and exam grades as described
below. Curves on exams are uncommon but will be used as dictated by course-wide performance on
each exam. Letter grades for the course will be assigned according to the typical blocks (90-100%
A, 80-89% B, 70-79% C, 60-69% D, less than 60% F) unless they need to be adjusted due to curves.
Letter grade breakdowns for each exam and for the course will be posted soon after each exam and
at the end of the semester on the course website. Be sure to check Canvas from time to time to make
sure your grades have been recorded accurately. There are no opportunities for bonus points in this
course: you are assigned the grade you earn.
Homework: 0 points
There is no assigned homework for this course, but suggested practice problems from the book are
posted on the course website. Many of the quiz and exam problems will be similar to those in the
suggested homework, so it is well worth your time to try the practice problems. If you have trouble,
come to the office hours for help.
Quizzes: 100 points
There are 12 quizzes given in class: 11 on Wednesdays (except the first week and exam weeks) plus
one on the Monday of the second week of the course. Each quiz is worth 10 points, for a total of 120
possible points. However, the maximum possible quiz total is 100 points, meaning you can miss up to
20 points on quizzes and still end up with a perfect quiz score. Please see the make-up policy below.
Books, notes, and calculators are not allowed for quizzes. Quizzes will typically take no more than
half of the class on Wednesday, and you must take the quiz in your own section.
Exams: 500 points
There are three midterm exams (on Thursday evenings, 5:05-6:20 pm) and a cumulative final exam in
Math 261. Each midterm is worth 100 points. The final is worth 200. There will be review sessions
(places and times TBD – check the website) the Tuesday and Wednesday evenings before each midterm
and sometime before the final exam. The locations of the midterms and final exams will be posted
on the math department website (http://www.math.colostate.edu) well in advance of each exam. Be
sure to go to the correct room (according to the section you are in). Books, notes, and calculators are
not allowed for exams.
Policies
Academic integrity
The University has an Academic Integrity Policy and Student Conduct Code (see the CSU General
Catalog) which is enforced in Math261. With respect to Math261, joint effort on homework is encouraged. However, with respect to any quiz or exam, the Honor's Pledge is specifically: "I will not
give, receive, or use any unauthorized assistance." Students judged to have engaged in cheating on
a particular quiz or exam will receive a score of 0 for that particular quiz or exam. Also, for the
student who received a 0 on a quiz or exam due to cheating, Repeat/Delete will not be an option for
the grade earned the semester cheating occurred. A second offense will result in an F for the course.
Cases of flagrant academic dishonesty will be brought to the attention of the TILT Academic Integrity
Program. Put simply: Don't cheat. I have no patience for academic dishonesty.
RDS
For those who take exams with RDS, please give the form to your instructor after completing the
student portion. Put ALL three dates on the RDS form for the three exams during the semester.
The student should also fill out an additional form for the Final Exam. For students taking the exam
through RDS, it is the student's responsibility to submit forms within RDS time requirements. The
exam should be taken as close as possible to the regularly scheduled time.
(Instructors: fill out the rest as in http://www.math.colostate.edu/documents/RDSFORM.pdf,
then check the first box under Exam Return, check No under Calculator, add the time (75 minutes for
midterms, 120 for the final), sign, date, and give the yellow copy to the coordinator if it's an original
from RDS. If not an original from RDS, please make a copy for the coordinator.)
Make-up quizzes and exams
Make-ups for quizzes and exams will be given ONLY in the cases of university-approved absence and
documentable emergencies. All excuses must include adequate documentation. Inform your instructor
about any such absences as soon as possible. Instructors will handle the rescheduling of make-up
quizzes; the coordinator will handle the scheduling of make-up exams. Please fill out the "Alternate
Exam Time Request Form" on the course website ASAP and turn it in to your instructor no later
than 10 days before the quiz or exam you will miss. Of course, for illnesses or other emergencies, this
form will need to be turned in later.
Exam conflicts with other courses
For a student taking a class that meets at the same time as the Math 261 midterm exams are scheduled,
the student may take the exam at either 4:00 pm (until 5:15) or at 7:00 pm (until 8:15), on the same
day as the scheduled exam. No other times will be considered. It should be given to your instructor no
later than the Monday 10 days before the exam. Please see "Alternative Exam Time Request Form"
on the course website for the form.
There should not be a direct conflict for the final exam. In the case that a student has three or
more final exams in one day, the Registrar indicates that the student may negotiate with his or her
instructors for an alternate exam time for one or more courses. In this situation, the general policy is
that final exams for uncoordinated courses should be moved instead of those for coordinated courses.
In other words, if you are in this situation, please try to move your other final exams since Math 261
is a coordinated course.
Grade assignments
You receive the grade you earn, and the grade distribution stands. For example, if you have earned
an 88% in the course, you can expect to receive a B and should not waste your time or mine by asking
for the next higher grade.
Regrades
If you spot a grading error on a quiz or an exam (e.g., you believe you lost points without reason or
there was some arithmetic error with calculating the total grade), you have one week to bring this
potential error to the attention of your instructor. Please check your grades on Canvas (especially
after regrades) to make sure they were recorded accurately. The decision of the instructor stands.
Changing your answers prior to a regrade is a form of cheating and will result in a 0 on the entire quiz
or exam being regraded.
Tutoring
See the course website for options.
GOOD LUCK THIS SEMESTER!