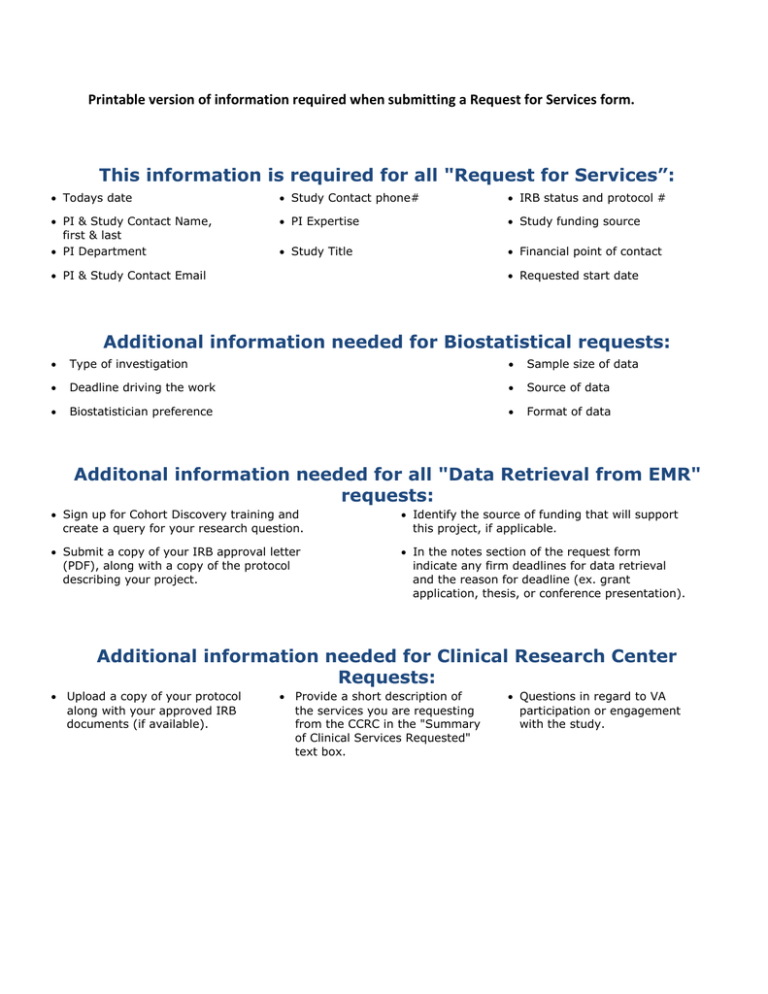 Printable version of information required when submitting a Request for Services form.
This information is required for all "Request for Services":
• Todays date
• Study Contact phone#
• IRB status and protocol #
• PI & Study Contact Name,
first & last
• PI Department
• PI Expertise
• Study funding source
• Study Title
• Financial point of contact
• PI & Study Contact Email
• Requested start date
Additional information needed for Biostatistical requests:
•
Type of investigation
•
Sample size of data
•
Deadline driving the work
•
Source of data
•
Biostatistician preference
•
Format of data
Additonal information needed for all "Data Retrieval from EMR"
requests:
• Sign up for Cohort Discovery training and
create a query for your research question.
• Identify the source of funding that will support
this project, if applicable.
• Submit a copy of your IRB approval letter
(PDF), along with a copy of the protocol
describing your project.
• In the notes section of the request form
indicate any firm deadlines for data retrieval
and the reason for deadline (ex. grant
application, thesis, or conference presentation).
Additional information needed for Clinical Research Center
Requests:
• Upload a copy of your protocol
along with your approved IRB
documents (if available).
• Provide a short description of
the services you are requesting
from the CCRC in the "Summary
of Clinical Services Requested"
text box.
• Questions in regard to VA
participation or engagement
with the study.