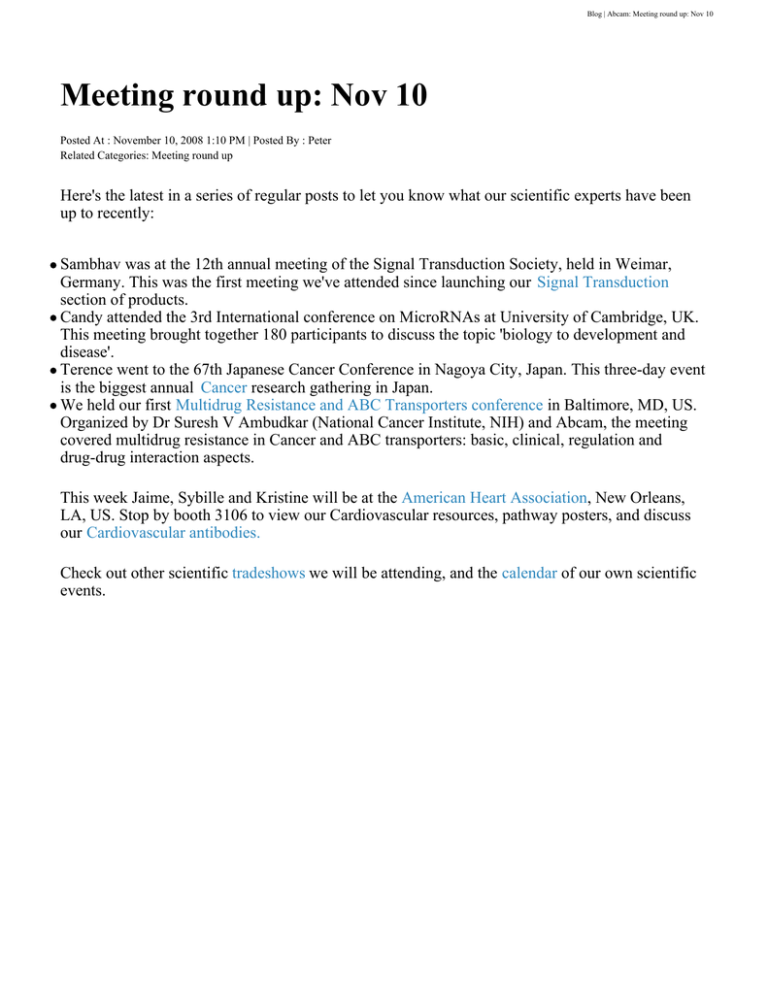 Blog | Abcam: Meeting round up: Nov 10
Meeting round up: Nov 10
Posted At : November 10, 2008 1:10 PM | Posted By : Peter
Related Categories: Meeting round up
Here's the latest in a series of regular posts to let you know what our scientific experts have been
up to recently:
Sambhav was at the 12th annual meeting of the Signal Transduction Society, held in Weimar,
Germany. This was the first meeting we've attended since launching our Signal Transduction
section of products.
Candy attended the 3rd International conference on MicroRNAs at University of Cambridge, UK.
This meeting brought together 180 participants to discuss the topic 'biology to development and
disease'.
Terence went to the 67th Japanese Cancer Conference in Nagoya City, Japan. This three-day event
is the biggest annual Cancer research gathering in Japan.
We held our first Multidrug Resistance and ABC Transporters conference in Baltimore, MD, US.
Organized by Dr Suresh V Ambudkar (National Cancer Institute, NIH) and Abcam, the meeting
covered multidrug resistance in Cancer and ABC transporters: basic, clinical, regulation and
drug-drug interaction aspects.
This week Jaime, Sybille and Kristine will be at the American Heart Association, New Orleans,
LA, US. Stop by booth 3106 to view our Cardiovascular resources, pathway posters, and discuss
our Cardiovascular antibodies.
Check out other scientific tradeshows we will be attending, and the calendar of our own scientific
events.