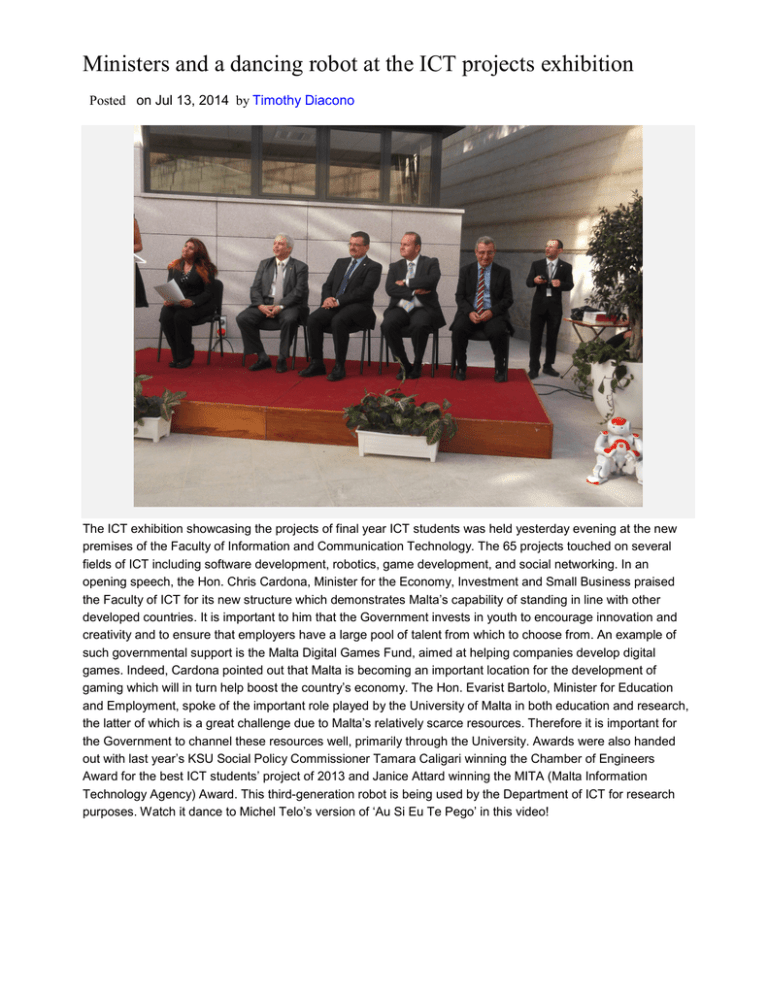 Ministers and a dancing robot at the ICT projects exhibition
Posted on Jul 13, 2014 by Timothy Diacono
The ICT exhibition showcasing the projects of final year ICT students was held yesterday evening at the new
premises of the Faculty of Information and Communication Technology. The 65 projects touched on several
fields of ICT including software development, robotics, game development, and social networking. In an
opening speech, the Hon. Chris Cardona, Minister for the Economy, Investment and Small Business praised
the Faculty of ICT for its new structure which demonstrates Malta's capability of standing in line with other
developed countries. It is important to him that the Government invests in youth to encourage innovation and
creativity and to ensure that employers have a large pool of talent from which to choose from. An example of
such governmental support is the Malta Digital Games Fund, aimed at helping companies develop digital
games. Indeed, Cardona pointed out that Malta is becoming an important location for the development of
gaming which will in turn help boost the country's economy. The Hon. Evarist Bartolo, Minister for Education
and Employment, spoke of the important role played by the University of Malta in both education and research,
the latter of which is a great challenge due to Malta's relatively scarce resources. Therefore it is important for
the Government to channel these resources well, primarily through the University. Awards were also handed
out with last year's KSU Social Policy Commissioner Tamara Caligari winning the Chamber of Engineers
Award for the best ICT students' project of 2013 and Janice Attard winning the MITA (Malta Information
Technology Agency) Award. This third-generation robot is being used by the Department of ICT for research
purposes. Watch it dance to Michel Telo's version of 'Au Si Eu Te Pego' in this video!