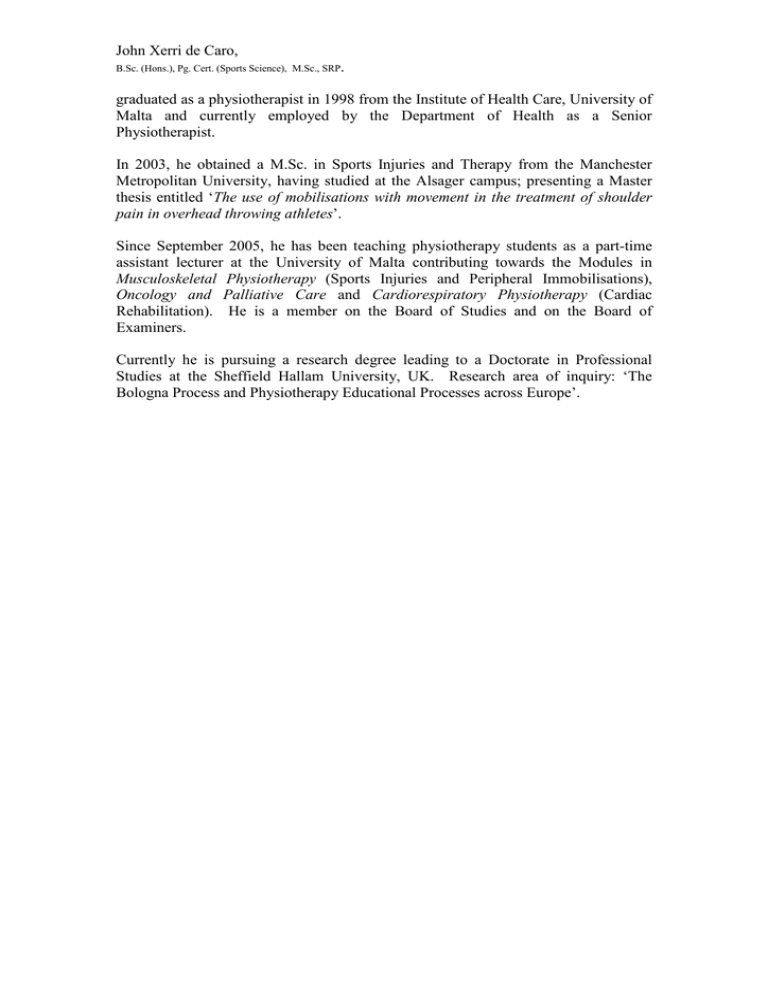 John Xerri de Caro,
B.Sc. (Hons.), Pg. Cert. (Sports Science), M.Sc., SRP.
graduated as a physiotherapist in 1998 from the Institute of Health Care, University of
Malta and currently employed by the Department of Health as a Senior
Physiotherapist.
In 2003, he obtained a M.Sc. in Sports Injuries and Therapy from the Manchester
Metropolitan University, having studied at the Alsager campus; presenting a Master
thesis entitled 'The use of mobilisations with movement in the treatment of shoulder
pain in overhead throwing athletes'.
Since September 2005, he has been teaching physiotherapy students as a part-time
assistant lecturer at the University of Malta contributing towards the Modules in
Musculoskeletal Physiotherapy (Sports Injuries and Peripheral Immobilisations),
Oncology and Palliative Care and Cardiorespiratory Physiotherapy (Cardiac
Rehabilitation). He is a member on the Board of Studies and on the Board of
Examiners.
Currently he is pursuing a research degree leading to a Doctorate in Professional
Studies at the Sheffield Hallam University, UK. Research area of inquiry: 'The
Bologna Process and Physiotherapy Educational Processes across Europe'.