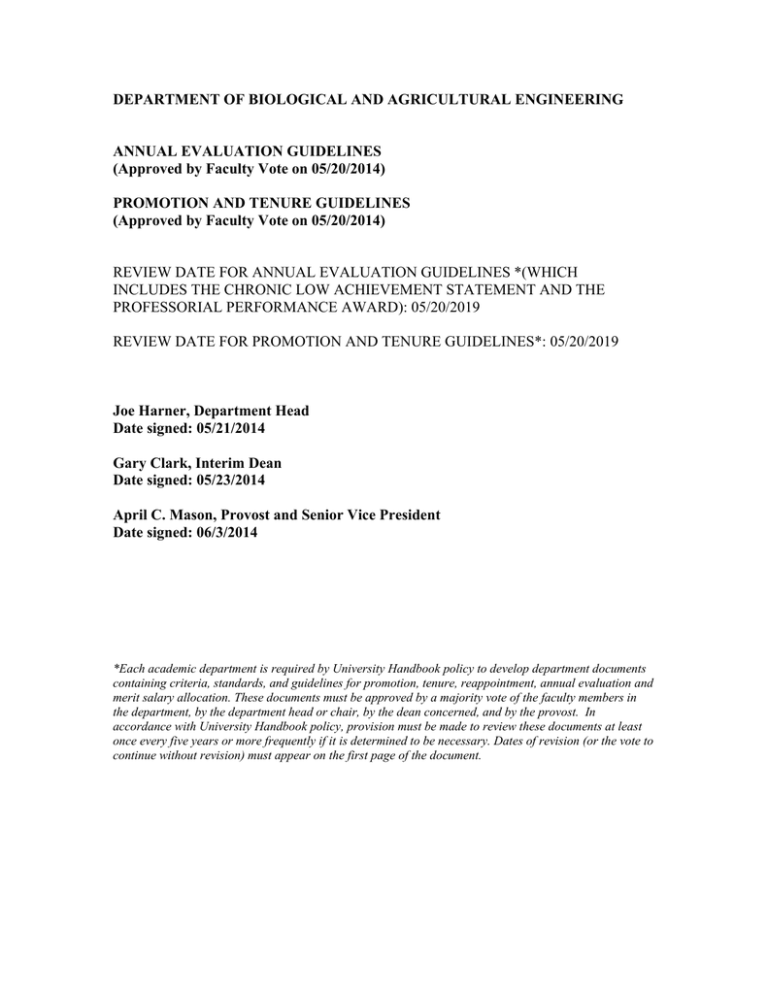 DEPARTMENT OF BIOLOGICAL AND AGRICULTURAL ENGINEERING
ANNUAL EVALUATION GUIDELINES
(Approved by Faculty Vote on 05/20/2014)
PROMOTION AND TENURE GUIDELINES
(Approved by Faculty Vote on 05/20/2014)
REVIEW DATE FOR ANNUAL EVALUATION GUIDELINES *(WHICH
INCLUDES THE CHRONIC LOW ACHIEVEMENT STATEMENT AND THE
PROFESSORIAL PERFORMANCE AWARD): 05/20/2019
REVIEW DATE FOR PROMOTION AND TENURE GUIDELINES*: 05/20/2019
Joe Harner, Department Head
Date signed: 05/21/2014
Gary Clark, Interim Dean
Date signed: 05/23/2014
April C. Mason, Provost and Senior Vice President
Date signed: 06/3/2014
*Each academic department is required by University Handbook policy to develop department documents
containing criteria, standards, and guidelines for promotion, tenure, reappointment, annual evaluation and
merit salary allocation. These documents must be approved by a majority vote of the faculty members in
the department, by the department head or chair, by the dean concerned, and by the provost. In
accordance with University Handbook policy, provision must be made to review these documents at least
once every five years or more frequently if it is determined to be necessary. Dates of revision (or the vote to
continue without revision) must appear on the first page of the document.