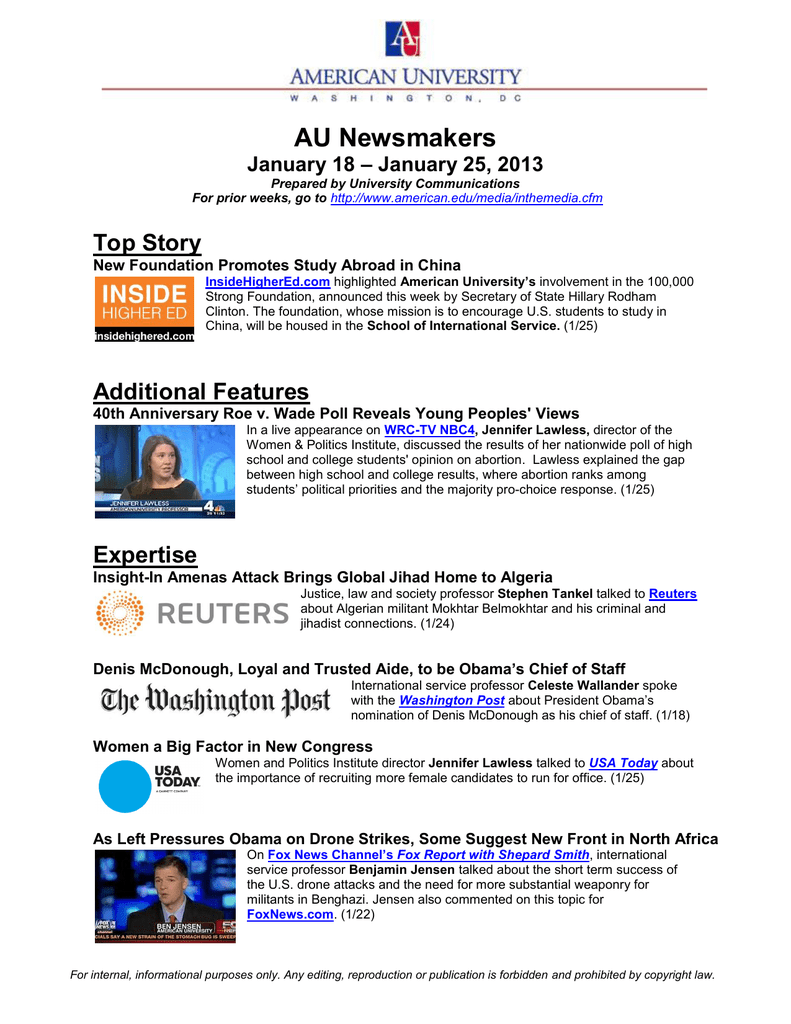 AU Newsmakers
January 18 – January 25, 2013
Prepared by University Communications
For prior weeks, go to http://www.american.edu/media/inthemedia.cfm
Top Story
New Foundation Promotes Study Abroad in China
InsideHigherEd.com highlighted American University's involvement in the 100,000
Strong Foundation, announced this week by Secretary of State Hillary Rodham
Clinton. The foundation, whose mission is to encourage U.S. students to study in
China, will be housed in the School of International Service. (1/25)
Additional Features
40th Anniversary Roe v. Wade Poll Reveals Young Peoples' Views
In a live appearance on WRC-TV NBC4, Jennifer Lawless, director of the
Women & Politics Institute, discussed the results of her nationwide poll of high
school and college students' opinion on abortion. Lawless explained the gap
between high school and college results, where abortion ranks among
students' political priorities and the majority pro-choice response. (1/25)
Expertise
Insight-In Amenas Attack Brings Global Jihad Home to Algeria
Justice, law and society professor Stephen Tankel talked to Reuters
about Algerian militant Mokhtar Belmokhtar and his criminal and
jihadist connections. (1/24)
Denis McDonough, Loyal and Trusted Aide, to be Obama's Chief of Staff
International service professor Celeste Wallander spoke
with the Washington Post about President Obama's
nomination of Denis McDonough as his chief of staff. (1/18)
Women a Big Factor in New Congress
Women and Politics Institute director Jennifer Lawless talked to USA Today about
the importance of recruiting more female candidates to run for office. (1/25)
As Left Pressures Obama on Drone Strikes, Some Suggest New Front in North Africa
On Fox News Channel's Fox Report with Shepard Smith, international
service professor Benjamin Jensen talked about the short term success of
the U.S. drone attacks and the need for more substantial weaponry for
militants in Benghazi. Jensen also commented on this topic for
FoxNews.com. (1/22)
For internal, informational purposes only. Any editing, reproduction or publication is forbidden and prohibited by copyright law.
Dow Chemical Fights Ally Exxon's Natural Gas Export Push
With Bloomberg News, James Thurber, director of the Center for
Congressional and Presidential Studies, discussed Dow Chemical's
battle over Exxon's desire to export natural gas. (1/24)
D.C. Could Force Huge Wage Increase on City's Big Retailers
Economics professor Robert Lerman spoke to the Washington
Examiner about the D.C. Council's Large Retailer Accountability Act
to raise wages for all employees of the District's largest employers,
including Walmart, Lowes, Giant and Safeway. (1/23)
Pollution in Growing Economies
With CCTV (China), Center for Environmental Policy director Daniel Fiorino
discussed noticeable changes in China's air and water quality resulting from
economic growth. (1/24)
For internal, informational purposes only. Any editing, reproduction or publication is forbidden and prohibited by copyright law.