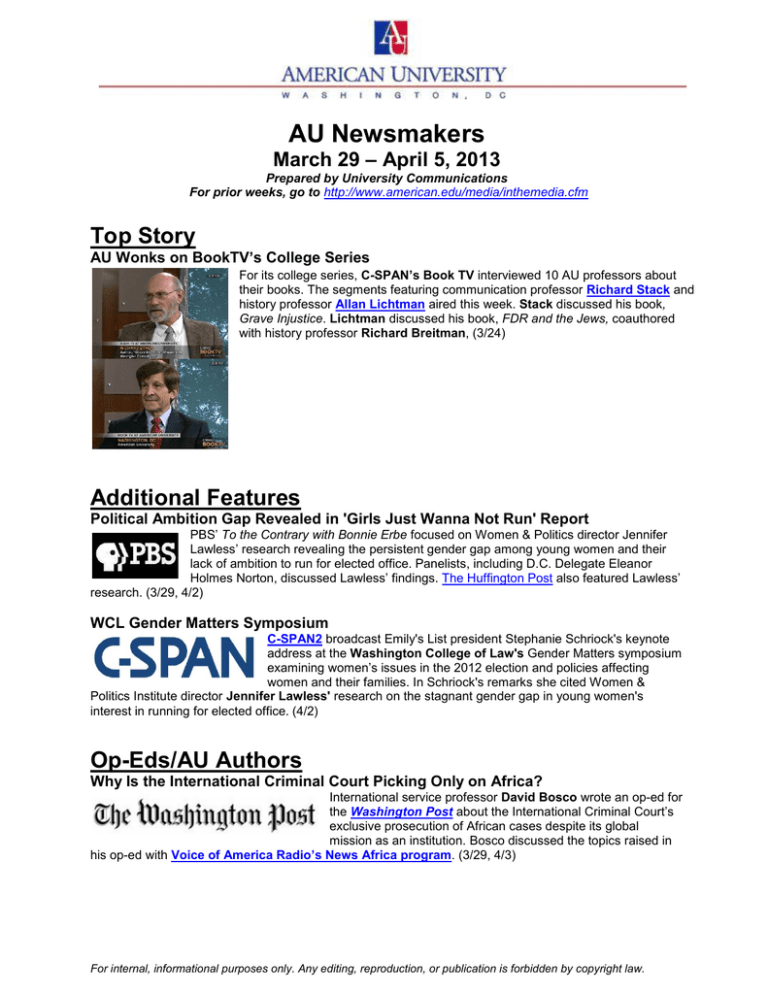 AU Newsmakers
March 29 – April 5, 2013
Prepared by University Communications
For prior weeks, go to http://www.american.edu/media/inthemedia.cfm
Top Story
AU Wonks on BookTV's College Series
For its college series, C-SPAN's Book TV interviewed 10 AU professors about
their books. The segments featuring communication professor Richard Stack and
history professor Allan Lichtman aired this week. Stack discussed his book,
Grave Injustice. Lichtman discussed his book, FDR and the Jews, coauthored
with history professor Richard Breitman, (3/24)
Additional Features
Political Ambition Gap Revealed in 'Girls Just Wanna Not Run' Report
PBS' To the Contrary with Bonnie Erbe focused on Women & Politics director Jennifer
Lawless' research revealing the persistent gender gap among young women and their
lack of ambition to run for elected office. Panelists, including D.C. Delegate Eleanor
Holmes Norton, discussed Lawless' findings. The Huffington Post also featured Lawless'
research. (3/29, 4/2)
WCL Gender Matters Symposium
C-SPAN2 broadcast Emily's List president Stephanie Schriock's keynote
address at the Washington College of Law's Gender Matters symposium
examining women's issues in the 2012 election and policies affecting
women and their families. In Schriock's remarks she cited Women &
Politics Institute director Jennifer Lawless' research on the stagnant gender gap in young women's
interest in running for elected office. (4/2)
Op-Eds/AU Authors
Why Is the International Criminal Court Picking Only on Africa?
International service professor David Bosco wrote an op-ed for
the Washington Post about the International Criminal Court's
exclusive prosecution of African cases despite its global
mission as an institution. Bosco discussed the topics raised in
his op-ed with Voice of America Radio's News Africa program. (3/29, 4/3)
For internal, informational purposes only. Any editing, reproduction, or publication is forbidden by copyright law.
Expertise
Argentina Defends Payment Plan; Analysts Trash It
Arturo Porzecanski, director of the International Economic Relations
Program, commented to the Associated Press about Argentina's
maneuvering to avoid a court ordered bond payment by issuing additional
risky debt. More than 65 outlets, including ABC News Online, El Paso
Times, and San José Mercury News republished this article. Law professor Anna Gelpern also
discussed the bond payments with Bloomberg News. (3/29, 4/1)
Quick Tips for Managing Introverted Employees
For two articles, executive-in-residence Meredith Persily Lamel
provided tips to Entrepreneur magazine about how managers can
successfully deal with introverted and extroverted employees. (4/1)
Can Internships Be Improved to Better Prepare Students and Get Results for Firms?
Communication professor Gemma Puglisi spoke to PRWeek about how
universities can improve the internship experience in the PR industry for
students and PR agencies. (4/1)
Fannie Mae Struggles with Revolving Leadership Door
Washington Business Journal spoke to management
professor Mark Clark about the persistent leadership
problems at Fannie Mae since it has been under federal
conservatorship. (4/4)
Feds Rank Worst Bosses, Best Bosses
With Federal Times, Robert Tobias, director of the Key Executive
Leadership Programs, discussed a ranking of the best and worst
federal government bosses. Tobias emphasized the important role
authenticity plays in discussions between managers and their employees. (3/31)
Fake Documentary Film Scenes Revealed by DC Whistleblower
Examiner.com talked to Christopher Palmer, director of the Center for
Environmental Filmmaking, about the debut of his newest film, Shooting in the
Wild: An Insider's Account of Making Movies in the Animal Kingdom. (3/31)
How American are "American-made" Cars?
NBC and CBS local news affiliates in Lansing, Michigan featured International
business professor Frank Dubois's research index ranking the American-made
content of all new cars sold in the United States. (4/3)
Bonus Clip
Going Out into the Community
While at the National Cherry Blossom Festival, American University's all-male a
capella group, On a Sensual Note, performed for WTTG-FOX5. (4/2)
For internal, informational purposes only. Any editing, reproduction, or publication is forbidden by copyright law.