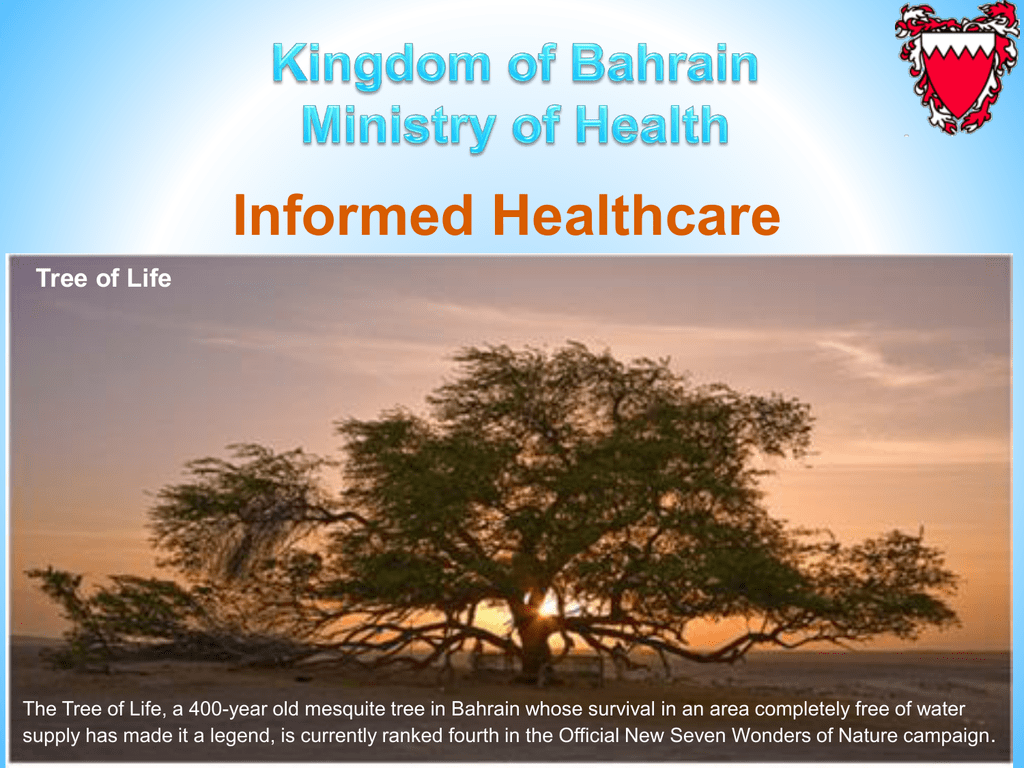 Informed Healthcare
Tree of Life
The Tree of Life, a 400-year old mesquite tree in Bahrain whose survival in an area completely free of water
supply has made it a legend, is currently ranked fourth in the Official New Seven Wonders of Nature campaign.
• Healthcare agenda
• Introduction
• Strategy
• Provision of Healthcare
• Healthcare Achievements
• Improvements and Challenges
• National Healthcare Information System (I-SEHA)
• Definition
• Scope
• Primary Care project Achievements
• Secondary care project Achievements
• Project Challenges
2
Kingdom of Bahrain
Socio-Economic Indicators 2011
Element
Value
Area
767.3 sq KM
Population
1,195,020
Child Dependant
Ratio (0-14)
27.2
Aging Dependency 2.9
(age 65+)
Total Dependency
Ratio
30.1
Crude Birth Rate
14.8
Crude Death Rate
2.0
life Expectancy
ratio at birth
75.3
Literacy
93.5
MoH Expenditure
as % of Public
Expenditure
7.4%
Article 8 [Health Care] of the constitution which states the
following:
a. Every citizen is entitled to health care. The State cares
for public health and the State ensures the means of
prevention and treatment by establishing a variety of
hospitals and healthcare institutions.
b. Individuals and bodies may establish private hospitals,
clinics or treatment centers under the supervision of the
State and in accordance with the law.
All Kingdom of Bahrain Citizen to receive
high quality health care services
throughout their life cycle.
Capital Governorate
Muharraq
Governorate
Northern Governorate
Central
Governorate
Southern Governorate
Governorate
Health Centers &
Clinics
Govt.
Hosp.
Private Hosp.
Muharraq*
5
3
1
Capital
7
3
10
Northern
5 (1)
1
2
Central
6
1
1
Southern
2 (1)
1
1
Total
25 (2 Clinics)
9
15
*
71.9*
73.8
74.8
+1%
Benchmark
average 80.7*
Life expectancy at
birth
years
9.4
Infant
mortality
per 1,000 live
births
7.3
7.2
-1%
Benchmark
average 3.3*
11.2
9.5
8.6
-9%
Benchmark
average 4*
Child mortality rate**
per 1,000 live births
31.1
Maternal
mortality
per 100,000
live births
1996
20.6
16.9
2003
2009
* Benchmarks are: Germany, Iceland, Netherlands, Norway, Singapore, United Kingdom
** Children under the age of five
Source:
Ministry of Health Bahrain; Vital statistics, World Health Report 2010
-18%
Benchmark
average
5.8*
7
Challenges
*
*
*
*
Population growth and ageing
*
Shortage of certain categories of
health professionals
*
*
Continued rise in medical costs
*
Increase cost of overseas treatment
Health Strategy
National Economic
Strategy
Increased demand on helth services
Unhealthy lifestyles
Increased prevalence of chronic Non
Communicable Diseases
Increase cost of health professionals
and their training
8
• The Ministry of Health is leading an
ambitious project to build up an
informed healthcare system for the
whole Kingdom of Bahrain.
• The National Healthcare Information
system has the acronym project name
as I-SEHA (Seha= Health in Arabic)
• I-SEHA will be deployed with Indra as an implementer and partner.
• The main objective of I-SEHA is to enhance the quality of patient care
and safety as a result of a better flow of information among
professionals.
10
• Integrated clinical and administrative solution for primary and
secondary care, which includes all the patient information
(present and previous episodes) in a single Electronic Health
Record, available where and when needed.
• The system covers requests and referrals and enables to track
them.
• Supports more than 4.000 healthcare professionals and 1.2
million+ citizens and residents.
11
PROJECT OVERVIEW
• I-Seha will cover all the Kingdom's healthcare facilities.
KHUH
Salmaniya Medical
Complex
Peripheral Hospitals
26 Health Centers
12
PROJECT OVERVIEW
Module
Professional
What does it include
Physicians
Visit sheets, medical orders, results visualization,
working list, minor surgery
Nurses
Triage sheet, nurse care sheet, treatment room,
working list, medical orders, injections, procedures,
drug administration
Clerks
Agendas and appointments management
Nurses
Schedule an appointment
Physicians
Schedule an appointment
Radiologists
Reporting of radiology images
Radiology
Information
System
Radiology
Technicians
Performance of radiology tests
Medical
secretaries
Transcription of the report of radiological images
Web Viewer
Physicians
Radiology images visualization (filmless)
Electronic
Health Record
(EHR)
Scheduling &
appointment
13
PROJECT OVERVIEW
Module
Professional
What does it include
Laboratory
Information
System
Laboratory
Technicians
Test request, analysis and reports generation
Pharmacists
Dispensation and pharmacy management
Physicians
Drugs prescription
Pharmacy
14
MILESTONES
- Filmless and RIS in MoH network.
- Schedule & Appointment implemented in all HC
- Schedule & Appointment implemented in 20 OPD clinics in SMC
- First OPD clinic running EHR in SMC
- 12 Health Centers running EHR
STATUS AND COMPLETED ACTIVITIES
- Schedule & Appointment deployed in all health centers.
- EHR Primary Care (general clinic, treatment room, triage) implemented in
12 out of the 26 health centers
-PACs and RIS completed in all MoH network.
STATUS AND COMPLETED ACTIVITIES
- PICU (wards 24 and 34) go live took place on October 15th 2012.
-PACs and RIS completed in all MoH network.
-Schedule & Appointment deployed in SMC OPD in Al Fateh and Main SMC.
-EHR deployed in OPD ENT department as a pilot.
- Current situation analysis for SMC completed
Wide Area Network (WAN) Issues:
1. Limitation of the existing MPLS Layer 2 that does not have the
capability of a Star Topology Architecture, therefore we are stuck on a
virtual Point to Point Connection.
2. In connection to Item 1. MoH then have to lease additional MPLS
connections (100Mbps) to connect to the Main Data Center (CIO Juffair)
and the Data Recovery Center (KHUH) to perform a better data flow.
3. A Dark Fiber direct connection is the most reliable and recommendable
dedicated link between the Main Data Center (CIO) and the Disaster
Recovery Center (KHUH) to perform an Active- Active Servers during fail
4. Since this Technology not readily available, It was decided to go for an
Active-Passive solution.
I-Seha Solution on the Issue:
Iseha is working closely with Batelco and CIO for a Vitual Circuit (VC)
Switching Solution that will help the congestion of Data Flow until then
that the Country is ready for the MPLS 3 solution (MESS or Star Type of
Communication Architecture).