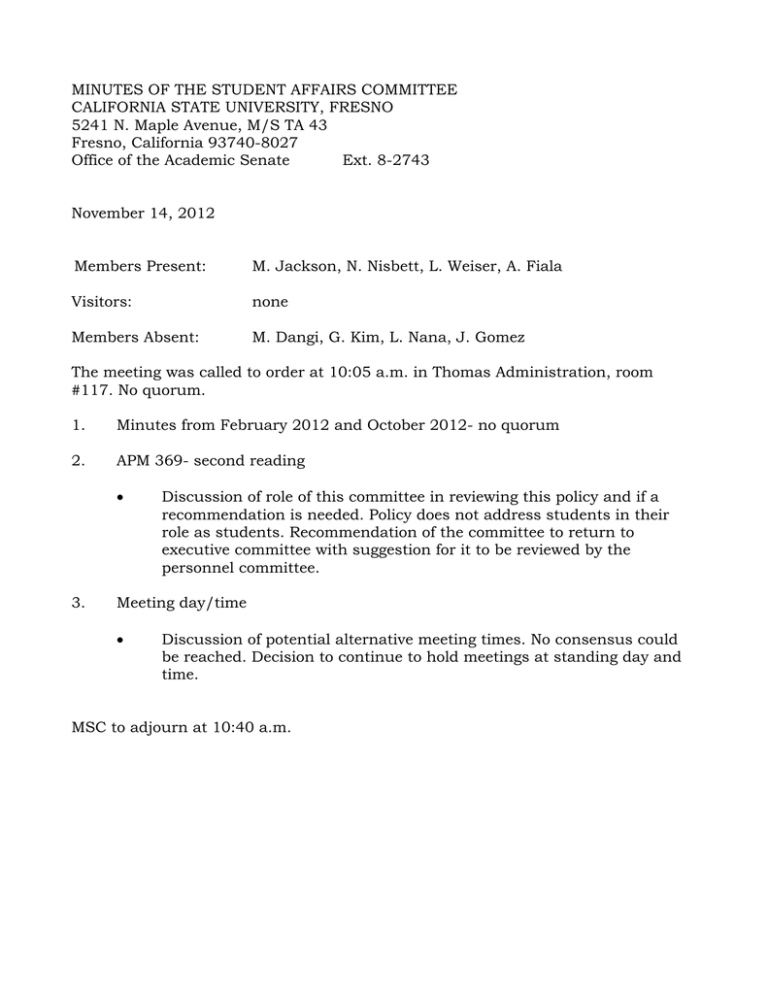 MINUTES OF THE STUDENT AFFAIRS COMMITTEE
CALIFORNIA STATE UNIVERSITY, FRESNO
5241 N. Maple Avenue, M/S TA 43
Fresno, California 93740-8027
Office of the Academic Senate
Ext. 8-2743
November 14, 2012
Members Present:
M. Jackson, N. Nisbett, L. Weiser, A. Fiala
Visitors:
none
Members Absent:
M. Dangi, G. Kim, L. Nana, J. Gomez
The meeting was called to order at 10:05 a.m. in Thomas Administration, room
#117. No quorum.
1.
Minutes from February 2012 and October 2012- no quorum
2.
APM 369- second reading

3.
Discussion of role of this committee in reviewing this policy and if a
recommendation is needed. Policy does not address students in their
role as students. Recommendation of the committee to return to
executive committee with suggestion for it to be reviewed by the
personnel committee.
Meeting day/time

Discussion of potential alternative meeting times. No consensus could
be reached. Decision to continue to hold meetings at standing day and
time.
MSC to adjourn at 10:40 a.m.