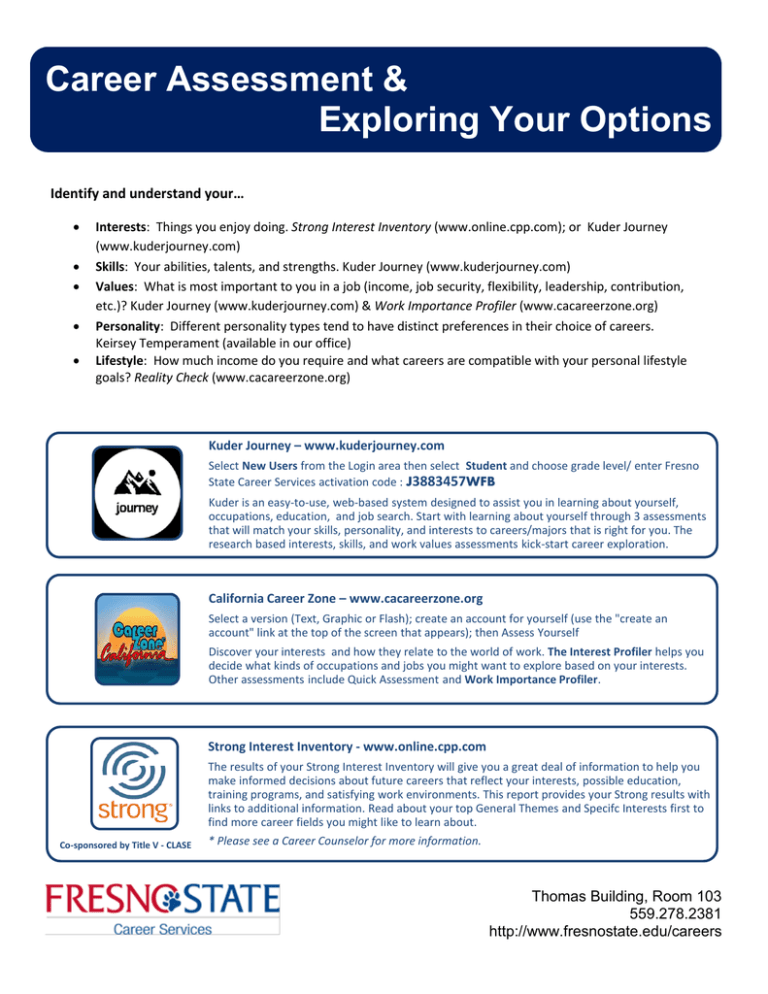 Career Assessment &
Exploring Your Options
Identify and understand your…





Interests: Things you enjoy doing. Strong Interest Inventory (www.online.cpp.com); or Kuder Journey
(www.kuderjourney.com)
Skills: Your abilities, talents, and strengths. Kuder Journey (www.kuderjourney.com)
Values: What is most important to you in a job (income, job security, flexibility, leadership, contribution,
etc.)? Kuder Journey (www.kuderjourney.com) & Work Importance Profiler (www.cacareerzone.org)
Personality: Different personality types tend to have distinct preferences in their choice of careers.
Keirsey Temperament (available in our office)
Lifestyle: How much income do you require and what careers are compatible with your personal lifestyle
goals? Reality Check (www.cacareerzone.org)
Kuder Journey – www.kuderjourney.com
Select New Users from the Login area then select Student and choose grade level/ enter Fresno
State Career Services activation code : J3883457WFB
Kuder is an easy-to-use, web-based system designed to assist you in learning about yourself,
occupations, education, and job search. Start with learning about yourself through 3 assessments
that will match your skills, personality, and interests to careers/majors that is right for you. The
research based interests, skills, and work values assessments kick-start career exploration.
California Career Zone – www.cacareerzone.org
Select a version (Text, Graphic or Flash); create an account for yourself (use the "create an
account" link at the top of the screen that appears); then Assess Yourself
Discover your interests and how they relate to the world of work. The Interest Profiler helps you
decide what kinds of occupations and jobs you might want to explore based on your interests.
Other assessments include Quick Assessment and Work Importance Profiler.
Strong Interest Inventory - www.online.cpp.com
The results of your Strong Interest Inventory will give you a great deal of information to help you
make informed decisions about future careers that reflect your interests, possible education,
training programs, and satisfying work environments. This report provides your Strong results with
links to additional information. Read about your top General Themes and Specifc Interests first to
find more career fields you might like to learn about.
Co-sponsored by Title V - CLASE
* Please see a Career Counselor for more information.
Thomas Building, Room 103
559.278.2381
http://www.fresnostate.edu/careers
Learn More About
Fresno State majors:
http://www.fresnostate.edu/catalog
What Can I Do with this Major?
www.fresnostate.edu/careers/students/exploration/whatcanido.html
Careers (job duties, outlook, earnings, qualifications, interests of a typical worker, etc):
- Kuder Journey: www.kuderjourney.com
- Occupational Outlook Handbook: www.bls.gov/oco/
- O*Net: onetonline.org
A Word of Caution:
Our website includes links to
several useful online
assessments. However, we
suggest extra caution when
using online assessments.
Many sites have not been
validated as effective career
decision tools. Also,
assessment results can
sometimes be very difficult
to evaluate. If you see an
undesirable occupation
suggested as a good match
for you, it does not
necessarily mean it is the
best match. It is more useful
to understand why that
occupation appeared. Our
counselors are available by
appointment to help you
through the assessment
process.
Take a look at our
major selection
informational
videos today!
www. fresnostate.edu/careers
Individual Registration &
Login Instructions for
Kuder Journey
Please follow the instructions below to begin using Kuder Journey
Registration




Go to the Kuder Journey at http://www.kuderjourney.com
Select New Users from the Login Area to begin the registration process.
Select Student and choose your grade level from the drop down menu.
Click Continue to create your account.
During the process you will need to create a unique user name and password. Write down your user name and
password in the space provided for future reference.
User Name: ______________________________________________
Password: _____________________

You will also be asked to enter your Activation Code that was provided by your school or agency.
Activation Code: J3883457WFB


Be sure to check the box next to "I have read and agree to the terms and conditions of use" after reading this
information.
Click Register to complete the process.
Journey Home Page
Once you have created your account, you will be directed to your Journey home page. To access the system's tools and
resources select a tab from the top navigation menu. Your home page also provides a link your messages, to do list,
recommended links, and account information where you can update your profile, upload a photo, and change your grade
level each year or your user type/background information.
Taking an Assessment
The first step in the educational and career planning process is learning about yourself.


Click on Assessments from the top navigation menu.
o Choose Take an Assessment and click on one of the assessment titles. To get started, you will select the
desired education level/degree that you plan to attain.
Once you complete the assessments, use your results and the other available tools from the top navigation menu to
support your ongoing education and career exploration and planning.
Logging In
To re-enter your account, go to http://www.kuderjourney.com, select Log In, and enter your user name and password.