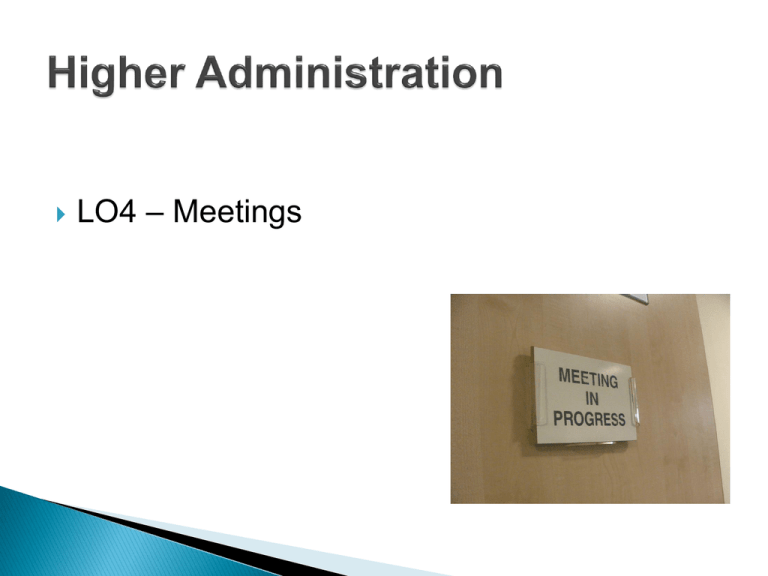 
LO4 – Meetings
By the end of the lesson you should be able to:




Identify the purpose and types of business
meeting.
Apply IT skills to create documentation associated
with meetings.
Draw further information through personal
research on meetings.
Demonstrate knowledge through answering SQA
exam questions.

Purpose of meetings

Types of meetings and committees

Roles and responsibilities

Terms used in the conduct of meetings

Minutes

Meetings and technology





Discuss and generate ideas.
Solve problems and make decisions.
Motivation.
Set targets and objectives.
Plan ahead.
Must be planned and controlled to be effective.
Planning
Controlling
Is the meeting
necessary?
Set a time limit
Set a clear purpose
Delegate
responsibilities
Prepare an agenda
Follow up on actions
Constitution
Sets out the rules and regulations that have to be
followed at a formal meeting.
Notice of meeting
What meeting is to be held, when and where.
Agenda
 Gives meeting structure.
 Outlines what is to be
discussed.
 Allows attendees to prepare.
 Some items same each
meeting (items 1, 2, 3, 5 and
6).
Chairperson's agenda
 Similar to agenda but with space to allow
chairperson to note take or note information
for discussion at meeting.
Minutes
 A formal record of the meeting.
 Signed by the chairperson as accurate.
 Follow the structure of the agenda.
 Always start with title and then a list of
attendees.
Can be formal
 Set up and held for a specific purpose and follow
formal rules.
Or informal
 No formal procedures or rules are followed; can
be ad hoc.
Annual general meeting (AGM)

Held by public limited companies where all
shareholders are invited to attend.

Required by law, with regulations set out by the
Companies Act.
To elect directors
To discuss performance:
 accepting the director's report
 accepting the auditor's report
 agreeing the dividend to shareholders
 looking at the accounts of the company.
To discuss the strategic plans for the
following year
Open to shareholders or members.
Held to discuss a particular issue that cannot be
held back until the next AGM.
Must be organised and held in accordance with the
Companies Act if called by a limited company, eg
notice to attend must be given to those eligible.
Held by limited companies run by a board of
directors.
Held regularly to discuss the strategic aims of the
organisation.
Board can recommend that tasks are delegated to
be carried out by committees set up for purpose.
Committee appointed to look at a specific area, eg
enterprise, health, expansion.
Report back to the board of directors by
recommendation, eg should we expand into a new
market segment?
Advisory
Set up to look at issues and make
recommendations to the board of directors.
Joint
To improve communications between different
interest groups, eg trade union and management.
Standing
Has a specific remit, eg health and safety.
Executive
Powers to make decisions in a specific area, eg
pay negotiations (all decisions binding).
Ad hoc
Particular purpose, eg 50th anniversary of company
– organise celebration.
Sub-committee
Set up by a committee to deal with a particular
issue within that committee, eg to organise the staff
party for the 50th celebration.