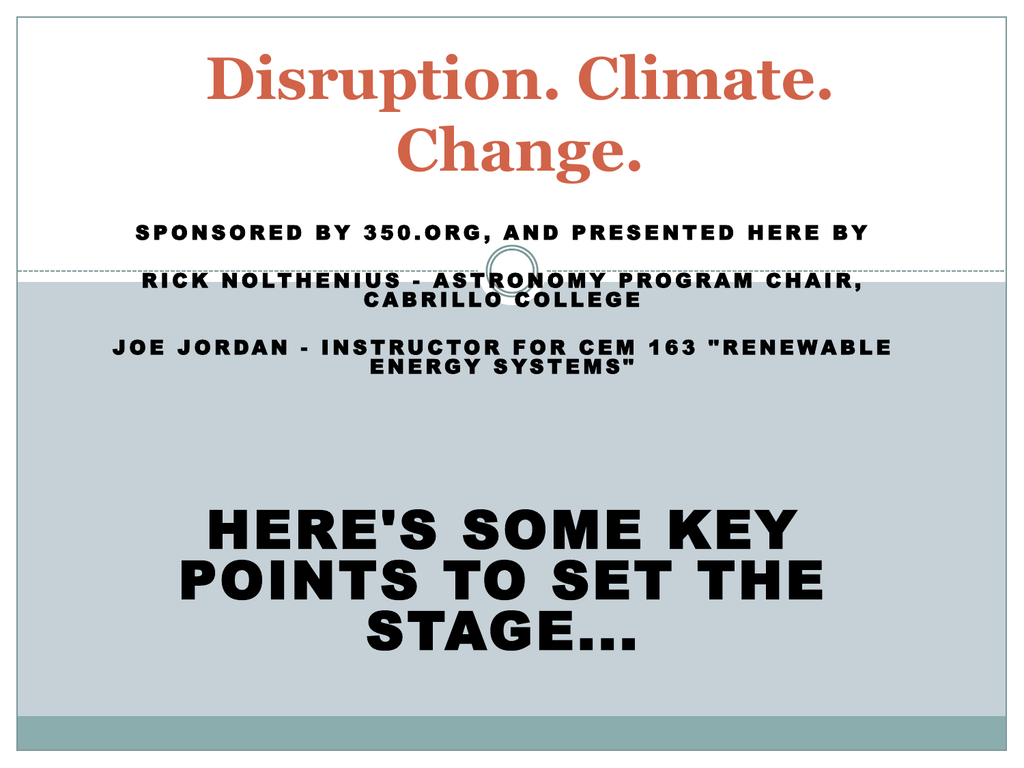 Disruption. Climate.
Change.
SPONSORED BY 350.ORG, AND PRESENTED HERE BY
R I C K N O LT H E N I U S - A S T RO N O M Y P RO G R A M C H A I R ,
CABRILLO COLLEGE
J OE J OR DA N - I NSTRUC TOR F OR C EM 1 6 3 " R ENEW A B L E
ENERGY SYSTEMS"
HERE'S SOME KEY
POINTS TO SET THE
STAGE...
A Question for You…
 If Humans stopped ALL CO2 emissions.
Every car, airplane, factory, powerplant on
Earth, tomorrow. What would global
temperatures do?
 A. They'd slowly decline back to pre-industrial
levels.
 B. They'd rapidly decline back down for a while, then
slowly approach pre-industrial levels
 C. They'd stay constant, for centuries or longer
Temperatures Would Not Got Back Down. Even if We,
Through Huge Efforts, Keep CO2 Merely Constant,
Temperatures Would Continue to Rise (slowly albeit) for
Centuries
The Reason is Straight-forward – 93% of our Greenhouse
Heating is Deposited into the Ocean. Our Air Can't Cool When
it's in Contact with Such a Large Heat Reservoir.
It looks VERY Unlikely We Can Hold
Temperatures to +2C. But If We Could…
 Can we live with that?
 What Would Such a World Be Like?
Seas Will Rise Roughly 30m (100 ft) above
Today's, with No Stable Coastlines for Centuries
or Millenia
This Year, New Satellite Data Tell us the West Antarctic
Ice Sheet is Now Irreversibly in Collapse, Commiting us
to 10+ feet of Sea Level Rise Alone
Arctic Ocean Ice Melting Much Faster
than Early IPCC Projections
Small Measures Won't Save Us. We've About
Exhausted Our Credit Card with Mother Earth
Not just the total Emitted CO2, but the RATE of
CO2 Emission – Is Rising Dramatically As
"Aspirational" Countries Want Our Lifestyle Too
The "Business as Usual" Scenario (which includes
the incremental moves towards renewables). (from
Congressional Budget Office)
Vital Truths to Consider:
 Counting on noble individual voluntary actions is
hopelessly inadequate.
 One person's sacrifice makes NO DIFFERENCE,
while it makes a LARGE difference to the
life/comfort of that individual. This guarantees
that…
 ….There are and will remain - far, FAR too few
such people, or potential converts to make any
difference,
 This is ESPECIALLY true in the "2nd World" of
aspirationals like China and elsewhere in Asia, and
they have angrily said so to our negotiators!
The ONLY Path, is for ALL of the Peoples of the
World to Embark on Shared Sacrifice Together,
for the Sake of the Future.
 That will require legally enforced policy to DRASTICALLY cut CO2
emissions
 It requires a Manhattan Project-level commitment to finding and
instituting atmospheric CO2 removal, beyond simply ending CO2
emissions
 That will required MASSIVE Political will Across All Industrialized
Countries.
Great! We Just Write Our Congressman!




… if only!
We are in fact NOT a Democracy, we're an Oligarchy
We voters do not determine the laws passed.
A 2014 Study by Princeton researchers analyzing
the legislative machinery behind 1,779 legislative bills
and their passage, finds: "the nearly total failure
of 'median voter' and other Majoritarian
Electoral Democracy theories [of America].
When the preferences of economic elites and
the stands of organized interest groups are
controlled for, the preferences of the average
American appear to have only a minuscule,
near-zero, statistically non-significant impact
upon public policy."
Our Own Congressman Sam Farr…
 Has said to us who work in climate policy grassroots
efforts – "People in Washington DC don't
CARE about climate".
 The message is pretty clear. We need to "Up our
Game" to be heard.
 That brings us to our film….
 We'll take questions and discussion right afterwards.