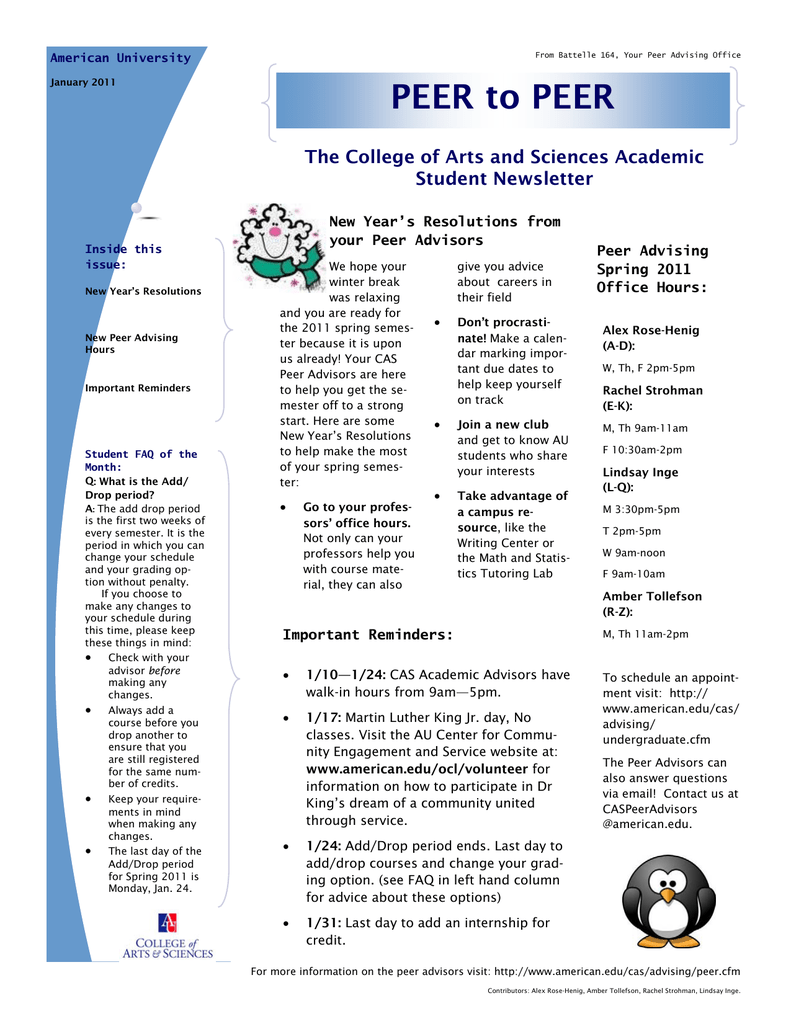 From Battelle 164, Your Peer Advising Office
American University
January 2011
PEER to PEER
The College of Arts and Sciences Academic
Student Newsletter
Inside this
issue:
New Year's Resolutions
New Peer Advising
Hours
Important Reminders
Student FAQ of the
Month:
Q: What is the Add/
Drop period?
A: The add drop period
is the first two weeks of
every semester. It is the
period in which you can
change your schedule
and your grading option without penalty.
If you choose to
make any changes to
your schedule during
this time, please keep
these things in mind:
• Check with your
advisor before
making any
changes.
• Always add a
course before you
drop another to
ensure that you
are still registered
for the same number of credits.
• Keep your requirements in mind
when making any
changes.
• The last day of the
Add/Drop period
for Spring 2011 is
Monday, Jan. 24.
New Year's Resolutions from
your Peer Advisors
We hope your
winter break
was relaxing
and you are ready for
the 2011 spring semester because it is upon
us already! Your CAS
Peer Advisors are here
to help you get the semester off to a strong
start. Here are some
New Year's Resolutions
to help make the most
of your spring semester:
•
Go to your professors' office hours.
Not only can your
professors help you
with course material, they can also
give you advice
about careers in
their field
•
•
•
Don't procrastinate! Make a calendar marking important due dates to
help keep yourself
on track
Join a new club
and get to know AU
students who share
your interests
Take advantage of
a campus resource, like the
Writing Center or
the Math and Statistics Tutoring Lab
Peer Advising
Spring 2011
Office Hours:
Alex Rose-Henig
(A-D):
W, Th, F 2pm-5pm
Rachel Strohman
(E-K):
M, Th 9am-11am
F 10:30am-2pm
Lindsay Inge
(L-Q):
M 3:30pm-5pm
T 2pm-5pm
W 9am-noon
F 9am-10am
Amber Tollefson
(R-Z):
Important Reminders:
M, Th 11am-2pm
•
1/10—1/24: CAS Academic Advisors have
walk-in hours from 9am—5pm.
•
1/17: Martin Luther King Jr. day, No
classes. Visit the AU Center for Community Engagement and Service website at:
www.american.edu/ocl/volunteer for
information on how to participate in Dr
King's dream of a community united
through service.
To schedule an appointment visit: http://
www.american.edu/cas/
advising/
undergraduate.cfm
•
1/24: Add/Drop period ends. Last day to
add/drop courses and change your grading option. (see FAQ in left hand column
for advice about these options)
•
1/31: Last day to add an internship for
credit.
The Peer Advisors can
also answer questions
via email! Contact us at
CASPeerAdvisors
@american.edu.
For more information on the peer advisors visit: http://www.american.edu/cas/advising/peer.cfm
Contributors: Alex Rose-Henig, Amber Tollefson, Rachel Strohman, Lindsay Inge.