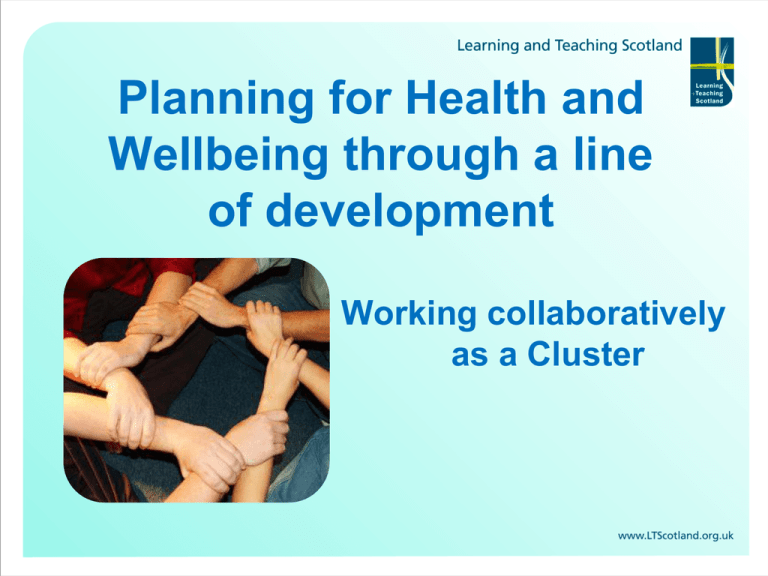 Planning for Health and
Wellbeing through a line
of development
Working collaboratively
as a Cluster
What should effective health and wellbeing
across learning look like?
•It should give children and young people accurate and credible
information
•It should meet the needs of individual learners
•It should provide decision making skills and coping strategies around
risk taking behaviours
•It should make best use of partners in planning, delivery and evaluation
•It should ensure appropriate progression through the experiences and
outcomes and across levels
•It should be creative and be planned across learning as much as
possible
Opportunities and Challenges
•Where it sits in the curriculum
•Balance between knowledge/skills development and
progression
•Interdisciplinary learning
•Appropriate partner input and working
•Gathering of valid evidence/assessing/reporting/
moderation
•Range of assessment; SAY, WRITE, MAKE, DO
•Appropriate/relevant CPD for staff
What should effective cluster working
look like?
• Invested partnerships across sectors
• Individual and collegiate
• All members of cluster and levels represented
• Individual commitment to taking the work forward
• Involve partners including children, young people and parents
• Regular meetings and ongoing communication
• Transparency
• Set agendas
• Delegation of roles
Opportunities and Challenges
• Involving partners and developing a shared understanding
• Developing a shared understanding and expectations;
opportunity to moderate as a cluster
• A more joined up approach
• A positive impact on the learning experiences of children and
young people
• Partners learning from one another
• Building learning experiences on what
has come before
• Finding time to meet
Questions for consideration
• Who are the key people who will be involved?
• Who might we need to help us?
• What is the main area we would like to focus our
efforts on? Why?
• How can we make best use of the time available to
us?
• How will we decide on roles and responsibilities?
• How can we best support one another in our work?
• How can we use our conversations to moderate the
learning and teaching experiences we are planning?
• How can we measure the impact of what we are
doing?
Selecting a line of development
• Think about existing emerging practice and perhaps focus on area
which is already a strength in your cluster.
• Think about a matter which is of particular importance or be a
particular challenge for your learning community.
• Decide on the HWB organiser which will be your area of focus
• Identify a line of development and consider which aspect you will
focus on.
• Make any appropriate links to one or two other curriculum areas /
HWB organisers.